Stocks: Now What?
This rocket ride isn't over. With corporate profits buoyant, growth moderate, inflation low, and the Fed holding interest rates steady, the stock market will keep on climbing
by
It was quite the parade. As cheerleaders twirled and high-school bands strutted up Fifth Avenue, Wall Street enjoyed its own Columbus Day festivities. Led by a string of spirited earnings reports, the Dow Jones industrial average marched right past 6000--the latest milestone in a bull run that has lifted the average 154% in six years.
On that momentous day, Oct. 14, it was a report from Chrysler Corp. of a 92% increase in third-quarter net income that sparked a 41-point surge. For much of this year, though, the dynamic has been the same: The market has moved with glad tidings from Corporate America, reflecting the continuing strength of earnings. Through September of this year, corporate profits are projected to be up about 8%; the Dow has gained 17.6% year to date.
NEW HIGHS. As the week progressed, strong profit numbers came in from all corners--banking, semiconductors, drugs, and autos. Intel Corp. wowed investors with a 40% jump in income, and Compaq Computer Corp.'s earnings rose 43%. Merck & Co. racked up a 16% profit gain, also aided by share buybacks. Sales of high-margin drugs contributed to Pfizer Inc.'s 21% earnings jump. The market responded by pushing Pfizer, Intel, and Compaq to new highs.
Will the boom last? Given a heady economic brew of moderate growth, low inflation, and a Federal Reserve that seems determined to keep interest rates at current levels, the case for continued stock gains remains strong. The market, moreover, seems to be tossing off old fears that economic growth necessarily brings inflation. The upshot: "It is possible to have an outcome that is good for Wall Street and good for Main Street--decent profits, subdued inflation, and decent wage gains," says Jeffrey M. Applegate, chief investment strategist at Lehman Brothers Inc.
With Election Day just weeks away, the bull market bodes well for the occupant of 1600 Pennsylvania Avenue. Rising stock prices add to the aura of good economic times that seem to be catapulting President Clinton to an easy victory--even if he and his campaign team aren't going out of their way to talk up the market gains. "It's too risky," says one adviser. "Why emphasize something that is whimsical and could suddenly turn down when you have so many other solid economic indicators to highlight?"
The level of risk in the market is indeed high. Interest rate jitters will intensify as the time nears for the Federal Reserve Open Market Committee meetings on Nov. 13 and Dec. 17. And strategists are keeping a close eye on consumer spending, which may slow as installment debt tops 20% of disposable income. "We feel the consumer is burdened by a heavy debt load, and that will hurt consumer spending in the near term," chilling economic growth, says Erik Aarts, an economist at ISI Group in New York. Ford Motor Co. Treasurer David N. McCammon agrees that rising consumer credit losses are worrisome: "It's one of the less optimistic notes in the economy."
Corporate earnings remain the key to the market's vigor. In the sixth year of the nation's economic expansion, U.S. companies seem to have arrived at a winning formula for growth while keeping a rein on prices. And far from Wall Street, executives appear pretty pleased with their prospects. At General Motors Corp., where net income rose 98%, Chief Financial Officer J. Michael Losh expects "more of the same: relatively low levels of inflation, moderate economic growth, high consumer confidence, good job creation, and continuing reductions in the budget deficit." Adds McCammon at Ford, where third-quarter earnings nearly doubled: "The U.S. economy is a Goldilocks economy--not too hot, not too cold, but just right."
Compared with 1995's 18.8% profit growth and the 8.9% average rate for the first two quarters of 1996, of course, third-quarter growth is relatively anemic. "Expectations have been low, and lo and behold, you get a big surprise in the earnings of the big names--Intel, Caterpillar, Chrysler," says A. Marshall Acuff, portfolio strategist for Smith Barney Inc. "The only problem is that once you get outside of big, visible companies, you see lots of other companies not exceeding analyst estimates of their earnings, or even disappointing."
Acuff points to supermarket chain Albertson's Inc., which saw its shares fall 18% after it announced that higher costs and lackluster sales would cause earnings to be lower than expected. The stock of computer networking company Bay Networks Inc. took a 14% dive after announcing that earnings per share were well below year-ago levels and that its chief executive was resigning. And beating analysts' estimates with a 46% profit gain did nothing for Sun Microsystems Inc., which saw its stock sink 10% on Oct. 16. Some analysts, who had hoped for an even bigger surprise, fretted about whether Sun could maintain margins.
Still, the overwhelming trend in profits is up. "Through last year, we had four straight years of double-digit growth on the S&P's earnings, every quarter," says Charles Hill, research director for First Call Corp. After the third-quarter lull of an estimated 6% earnings gain, industry analysts expect that earnings will return to a 10.8% growth rate in the fourth quarter. They predict a 14.6% increase in the Standard & Poor's 500's earnings in 1997.
A bleaker view comes from Wall Street strategists and economists, who tend to focus on broader trends. They see the S&P 500 earnings gaining only 5.5% in 1997. But Joseph Battipaglia, chief investment strategist for Gruntal & Co., remains bullish. "The quality of these profits is very high," driven by unit volume growth and cost controls, he says. "That's much stronger earnings quality than earnings driven by price increases."
REASONABLE. Battipaglia thinks investors will pay higher multiples for such earnings. In fact, some strategists say the market's earnings multiple remains reasonable. Based on current profits, the S&P 500 is priced at 16.4 times earnings, compared with an average of 16.2 in periods of low inflation, says Abby Joseph Cohen, investment strategist at Goldman, Sachs & Co. "The market is trading about where it should be on an inflation-adjusted basis," she says.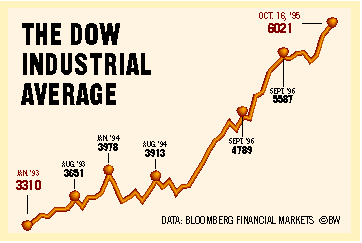 What could alter the stock market's trajectory? Any flareup in inflation or a rise in interest rates would take a toll. Lehman's Applegate expects the Fed to raise rates by 25 to 50 basis points by yearend. While he thinks that may stall the stock market in the near-term, though, Applegate still expects the Dow to be at 6100 by yearend, and at 6700 a year later. Some market pundits find that scenario simply too rosy to be true. But with positive earnings reports still streaming across the wire, Dow 6000 looks like it might stick. It's shaping up to be one heck of a parade.
Before it's here, it's on the Bloomberg Terminal.
LEARN MORE