Splitsville At Philip Morris?
by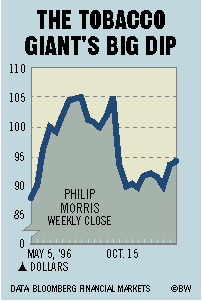 Is something afoot at Philip Morris? Several investment strategists close to tobacco industry insiders insist there's plenty of "smoke" emanating from the inner sanctum of the world's largest cigarette maker. It has to do with restructuring, they say, and breaking up Philip Morris, whose revenues are expected to exceed $74 billion next year.
The notion of splitting the tobacco operations from Kraft Foods, the largest U.S. food processor, had been rejected by the board in 1994. Now the company is said to be studying all options to get its stock to reflect the unlocked values. The stock is trading at 94, well off its high of 107 in August.
One rumor: Philip Morris will split tobacco operations and create domestic and foreign units and spin them off to shareholders. Spinning them off would define the real value not only of Kraft but those of the tobacco units as well, says one big investor.
Before it's here, it's on the Bloomberg Terminal.
LEARN MORE