Picturetel Fights To Stay In The Picture
With Intel moving in, the videoconferencing pioneer refocuses
Paul C. Judge
Norman E. Gaut is sick at home with the flu. But that doesn't stop the CEO and chairman of PictureTel Corp. from conducting a face-to-face interview from his study. Using the videoconferencing technology his company pioneered, he appears on a PC screen 20 miles away in Boston, looking a bit peaked. "Isn't this wonderful?" he says, gamely trying to smile. "I get a lot of work done at home this way."
PictureTel's vision--that this kind of electronic meeting would be commonplace--launched the company back in 1984. Over the past 12 years, including some lean ones, Gaut refined PictureTel's technology and wooed customers, ranging from Ford, IBM, and Bell Atlantic to the Little Red River Cree Indians in northwestern Canada, who use the equipment to link isolated villages during the winter.
The early systems were big and expensive, and the pictures weren't always great. Today, better technology--both in computer chips and the phone network--is cutting the price and improving the quality, setting the stage for videoconferencing to go mainstream. PictureTel, with 52% of the market for group videoconferencing systems--setups to handle boardroom-size meetings that cost from $15,000 to $40,000--should be ready to cash in.
But just as this magic moment arrives, PictureTel faces an avalanche of lower-cost technology, much of it coming from a daunting opponent: Intel Corp. Already, add-on hardware and software to convert a PC into a desktop videoconferencing system outsell group setups 12 to 1.
Now, the computer-chip giant is making a renewed push into the market. Sales of its ProShare system, introduced three years ago, were disappointing: fewer than 100,000 units. But Intel has a new ProShare and is pushing harder than ever--partly because Intel CEO Andrew S. Grove thinks video will drive demand for Intel chips. This Christmas, Compaq Computer Corp. will bundle ProShare on some models, and other major PC makers are expected to follow. "Up to now, our competitors have had the same size boxing gloves that we have," Gaut says. "Intel has boxing gloves the size of a car."
VIRTUAL VISITS. There's also competition from the Internet. Startup White Pine Software Inc. is commercializing CU-SeeMe, an Internet videoconferencing technology from Cornell University that lets cybernauts enjoy virtual visits using only a cheap camera and CU-SeeMe software. On Oct. 14, VDONet Corp., based in Palo Alto, Calif., rolled out a $150 Internet videophone that, the company says, can operate over regular phone lines, instead of the special ISDN lines required in most desktop setups.
How will PictureTel cope? With Intel putting huge research efforts into video, PictureTel's technology edge is bound to erode, Gaut concedes. For example, by next summer, some PCs will have Intel's new MMX multimedia processor chip, giving them built-in video capability.
PictureTel's plan is to consolidate its lead where Intel isn't--in group videoconferencing, while keeping a hand in at the low end. Gaut will continue to sell the $1,500 Live 200 system for PCs but does not expect to make any money there, where price competition will be intense. He says it's important to understand that market and to make sure that his group videoconferencing systems work with ProShare and other desktop systems that home-based workers and others might use to join in a videoconference. "We plan to be the glue that will hold videoconferencing together," says Gaut.
For the strategy to work, Gaut needs to recruit key partners. PictureTel expects to close a deal with network equipment maker 3Com Corp. by yearend and is negotiating with other data-network companies. Last year, Microsoft Corp. selected PictureTel's data-conferencing technology, which enables people to view and work on a document simultaneously across a network
PictureTel is also trying to create a buffer in the middle of the market. SwiftSite, a $9,000 system introduced on Oct. 15, is portable, relatively simple to use, and has features of more expensive systems such as a movable zoom camera. "Other machines have broken the $10,000 barrier, but their performance wasn't good enough," says Albert Lill, an analyst with Gartner Group. SwiftSite, says Gaut, could account for 5% to 10% of what analysts project will be $615 million in sales in 1997.
Another way Gaut hopes to avoid the low-margin hardware fight is to make PictureTel a provider of videoconferencing services for phone companies, Internet services, and corporations. PictureTel will sell and maintain systems, run conference rooms, and manage all the details. Thirty companies including Ford, Swiss Bank, and Colgate-Palmolive have hired PictureTel to run their videoconferencing operations.
LOCKING HORNS. Ford Motor Co. relied on its system for Ford 2000, a product-development effort involving engineers on three continents, and is happy to hire PictureTel. Says Hank Krizciuk, manager of telecommunications services at Ford: "Videoconferencing is very labor-intensive technology. PictureTel's global service operations are a real asset." Gaut wants service revenue to rise from around $10 million this year to $100 million by 1999.
Analysts like what Gaut has done so far. They estimate that the company's revenue will jump 28%, to $615 million, in 1997, from a projected $480 million this year. The consensus view on earnings is for $34 million this year--a 60% jump over 1995--and $47 million in 1997. The company's stock, however, now trades at 35, down from 45 in February, reflecting concerns about competition.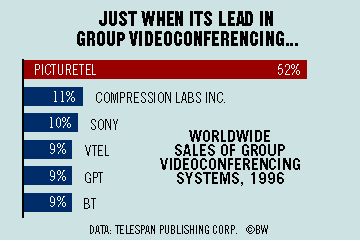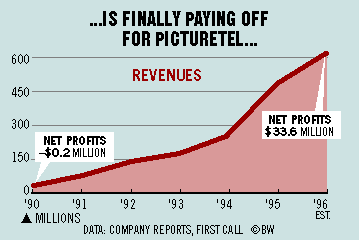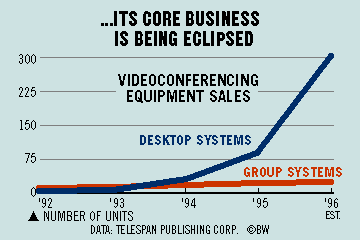 The service thrust does have its downside: It may pit the company against its biggest distributors--AT&T, MCI, local phone companies in the U.S., and national carriers in Europe. These companies want to sell videoconferencing as part of telecom "bundles" for business customers. PictureTel and MCI Communications Corp. already have locked horns over customers that both are pursuing for videoconferencing.
Gaut acknowledges that developing a service business without alienating his distributors will be the hardest part of his job in the next few years. "The issue is very real," he says--and so are the other challenges popping up, in full-motion video, on PictureTel's screen.
Before it's here, it's on the Bloomberg Terminal.
LEARN MORE