Jumbo Problems At Japan Airlines
Its recovery is rocked by soaring fuel prices, new rivals...
by
Going into 1996, Japan Airlines Co. figured its nightmarish run had mercifully ended. A crash corporate diet of job buyouts, hiring freezes, and shelved investments had ended the carrier's huge losses. Gone were the chauffeur-driven rides home from Narita Airport for JAL pilots. Instead, a yen-pinching mentality produced a tiny profit for the year ended in March.
Good stuff. Yet now it's looking like a false dawn at JAL. Soaring fuel prices, a weakening yen, and new competition are posing a threat to its fragile recovery. That's why the carrier is readying more cost cuts to insure that decent profits materialize.
DOMESTIC UPSTART. The biggest immediate problem is the spot price for jet fuel, up 45% on the Singapore exchange over the past year, to $32 a barrel. Few see prices retreating soon. Worse, the yen's 30% depreciation against the greenback since April has undercut JAL's purchasing power in the dollar-denominated oil market. From April to August, JAL's fuel bill jumped $90 million over the year-ago period. "Oil prices are clobbering earnings," says Douglas Hayashi, who tracks JAL for BZW Research Ltd. in Tokyo. Investors have bid the stock price down (chart) in anticipation of a bombshell on Oct. 30, when JAL releases its half-year numbers. Many analysts expect a 28% drop in JAL's operating earnings, to $162 million on revenues of $5.4 billion.
There's also bad news on the domestic front, where JAL holds a 27% share. On Oct. 14, Japanese airline ticket discounter HIS Co. announced plans to launch a domestic carrier that would offer a fare 50% lower than JAL's on the high-volume Tokyo-Sapporo route. This would be the first new domestic airline since the 1950s. In a deregulating move, the Transport Ministry would probably give the upstart the best landing slots at the newly expanded airport at Haneda in Tokyo.
The job of getting the flagship carrier back in shape has fallen to Akira Kondo, JAL's president since 1995. The 62-year-old joined the airline right out of Tokyo University and even married a JALsecretary. This company lifer must attack a still bloated cost structure. Even now, it's not uncommon for a senior JAL flight attendant to pull down a $100,000-plus salary. Overall, JAL's operating costs are one-third higher than those at United or Northwest Airlines--and far higher than at Singapore Airlines.
Kondo aims to slash $1.8 billion in costs by 1998. To get there, JAL plans to cut its payroll by 5,000, down to 17,000, through buyouts and attrition. Next year, it will also use a facility at Xiamen, China, to revamp part of its fleet. JAL figures it will be able to overhaul six Boeing 747s there for what it costs to refurbish one in Japan. To dodge Japan's price-gouging oil companies, JAL is buying some oil directly from suppliers in Singapore, at a 10% savings.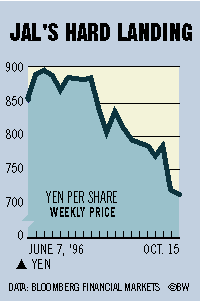 FOREIGN STAFF. JAL's unions, which have already agreed to cost-saving concessions, are now worried about the presence of lower-paid foreign staff. JAL's subsidiary carrier, Japan Air Charter Co., recruits its pilots from 15 nations and bases them in Hawaii, while cabin crews are based in Bangkok--all at a much lower cost than operations in Japan. The division is handling flights from Japan to Hawaii, Bangkok, Guam, and Saipan. By 1998, it will account for 17% of JAL's overseas traffic. Says Hideo Kato, vice-chairman of the Japan Airlines Workers Union: "That's the limit." He warns of trouble if JAL pushes out Japanese employees in favor of foreigners.
Still, Kondo has no choice but to up the stakes. Although JAL is hauling more international passengers, its profits are under pressure from overseas carriers. The opening of Kansai International Airport outside Osaka in 1994 allowed foreign airlines to boost capacity by 20%. And despite JAL discounting, United Airlines Inc. and Northwest Airlines Inc. still are undercutting it by 10% on some Pacific Rim fares. In a cutthroat business that's driven by cost, JAL's new era of austerity is only beginning.
Before it's here, it's on the Bloomberg Terminal.
LEARN MORE