How To Survive The Shakeout In Europe
Europe's banks face perilous times. Their home markets are glutted, and the competition has squeezed lending margins. In global investment banking, they lag far behind Wall Street firms. How can they position themselves to survive the shakeout? BUSINESS WEEK takes a look at the very different strategies devised by two of Europe's biggest players.
SLOW AND STEADY AT ABN AMRO
It's expanding--but cautiously
The chairman of Dutch banking giant ABN Amro Holding, P.J. Kalff, turns pale at the mere mention of Nick Leeson, the young Barings PLC securities trader who singlehandedly bankrupted his British 400-year-old employer. Kalff is determined that no such fiasco should happen on his watch. While other European banks plunge headlong into the cutthroat world of investment banking and equity trading, Kalff is taking a slow and steady course. He is also making sure that ABN Amro sticks to its knitting: commercial banking.
Not that the $384 billion-asset bank is unambitious. But unlike rivals in Switzerland and Germany, which are spending billions to build new franchises, ABN Amro has concentrated on cutting costs at home, expanding its core business abroad, and moving only cautiously into investment banking. "Like our competitors, we want to build on our strengths and become a global universal bank," says Kalff. "But we have a different way to get there."
A costly and controversial acquisition wouldn't be ABN Amro's style. Neither would Deutsche Bank's practice of hiring teams of star investment bankers for record pay. Instead, it is working on spending less, not more. The prudent approach has paid off. Earnings for the six months ended in June, 1996, rose by 36.3% over the year-earlier period, to around $1 billion, and London analysts predict that at 17.3%, ABN Amro's 1996 return on equity will be nearly seven percentage points higher than Deutsche Bank's.
Created five years ago from the merger of the Netherlands' two biggest banking groups, ABN Amro's first task was to reduce costs in its home market. Since then, the merged bank has slashed domestic branches from 1,462 to 1,050 and cut staff by 4,000 workers, or 12%. At a time when many Swiss, German, and French banks have barely begun restructuring, Kalff says his efficiency goals for ABN Amro have been met.
Another strategic goal has been international expansion. ABN Amro already has a formidable U.S. presence, with a network of Chicago-area banks that started with its 1979 takeover of LaSalle National Corp. More acquisitions followed, and ABN Amro now controls institutions in the American heartland with assets of some $27 billion. LaSalle is Chicago's No.2 bank, employing 6,000 and producing more than a quarter of ABN Amro's net profit. Although the Dutch bank has branches in 68 countries around the world, "we consider the U.S. our second home market," says Kalff.
COMMON SENSE. Now, ABN Amro is putting down roots in uncharted territory, opening branches in Central Asia. But while ABN Amro may be adventurous in commercial banking, in investment banking it has been far more modest than many of its Continental rivals. Deutsche Bank bought Morgan Grenfell, Dresdner Bank acquired Kleinwort Benson, and Swiss Bank took over S.G. Warburg--all for huge sums. But ABN Amro in 1992 acquired Hoare Govett Ltd., a troubled London brokerage house, for just $45 million. Hoare Govett has made a strong comeback and now is a leading seller of new equity in Britain and the Netherlands.
To expand its geographic reach, ABN Amro has made several small acquisitions of local securities houses. For Wilko Jiskoot, ABN Amro's senior executive vice-president for equity and merchant banking, such deals are common sense. "We're not going to spend billions and billions on salaries or an uncertain acquisition," Jiskoot says.
But the strategy carries its own risks. Geographic gaps exist in ABN Amro Hoare Govett's coverage of investment banking, particularly in Continental Europe and North America. Says Matthew Cziepliewicz, a banking analyst at Salomon Brothers International Ltd. in London: "I haven't seen them hit any home runs outside the Netherlands and England." In addition, ABN Amro's commercial banking core remains vulnerable to global banks such as Citibank and HSBC, which can offer customers a high degree of service at competitive costs.
That doesn't bother Kalff, who insists that ABN Amro can climb from No.18 in net assets among global banks to the top 12. At some Swiss banks, interest income from lending now accounts for as little as 35% of revenues. At ABN Amro, it still generates more than 60%, and Kalff aims to keep the ratio above 50%. He is set on proving that there can be more than one strategy for surviving the great European banking shakeout. And he is not about to risk hiring a Nick Leeson along the way.
By William Echikson in Amsterdam, with Rick Melcher in Chicago
SWISS BANK GOES AMERICAN
U.S. traders remake its culture
Shy and self-effacing, David Solo is not a man to boast. But when asked how Swiss Bank Corp. measures up among European investment banks, the 31-year-old chief operating officer of SBC's investment-banking arm turns expansive. "Today, there's no question that we are the only truly well-managed non-U.S. house," he says. "The scope of change here has been enormous."
Rivals might scoff at Solo's first point, but few would dispute his second. While the growing competition in global investment banking is forcing all players to make hard choices about how to survive and thrive, no other European bank has undergone the cultural upheaval of SBC. With two acquisitions, one in the U.S. and one in Britain, Chief Executive Marcel Ospel has bet that the way to prevail is to shake up SBC's Swiss ways.
When SBC acquired Chicago-based O'Connor Partnerships, a top options firm, in 1991, it grafted one of Switzerland's stodgiest institutions onto the supercompetitive culture of a U.S. trading house. Then came its takeover two years ago of S.G. Warburg, Britain's biggest investment bank and the European leader in mergers and acquisitions. Swiss Bank's strategy: Advance against leading U.S. investment banks by gaining the inside track on deals as industrial restructuring sweeps across Europe.
"NO RESPECT." Already, Warburg's quick integration into SBC's culture has "made a quantum leap in its investment banking strategy," says Morgan Stanley & Co. banking analyst Olaf Conrad. SBC had formerly been limited to foreign exchange trading and corporate finance. And the changes roll on. In September, Swiss Bank announced that it would reduce its domestic workforce by 1,700, or 10%. SBC also adopted U.S.-style risk calculation and loss-reserve requirements for its commercial banking operations. Analysts say the changes put SBC far ahead of its Swiss rivals.
Observers little knew such moves were in the offing a few years ago when SBC bought O'Connor. Ospel, then head of international operations, was thought to be interested in acquiring expertise in derivatives. But insiders say Ospel saw the potential for a badly needed cultural change. "What we ended up acquiring was a complete new set of skills in terms of our aspirations, knowledge, and experience," says Peter A. Wuffli, SBC's chief financial officer.
As O'Connor's denim-clad traders and quantitative analysts descended on SBC units in London and Zurich, the Americans were given a green light to overhaul the management hierarchy and compensation system. Clashes abounded. The newcomers had "no respect for ingrown authority structures," says Wuffli, 38. But in what he calls a "sometimes brutal competition" with resident Swiss managers, the reformers gradually built a profit-oriented international organization.
SBC executives became among the first European champions of shareholder value. In 1994, when the international investment banking division's return on equity came in at a paltry 2%, Solo says that by agreement some 100 senior managers received no bonuses. Today, in a formula almost exclusive to U.S. investment banks, senior SBC managers take 50% of their bonus compensation in the form of shares. SBC stock is up only 3% this year--but that compares with stock declines of around 5% at Swiss rivals Credit Suisse and UBS.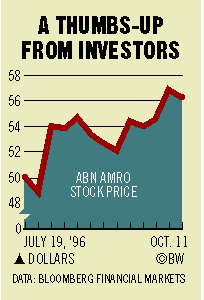 The cultural chaos intensified with the $1.3 billion acquisition of Warburg and its cadres of buttoned-down London bankers. But SBC has aggressively exploited the edge Warburg gave it in European investment banking. It has stolen key deals from competitors in London and boosted M&A income by 50% since 1993. Now, says Solo, the firm expects a "huge wave" of M&A activity in coming years as Europe's inefficient companies are forced to consolidate.
Today, five Americans and three other foreigners sit on SBC's 25-member executive board, which five years ago was entirely Swiss. Management proudly points to net earnings that rose 30% last year, to $835 million. Zurich analysts predict earnings of $1.4 billion next year and $1.6 billion in 1998. A flashy start, to be sure. But it is only the first test of whether SBC's cultural overhaul will put it in the top ranks of global investment banks for the long term.
By Bill Javetski in Paris and London
Before it's here, it's on the Bloomberg Terminal.
LEARN MORE