Embraer's Little Jet Could Circle The Globe
As airlines grab up its 50-seater, it challenges giant Bombardier
by
In a hangar at Embraer's factory in southeast Brazil's Paraiba Valley, engineers are running the aircraft maker's new plane, the EMB-145, through simulated flights on a computer screen. Chief Executive Mauricio Botelho likes what he sees on the monitor. And he's just as happy with the performance he's reading on the company's sales chart. So far, airlines worldwide have announced purchases of 30 of the 50-seat jets, including 25 bought by Houston-based Continental Express for $375 million in September, and Botelho says he has orders for an additional 33.
The deal with Continental Airlines Inc.'s regional-carrier arm catapults Embraer, a formerly state-run planemaker, into head-to-head competition against Montreal-based Bombardier Inc. Until now, Bombardier has had no rival in the growing global market for 50-seat jets with ranges of up to 2000 miles (chart). Analysts expect that as many as 1,000 such planes, worth more than $15 billion at current prices, will be sold in the next 20 years, as jets replace propeller planes on many regional routes.
BARGAIN. Jets had been considered too costly by many regional carriers, but Embraer's sale to Continental, and an additional five planes sold to Nantes (France)-based Regional Airlines, could mark a breakthrough. At $15 million per plane, compared with the $18 million sticker price for Bombardier's Canadair 50-seater, the EMB-145 "opens opportunities for a lot of aircraft operators," says David N. Siegel, president of Continental Express. That view is echoed by Michel Dubreuil, vice-president of Regional Airlines, which has ordered a total of 10 EMB-145s, including five options, worth $170 million. "Bombardier was too expensive," Dubreuil says.
That Embraer could make waves in the international aircraft business would have seemed far-fetched just two years ago. Its engineering is well regarded, with 220 of its 30-seat Brasilia turboprops in service on U.S. airlines such as Continental and SkyWest Inc. But Embraer was once notorious for its lack of business sense. Before its December, 1994, privatization, the former military officers who ran the company managed to lose an average $235 million a year from 1990 to 1994.
Botelho, 53, says his task is to shift Embraer's corporate culture to making profits as well as aircraft. Even before the sell-off, Brazil's privatization agency had slashed Embraer's bloated workforce from 13,000 to 6,000. Its new owners, led by Brazilian banking and investment- holding group Bozano, Simonsen Co., have further shrunk the payroll to 3,600. The group paid $188.5 million for Embraer and pumped in another $380 million to reduce debt and pay for R&D on the EMB-145 and projects such as helicopter systems in a partnership with United Technologies Corp.'s Sikorsky Aircraft division.
Botelho, a mechanical engineer who had been an executive director of Bozano, Simonsen, took over at Embraer in September, 1995. By reducing the time that parts wait before assembly at the factory in Sao Jose dos Campos, for example, Botelho has shortened production time for the EMB-120 Brasilia turboprop from 16 months to nine. He expects to shrink Embraer's $300 million loss in 1995 to $50 to $70 million this year. Revenues will rise to about $400 million this year, up from $300 million in 1995, and in 1997 Botelho expects to double revenues and turn a profit.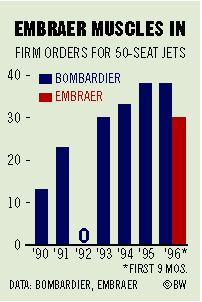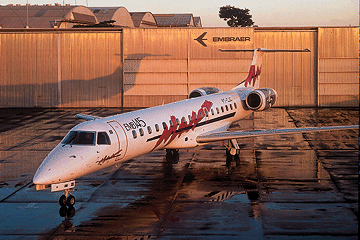 In challenging Bombardier, Botelho is taking on a well-entrenched competitor. While analysts give the EMB-145 high marks for efficiency and low operating costs, they point out the Canadair's longer range, 2,000 nautical miles against 1,500 for the EMB-145. It has been on the market for seven years, with 132 planes already delivered, and Bombardier is considering launching a 70-seat stretched version, which Embraer won't do. Bombardier "clearly has the edge in the North American market," says Gerald Deosaran, senior vice-president of Avmark, an Arlington (Va.) aviation consulting firm. He also argues that it's "very iffy" whether Embraer can maintain its $15 million price without incurring further losses.
Botelho says his main push at Embraer is continued cost-cutting to keep the EMB-145 cost-competitive. For an upstart in the jet-plane business, it's now clearly on the radar screen.
Before it's here, it's on the Bloomberg Terminal.
LEARN MORE