Can Comsat Get Back In Orbit?
Regulation is slowing the international satellite company
Amy Barrett
With passage of the Telecommunications Act of 1996, competition is breaking out all over, right? Not quite. The market for global satellite communications remains dominated by two international satellite organizations (ISOs), largely relics of the cold war. And Comsat Corp., the public company created as the U.S. proxy and investor in the two systems, remains tightly under the thumb of the Federal Communications Commission.
That's why Comsat's new chief executive, Betty C. Alewine, is scrambling. Alewine, 48, is pushing a controversial Clinton Administration plan to overhaul one of the ISOs, known as INTELSAT, by spinning off many of its satellites into a private company. An overhaul of the other ISO, Inmarsat, could follow next summer. At the same time, she is pressing Congress and the FCC to loosen Comsat's regulatory shackles. And she needs to bring strategic focus to a company that has angered institutional investors by wandering into money-losing ventures like owning the Denver Nuggets basketball team. Warns William Smith, who heads a Denver investment research firm: "The pressure is building."
It's easy to see why. Nearly half of Comsat's $852 million in 1995 revenue was generated by selling satellite time on the INTELSAT and Inmarsat systems. But prices have been slipping, thanks to stiff competition from alternative transmission sources like cheaper fiber optic cable laid by global phone giants. That sent operating results from those core businesses reeling 12% in the first half of 1996. Meanwhile, foreign communications ventures in places like Russia, as well as the entertainment investments, have been losers, and Comsat's total operating income has plunged 35% for that period. The stock, which hit $32 in May, now trades around $22.
Some of Alewine's problems stem from Comsat's unusual history. Comsat was created by Congress in 1962 as a public company to lead an effort to form a global satellite system linking the world's democracies. INTELSAT and Inmarsat grew out of that effort. Through Comsat, which owns 19% of INTELSAT and 24% of Inmarsat, the U.S. has the largest stake in both entities.
But both organizations are subject to the plodding oversight of the virtual United Nations of telecom that governs INTELSAT and Inmarsat. That has made them slow to enter new markets. So upstart competitors like PanAmSat Corp., which recently agreed to merge its satellite business with that of Hughes Electronics Corp., have won a chunk of the exploding satellite television market. And Comsat is on a tight leash at home, where the FCC must approve some of its rates, which are then made public. "Your competitors see everything you do," grouses Comsat Vice-President John H. Mattingly. Rivals like PanAmSat don't have to publish rates with the FCC, allowing customized pricing.
UNFAIR ADVANTAGE. Restructuring the ISOs could liberate Comsat significantly. The proposed spin-off of up to 11 of INTELSAT's satellites--it now has 24--into a private company will be considered next April by the member countries. That would allow the new company to move swiftly in the booming satellite business. It would also allow Comsat to recoup possibly hundreds of millions of dollars from the IPO of the new company. But competitors are lobbying against ongoing investment in the spin-off by the current owners, arguing that continued equity ties to the global communications giants would give it an unfair advantage.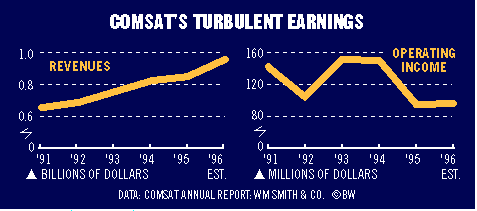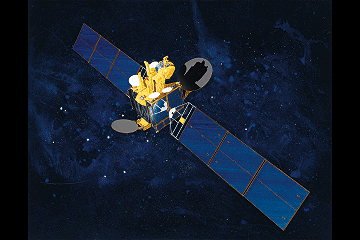 The immediate challenge for Alewine, who declined to comment for this story, is to revive Comsat's earnings and focus. Analysts expect the company will move soon to spin off the entertainment unit completely--a 20% stake was sold to the public last December--and possibly sell its manufacturing operations. That would allow Alewine to concentrate on the core satellite business--just as a slew of competitors, including Hughes, TRW, and Loral Space & Communications Ltd., prepare to launch scores of new satellites. The political maneuvering may, in the end, be the easy part.
Before it's here, it's on the Bloomberg Terminal.
LEARN MORE