Australia: A Weak Outlook For Jobs May Spur A Rate Cut
The unexpectedly large drop in September jobs focused more attention on Australia's consumer slowdown. It also increased chances for an interest-rate cut.
Payrolls fell 34,100 last month, partly depressed by a loss of 14,000 temporary jobs eliminated at the end of the government's census collection. September's jobless rate slipped to 8.7%, from 8.8% in August, but that reflected an increase in people dropping out of the labor force.
Impeded by the weak job market, the consumer sector has not contributed much to growth, with spending up at a 0.8% annual rate in the second quarter. Confidence is shaky. Housing starts fell 3.2% in the second quarter, and permits are below year-ago levels. Retail sales bounced back in July and August, but after adjusting for prices, store volume was barely ahead of year-ago levels. On the plus side for the economy, capital spending is increasing at a healthy level, which has helped industrial production rebound after a weak 1995.
Real gross domestic product grew at an annual rate of 4.1% in the first half. And private economists expect real GDP growth of 4% for all of this year, but just 3.4% in 1997, brought down by slower domestic demand. In addition, inflation is trending lower. Consumer prices were up 3.1% in the year ended in the second quarter, down from 5.1% in 1995. The inflation rate is expected to end the year at 2.7% and slow to 2.4% in 1997.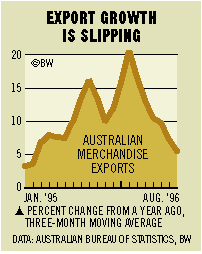 The recent data give the Reserve Bank of Australia leeway to trim short-term rates, possibly at its Nov. 5 meeting. In fact, the RBA cited weak labor markets when it made its last cut, on July 31.
One benefit of another rate cut will be the downward push on the Aussie dollar, which has risen 7.6% vs. the U.S. dollar this year. The Aussie dollar's strength has begun to hurt exports. Foreign shipments in the three months ended in August are up 5.5% from a year ago, compared with double-digit growth rates earlier in the year (chart). An export bounceback will be a vital part of Australia's outlook, since exports account for 24% of the economy.
Before it's here, it's on the Bloomberg Terminal.
LEARN MORE