A Norman Rockwell Painting For The Ear
Timothy Belknap
Chandler from Franklin has an '86 Camaro for sale. "Immaculate condition," he says, then skips a beat before adding, almost as an afterthought: "One hundred and eight thousand miles."
Up here in Vermont, as everywhere, there are dickerers and there are those who can't be budged. Some people are happy just to clear something off the front porch and will take anything for it. Maybe nothing. Then there are those who will wait until the maple sap is running again, if need be, to get their asking price. I hate to stereotype folks, but Chandler from Franklin sounds like the latter, a tightfisted Yankee.
Never mind, because for the time being, he's the star of a hit show on country music station WOKO in Burlington, Vt., and 50,000 listeners are hanging on his every word. That is, until deejay Lee Bodette repeats Chandler's number one last time and then welcomes Caller 46 onto the air.
"What you got for us today, buddy?"
"I have a 1976 Nomad camper, make an excellent deer camp for somebody, and I have a pool table...."
So it goes every Sunday from 7 to 11 a.m. People call the station's 800 number with items to sell or trade or give away. Between commercials and songs, there will be time for maybe 100 callers to give their spiels and phone numbers. Some are just looking for stuff: old Harley and Indian motorcycles, a video arcade game. Many are regulars, and Bodette, a native Vermonter, claims that after four years of doing the show he can identify about 20% of the callers before they give their names.
But what explains the show's popularity with the majority of its listeners, who have no commerce to conduct? One would think "the north country's largest radio flea market," as it is billed, would be a tedious format. Somehow, it isn't. Much of this has to do with the affable Bodette and his bantering. But a lot has to do with the allure of listening to people being themselves--their ordinary, Sunday-morning selves.
CARUSO AND DUCK DECOYS. It's a Norman Rockwell painting for the ear. As we hear mom make her pitch, we also pick up in the background the whisper of a small child reminding her: "Typewriter, typewriter." One can practically hear the breakfast dishes being washed and the dog being let in. What comes through is Vermont--not the Vermont of ski condos and Ben and Jerry's, but the Vermont of rebuilt transmissions, 13-inch snow tires, $100 love seats, and an 8-year-old sending his love to his grandma down in Middlebury.
For $300, someone will let go of a 1900 Victrola and a bunch of old Caruso records...wooden duck decoys, $15 apiece...sterling silver candleholders...a Fuzzbuster Elite II radar detector...100 country-and-western tapes...a hay elevator. You may never have seen a four-holer ice-fishing shanty or remember what a '72 AMC Javelin looks like, but the way the items are rattled off makes them sound as familiar as an old Johnny Cash song.
If you haven't heard such a show yet, you might soon. Flea market programs are becoming a common format, according to the National Association of Broadcasters. Arbitron Co., which conducts radio ratings, does not categorize shows beyond general descriptions, such as country or rock, and no one seems to have exact figures on how many flea markets are aired. But Jim Reed, general manager of WCTY in Norwich, Conn., a sister station of WOKO (both are owned by Hall Communications Inc. in Norwich), says at least 100 stations produce such shows.
You only have to look at WOKO's situation to see why. Sunday mornings are traditionally a slow time for radio, yet Bodette draws more listeners than any other WOKO show. He also grabs the lion's share of all northern Vermont Sunday morning radio listeners. If the station sells out all advertising slots during the show, as it often does, each program pulls in $6,400, which for small-market radio is a revenue lode. Overhead is slight: a big phone bill and little else. On the Sunday I visited, there were only two other souls in the entire station. Bodette himself is moonlighting; he is WOKO's local-sales manager, and the flea market is the only show he does.
Advertisers include the local Lincoln-Mercury dealer and other upscale ventures. And Bodette's listeners include a fair number of doctors and lawyers and such--"everyone has something in the garage they want to sell." The trick is to convert these suburban types to regular listeners--almost by osmosis, since the real entertainment isn't the Nashville music but the commerce.
Bodette's ratings, however, do show that he is strongest in rural areas, and given the region's rugged mountain ranges, WOKO "needs every one of its 100,000 watts," he says. Not to mention five 800-number lines. In fact, the show's avalanche of calls places a bit of a burden on the telephone systems of northern Vermont and the adjacent Adirondack region of upstate New York. Anywhere from 5,000 to 10,000 callers (the numbers climb in the winter) try to get on the air during the four hours. Obviously, a lot of people get busy signals. Bodette tries to discourage repeat callers on consecutive Sundays, and he bans businesses outright.
There are two other ground rules: no guns, no pets. Other than that, anything goes, even the occasional bedpan. Since there's no time-delay taping, things can get loose. Last June, Bodette grazed a moose with his car. Chatting about the incident, he assured a caller that he wasn't driving too fast, to which the man succinctly replied: "Horse----."
Sometimes the unpredictable element isn't even human. As a caller was ticking off the virtues of an old cuckoo clock, the truth came out: a telltale "cuckoo" in the background--at four minutes after the hour. Another recent caller who claimed that the car he was selling "never needs oil" got a hounding from Bodette that included a mini-lecture on the internal-combustion engine. "I have a good ear for knowing when I can fool around with someone," says Bodette, 39, who has worked in radio since he was a teenager.
SAD SONG. While the flea market's number of secondhand engagement rings and broken hearts doesn't rival those in the songs played every few minutes, the show has its share. Caller No.111 is Gina, who is offering a wedding dress with custom veil, $200. "I don't want to have to sell it, but I have to pay the rent," she says. Her voice betrays little emotion, but there's some tension, and Bodette doesn't inquire about the dress's provenance.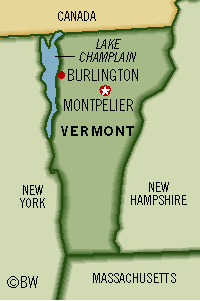 The show moves on to something lighter: air-compressor tools. Then, "a beautiful waterbed" offered by Judy in Colchester. That's interesting enough, but the next caller is a bit of windbag, gabbing on and on about his nine-piece drum set. "Remember, Dave," chides Bodette, "it's only a four-hour show."
Bodette clearly loves the one-on-one challenge of the 800 lines. He works them like a demon, talking to callers privately during the songs and commercials to see if they mind holding and who they are. He treasures the various characters who make up his cadre of regulars, but he doesn't make much fuss over the show itself. "It's entertainment," Bodette says. "That's all we try to do."
Before it's here, it's on the Bloomberg Terminal.
LEARN MORE