business
A `Killer' In Kid Gloves
Jean-Marie Messier is radically but quietly overhauling CGE
Gail Edmondson
As one of the youngest chairmen in France, Jean-Marie Messier is watching his step. The 39-year-old ex-Lazard Freres & Co. investment banker is not proclaiming an Anglo-Saxon makeover at his company--$31.9 billion Compagnie Generale des Eaux--even though the unwieldy conglomerate needs one. That would alienate too many of the allies he needs to speed change. Instead, the savvy Messier is making a radical overhaul as quietly as possible. "It's not a revolution," he insists.
Look again. In short order, Messier has reversed a decade of bad management decisions, unloaded billions in money-losing real estate investments, ripped apart the company's outdated organization, and dramatically transformed its business profile. Profits are now the mantra at CGE, not pell-mell growth. On Oct. 14, three months after taking over as chief executive, Messier announced the company will rebound into the black this year, following a $723 million loss in 1995. "He has a good grasp of the business. He isn't an empire builder," says Michael Wilkins, an analyst at Standard & Poor's in London.
IMPLOSION. Empire-building is still a favorite pastime in France, and CGE, the world's largest water-distribution company, was one of the worst offenders under its previous chairman, 76-year-old Guy Dejouany. He dreamed big in the 1980s, moving into everything from casinos and restaurants to health care and laundry services. Secretive and autocratic, he built a structure comprising 2,700 companies, many of which competed with each other.
The implosion began in 1995, when debt topped $10.5 billion, or 125% of equity, and real estate writedowns contributed to the big loss--the first in the company's 143-year history. To make matters worse, CGE was plagued by investigations into alleged schemes to bribe public officials for contracts. The mess made CGE look like yet another victim of 20th-century French capitalism, along with Credit Lyonnais, Thomson, and Groupe Bull.
Messier has worked rapidly to change that image. He comes to the job with impeccable credentials: At age 29, he was a whiz kid overseeing $10 billion in privatizations for then-Finance Minister Edouard Balladur. As soon as he joined CGE in November, 1994, he started whittling away at the rot and drafting a code of ethical behavior for the company. Now, "CGE is not a conglomerate. It's a group with two main lines of business," utilities services and telecom, he says. Messier aims to expand its utility businesses in global markets for cash flow, and pour new investments into the sexier telecom business in France for fast growth and profits. If he can navigate the political and market challenges ahead, he may point the way for other newly appointed French CEOs.
By 2000, Messier wants CGE to rank No.1 globally in utility services and No.2 in France in telecom. With the French telecom market bracing for complete deregulation in 1998, he moved quickly to assemble a strong group of partners, including British Telecommunications, Britain's Vodafone, America's SBC Communications, and Germany's Mannesmann. Although CGE's telecom sales amount to only $588 million today, Messier is gunning to expand rapidly into long-distance and local voice services. By transforming CGE into France's second-largest phone company, he is betting he can boost telecom sales to $7.8 billion, or at least 15% of total revenues.
Snaring BT, the most aggressive telecom giant in Europe, as a partner is a coup for Messier. BT paid $1.7 billion for 25% of CGE's new cash-hungry telecom holding company, Cegetel, and will bring in marketing savvy and network technology as well. In choosing BT, Messier jettisoned an alliance made in 1995 with AT&T and Unisource, a Swiss, Dutch, and Swedish consortium. "Beneath his baby-doll face, he's a killer," says one Paris analyst.
In utilities, Messier is counting on foreign expansion to make up for a stagnant market and eroding margins in France. He has vowed to generate at least 50% of sales in international markets by 2000, up from 30% today. The stable cash flow from water, waste management, and energy services will help generate capital for $2.4 billion in planned telecom investments, mainly to build a fiber-optic network, over the next three years.
While Messier won't set a timetable for divestments, he is promising to reduce the company's debt level by $2 billion to $3 billion in 1997. All minority interests will be sold off, he insists, except for strategic shares in the media industry, including television giant Canal Plus, cable operations in France and Britain, and Belgium's Audiofina, which controls Compagnie Luxembourgeoise de Tele-diffusion, Europe's largest and most profitable commercial TV company.
PRETTY IN PROFITS. Messier's quiet campaign already has won over the market. CGE's stock is up 52% over a year ago, outperforming the Paris Bourse's 23% rise. Messier added to the good news in his October announcement, saying he expects net profits to reach $353 million this year, and that 1997's net would top $675 million. "What he has done is already a lot," says Philippe Ourpatian, analyst at Wargny & Cie. in Paris.
Besides paring the debt as quickly as possible, Messier's challenge now is to make sure rival Bouygues, which recently allied with Italy's Stet, doesn't outperform CGE and BT in the race for the No. 2 spot in French telecom. "The tough task is still ahead," says S&P's Wilkins. The two dominant water utilities in France, CGE and rival Lyonnaise des Eaux, are known for divvying up markets instead of competing for them, so Messier may have to scramble to gain commercial skills--especially in telecom.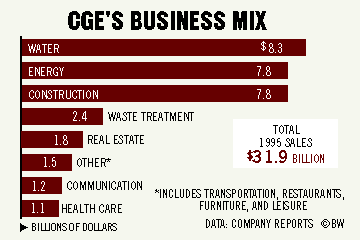 CGE also still faces corruption charges, with embarrassing new revelations about managers who have confessed to passing bribes for contracts to politicians on the Indian Ocean island of La Reunion. Messier has decreed that corrupt practices must come to a halt, and that anyone who is found bribing in order to win contracts will be fired. But insiders say that managers fear they won't meet their sales targets if they can't pass payola to politicians.
With France's political parties financed traditionally by illicit payments, Messier may find bribing for contracts is a tradition that refuses to die. If so, future revelations could confound this new-style boss--and taint the company further just as it seeks to escape its old-style French image. Messier will need all the killer instinct he can muster to fight that one.
Before it's here, it's on the Bloomberg Terminal.
LEARN MORE