A Big Bet On Minibrowsers
Can Spyglass score in the Net appliance market?
Seems like everyone's surfing the Net these days, so it would be ironic if the original Web browser company missed out on the party. But that's what threatens to happen to Spyglass Inc., which in 1994 won the right to Mosaic, the first software with easy-to-use graphics for cruising the Internet. With Netscape Communications Corp. and Microsoft Corp. battling to dominate the Net, Spyglass has been shoved aside. Its shares have tumbled to about $18, down from $57 at the end of last year (chart). Dataquest Inc. analyst Kathey Hale estimates Spyglass has less than 1% of the browser market. It has survived in part because it licensed its technology to Microsoft.
But Spyglass is about to strike back. On Oct. 23, when it announces yearend earnings, it is scheduled to launch a push into browser software for televisions, pagers, and even cellular telephones. Many analysts expect this market to explode: There are 500 million such devices in the U.S., vs. 85 million personal computers. Spyglass' new software might, for instance, allow a pager to pull down stock prices or weather information from a Web site. Spyglass also is developing new server software to go with its new browser technology.
HEALTHY EARNINGS. For now, the Naperville, Ill. company has a head start on Netscape and Microsoft. It has a ready-made base of clients for the new products among the 102 companies with which it has done earlier license deals. Its software also comes in components that can be easily adapted for different purposes and has been redesigned so it can be pared down to as little as one-eighth the size of Netscape's and Microsoft's. "Spyglass' technology was the smallest and the most flexible," says Kenneth B. Kaplan, chief executive officer of Des Moines-based Microware Systems Corp., which is integrating the browser into a television that Mitsubishi Corp. plans to introduce next spring.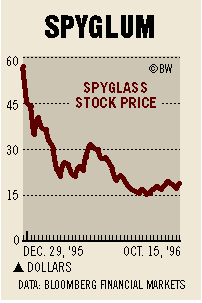 Spyglass, however, can't afford to dally. Largely because of its Microsoft deal, analysts expect its earnings to hit a healthy $3.5 million on revenues of $23 million for the fiscal year ended Sept. 30. But the royalty payments Microsoft must pay are capped and the deal ends altogether in 1998. Microsoft, meanwhile, is developing its own Internet offerings. "Over time, we will move away from Spyglass technology," says John Ludwig, a Microsoft vice-president.
Another worry: Both Microsoft and Netscape are moving beyond PCs. Netscape has a joint venture called Navio with seven consumer-electronics and computer companies to develop Net software for TVs, pagers, and other such devices. "We don't have any intention of conceding anything in any of these markets," says Netscape CEO James L. Barksdale. Sun Microsystems Inc. also hopes to establish its Java software in the new markets. The conclusion: Spyglass' new strategy may buy time in its battle with the giants, but not much.
Before it's here, it's on the Bloomberg Terminal.
LEARN MORE