U.S.: This Slowdown May Be Short Lived
Wall Street could be misreading the job numbers
by
Wall Street is starting to like what it sees. Signs of slower economic growth in the third quarter are easing worries about faster inflation and higher interest rates, and the markets are responding with a rousing ovation. The bond-market rally has pushed Treasury yields down to 6 3/4%, and the Dow Jones industrial average is flirting with 6000.
The latest round of applause was triggered by the Labor Dept.'s surprising report that September nonfarm payrolls dropped by 40,000 workers. The markets took the decline as proof positive that the slowdown is real, that it will continue, and that the Federal Reserve is fading out of the picture.
The markets had better take a closer look. First of all, while nonfarm employment growth slacked off last quarter (chart), other key labor-market statistics give no indication that slower economic growth will continue into the fourth quarter.
On the contrary, increases in September wages and hours worked show that consumers ended the third quarter with another big gain in personal income. At the same time, a longer factory workweek and lean inventories mean production will continue to rise.
Second, there's trouble brewing for profits. Because labor markets remain tight, labor costs, which on average account for 70% of the cost of doing business, are rising even as productivity growth is slowing. That means upward pressure on unit labor costs in the face of resistance to higher prices. Even if the slowdown were lasting, it would take time for worker shortages to ease and the upward pressure on wages to abate.
DESPITE THE DROP in September payrolls, continued labor-market tightness is clear. Payrolls in the third quarter grew an average of 145,000, the smallest gain in more than a year. But jobs are still growing faster than the labor force. The volume of help-wanted ads has not come down much from its expansion highs in 1995, suggesting that companies are still seeking qualified workers. And new unemployment claims remain at low levels, consistent with strong job markets.
The other data in the September report also show tight labor conditions: The jobless rate edged up only a notch, to 5.2%, from August's seven-year low of 5.1%. The nonfarm workweek lengthened by 12 minutes, while the factory week was six minutes longer. And wages advanced by a stronger-than-expected 0.5%.
Moreover, the job drop was led by a decline of 81,000 in government payrolls, mostly local education. Those jobs fell by 67,000, after an 85,000 gain in August. The seasonal-adjustment process does not fully account for the trend toward earlier starts of the school year.
One area of job weakness, though, remains manufacturing, where 57,000 workers got pink slips in September. Factories have lost 138,000 jobs so far this year. Still, the factory workweek rose to 41.8 hours, and overtime remained at a high 4.5 hours, suggesting that industrial production rose again in September. Looking ahead, factory output will increase further because inventories are lean amid firm demand. August factory stock levels rose 0.3% as sales increased 0.1% on top of a 1.1% jump in July. The ratio of inventories to sales remained at a low 1.39 (chart).
PERHAPS THE MOST IMPORTANT SIGN of labor shortages in September was the jump in the average nonfarm wage, to $11.92 an hour. Pay is up 3.5% from a year ago--more than half a percentage point faster than inflation. And in the past six months, hourly pay has risen at an annual rate of 4.2%, the fastest growth in any half-year period since early 1990.
Increased real buying power argues that consumer spending this quarter will not repeat the sluggish pace of the third. Because of a weak start, third-quarter real consumer purchases struggled to rise much above a 1% annual rate. Slower spending combined with high existing debt loads to reduce credit growth. Installment credit rose $3.3 billion in August--the smallest gain in more than three years.
Fatter paychecks, however, do not mean shoppers will accept price increases more readily. Households have a lot to do with their money: save for retirement, save for college, and pay off old bills. In addition, competition will make it difficult for companies to mark up prices. As a result, the profits outlook for 1997 is wedged between the rock of rising costs and the hard place of weak pricing power.
ANOTHER EMERGING SIGN OF TROUBLE for the profits outlook is that, at this stage of the expansion, cyclical gains in productivity are about played out. Because the September workweek rose from 34.5 hours to 34.7 hours, total hours worked last month rose, and for the quarter, they increased at an annual rate of 2.8%. With third-quarter economic growth widely expected to be less than that, productivity growth appears to have been about zero at best, suggesting that unit labor costs rose sharply for the second consecutive quarter.
To be sure, goods producers have much more leeway to control costs. Productivity growth in manufacturing remained stellar last quarter, with output up about 4 1/2%, vs. no growth in hours worked. So productivity gains appear to have offset all of the third-quarter speed-up in factory pay.
However, the economy's labor-intensive service sector, which accounts for four of every five jobs, is a different story. Jobs and hours worked in the private service industries rose strongly in September, and for the quarter, total hours worked increased at a 3.7% annual rate. The pace was far faster than that of output for two quarters in a row, suggesting falling productivity.
Of course, service-sector productivity is notoriously difficult to measure, but mismeasurement would hardly offset the recent acceleration in service-sector pay, up 3.4% during the past year. As a result, unit labor costs in services are speeding up rapidly at a time when service prices are rising only 2.6% (chart). That clearly suggests that many service-industry profit margins are eroding, and that profits will continue to get squeezed unless service providers can raise prices.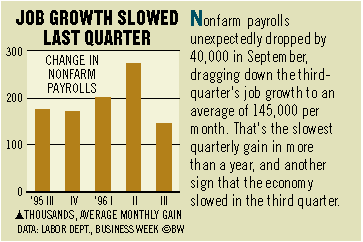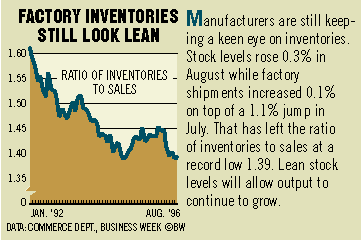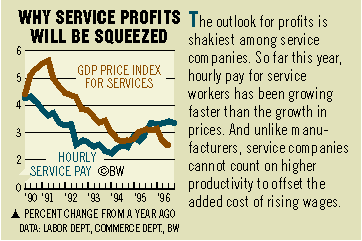 The holiday season may be a test of pricing power in a key service sector, retailing. A University of Michigan survey shows a dwindling percentage of consumers expect prices to fall, while a rising number expect inflation in the 3% to 4% range in the coming year, up from about 2 3/4% now. But as in 1995, come November and December consumers may well play chicken with retailers, waiting for markdowns before buying. If so, real consumer spending may show healthy gains, but retail margins will suffer.
For now, Wall Street seems content that the latest employment report contains only good news: The economy is slowing and so is inflation. But if the emerging trends in wages and labor costs continue, those cheers could quickly turn into boos.
Before it's here, it's on the Bloomberg Terminal.
LEARN MORE