The Squawk Over Boston Chicken
Unusual accounting may have blurred the profit picture
Eric Schine
Fast-growing Boston Chicken Inc. is getting the kind of free media plugs any marketing executive would die for. On a recent episode of The Single Guy, the popular NBC sitcom, the hero's dad says he has only a few regrets in life: not spending more time with his son and not investing in Boston Chicken stock. And in the current best-selling mystery novel by James Patterson, Jack & Jill, one chapter starts with a couple of cops sitting in one of the chain's Boston Market restaurants eating "double-glazed meatloaf and mashed potatoes made from scratch."
The meat and potatoes at the homestyle chain's 1,023 Boston Market restaurants are real enough. But what may be fictional is the financial health of Boston Chicken, the fast-food stores' parent company. Though the stock has soared since its public offering in late 1993, the Golden (Colo.)-based company and its chairman and CEO, Scott Beck, have been a lightning rod for controversy for almost as long. And in recent months, Beck has come in for a renewed round of criticism.
The reason: While Boston Chicken reports lip-smackingly good earnings, the biggest share of its revenues comes from interest on huge loans it makes to its national network of franchisees. And though the company long sidestepped the issue, Boston Chicken finally said in an August Securities & Exchange Commission filing that many of those franchisees are suffering big operating losses. Moreover, the newly released numbers have raised questions about Boston Chicken's accounting. That has led many retailing and accounting experts to conclude that Beck, who has built the chain from just 34 stores since 1992, needs to slow down.
But Beck is upping the ante. In August, he announced plans to triple stores, to 3,600 in the next seven years. He's also replicating his controversial strategy with Einstein Bros. Bagels, a chain in which Boston Chicken holds a 61% stake. Beck vows to expand Einstein, which it took public in August, just as quickly. "I believe in investing to create a future," says Beck. "We are the first new fast-food restaurant to achieve $1 billion in sales since 1969."
NERVOUS. And that is just the beginning. Boston Chicken, promises Beck, will be a $3 billion titan with 18% margins by 1999. To get there, he has assembled a crack staff of marketing and financial executives from the likes of PepsiCo Inc. and Donaldson Lufkin & Jenrette Securities Corp.
For the moment, most shareholders seem willing to take the ride. Investors have poured some $1.4 billion in equity financing into Boston Chicken. Beck's fans are wowed by the 38-year-old's track record--as vice-chairman from 1989 to 1992, he was a key player in the success of Blockbuster Video. Though a jittery market sent Boston Chicken's stock sliding 30% from its March high of 37, news of the expansion plans has boosted the shares back to 34. And since Einstein's IPO, its shares have also risen from 20 to 34. "Nothing's a sure bet," says a nervous investor. "But if you're not in the stock now, you're going to miss the move."
If many on Wall Street are counting on Beck to keep the momentum up, a vocal cadre of analysts and investors remains a thorn in Boston Chicken's side. The company is one of the most heavily shorted stocks on NASDAQ, as critics question its novel financial structure and aggressive accounting practices. At the core of the debate is the selective way the company discloses its numbers. Boston Chicken is organized around 14 regional franchise companies, rather than the hundreds of small franchisees that other chains typically have. Because all but one of the regional "area developers" are stand-alone companies, Boston Chicken doesn't report clear system-wide numbers that show sales and operating results at existing stores.
"INSATIABLE." For two years, that lack of information left much of Wall Street marveling at Boston Chicken's swift growth. Its earnings, which stood at just $1.6 million in 1993, soared to $34 million in profits for 1995, on $159 million in revenues.
But last summer, the company disclosed that franchisees' operating losses had jumped from $9.8 million in 1993 to more than $149 million in 1995; average annual losses for each store jumped from $54,750 to $180,400. All told, the operating losses topped $200 million over the past three years--and some analysts believe they could hit that total again in 1996 alone. Boston Chicken's income, it turns out, comes mostly from franchisees' royalty fees and interest on the loans it makes to them. The company says it had no obligation to report the operating losses at independent area developers.
Moreover, with the rapid growth and the soaring operating losses, Boston Chicken's loans to franchisees have also ballooned: Loans have jumped from $200 million at the start of 1995 to $550 million by July, 1996. Many franchisees have now eaten up their original equity capital. Critics allege that Boston Chicken is simply covering the growing operating losses by piling on more loans. "That's why the company has an insatiable appetite for new funds," warns Howard M. Schilit, an accounting professor at American University. "It should make investors nervous."
Beck says the losses are nothing more than expected start-up costs tied to rushing out a new national restaurant brand with unprecedented speed. Individual stores, he says, are making buckets of money, but rapid expansion has required big capital outlays, pushing area franchise developers into the red. Adds Boston Chicken CFO Larry Stephens: "Let's say our area developers lost $200 million in 1995. So what? That's five months worth of cash flow we'll be generating two years from now."
But critics charge that there's more to it than that. Analyst Roger Lipton, who runs a specialized restaurant-industry research service, argues that Boston Chicken's area developers constantly need more cash because costs are too high and sales too low. Although the company says its average weekly sales approach $24,000 in mature stores, Lipton says those numbers are inflated because they include free-meal coupons for employees, promos, and other discounts, which other restaurant chains typically don't include. Take those out and the net sales fall to just $21,500, he says. "These guys have substantially subverted their story; I've never seen a company come as close to lying," he says. "They've got a cash-flow sinkhole."
TRUST. CFO Stephens calls that "baloney." He says the company has always called such figures "gross" sales. While he agrees the promotions account for up to 5% of gross sales, he says they're factored out when the company calculates its "pre-royalty" cash-flow, which is positive. After they pay royalties, however, Stephens concedes the area developers have negative cash flow.
The biggest accounting complaint against Boston Chicken, though, is its practice of booking annual operating expenses, such as some advertising, food, and labor costs, as overhead costs for development. Because that reduces annual operating expenses at the store level, Schroder Wertheim & Co. analyst Wayne Daniels says the maneuver grossly inflates the 17.2% cash-flow margins Boston Chicken says its mature stores earn. While many franchisees spend about 9% of sales on advertising, for example, anything over 6% is booked as development overhead. Daniels also disputes Boston Chicken's accounting for equipment rental fees. In 1995, for example, Boston Chicken counted $15 million in such fees as interest expense rather than operating costs. That alone inflated the franchisee's margins by 2%, Daniels believes.
Stephens denies Daniels' charges. He says the ad and other costs involved are minimal and "wholly inappropriate to book at the store level." As for the equipment fees, "this is not conventional equipment-lease financing. It is senior debt." Thus, he says, it should not be booked as a standard operating expense.
Also troubling to some analysts is the fact that unlike virtually every other restaurant or retail chain, Boston Chicken does not provide "same-store" figures showing results at stores open a year or more, a measure that factors out new-store openings. Instead, it gives operating results based only on its "mature" stores; Boston Chicken says these are about 72% of the total.
To all this, CFO Stephens says: "Look at our investors: Putnam, GE Capital. Whose judgment do you trust?" Neither firm would comment, although Jack Laporte, head of the T. Rowe Price New Horizons fund--which owns 2.4%--remains optimistic. "They've got a winning team," he says. "Beck has done it before, and we think he'll do it again." And to the skeptics, Stephens points out that just last month, Boston Market investors formed a private placement fund that raised $75 million, $25 million more than intended. Adds Larry Zwain, who oversees the restaurant operation: "Franchisees that lose money don't stay in business very long. I don't see any stores closing down."
"BIZARRE." Given the loans, critics say it's impossible to judge whether or not any should. And they put a very different spin on the recent private placement. Daniels and others argue that because of its need for cash to raise funds for money-losing franchisees, Boston Chicken went to extraordinary lengths to make the placement work. The privately placed stock gives investors an equity stake of 6% of 1,500 existing and future Boston Market restaurants. Daniels says that gives an implied value for the company as a whole of $1.25 billion--about 25% less than the current market capitalization. The deal also included 750,000 five-year warrants to buy Boston Chicken shares at $25. "That's ultimately at the expense of public shareholders," says Daniels. Stephens dismisses that analysis. "It's a bizarre way to look at the deal," he says. "You take a risk, and you get a reward."
If the criticism has any impact, it doesn't show at the chain's Colorado headquarters. In an identical building across the parking lot, the company has built offices for Einstein and hired former LA Gear Inc. president and COO Mark Goldston to run a near-clone of its parent. Using a $120 million convertible loan from Boston Chicken, Einstein has combined four popular chains with 244 stores. Though it lost $43 million on sales of $26 million in 1995, public shareholders paid $47 million for a 10% stake. "This could be the biggest thing since pizza," says Goldston.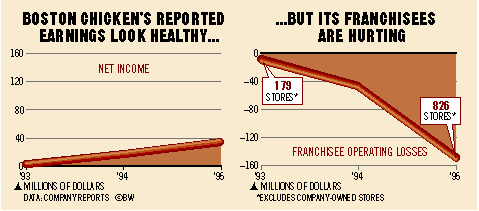 With both chains losing money, though, Beck and team are racing against the clock. To boost sales, Boston Chicken has been adding items to its menu and rejiggering its layouts to cut long waiting lines, while Goldston is laying plans for a real estate and ad spending spree of his own. All that, however, costs money. And whether it's selling bagels or chickens, everyone seems to agree on one thing: No business can lose money forever. "Scott Beck is a brilliant man," says Lipton. "As long as the stock price holds up and he can attract more capital, he could fix the problems." The queston is how long he'll have to do that.
Before it's here, it's on the Bloomberg Terminal.
LEARN MORE