Great Western's Mystery Suitor
by
Great Western Financial (GWF) is the nation's second-largest savings and loan institution, with assets of $44.5 billion. Shares have perked up since July, from 21 to about 28. Apart from buoyant fundamentals, the stock is being fueled by raging consolidation in the industry. Great Western has been one of California's enticing S&L targets.
Now comes a fresh rumor that a major out-of-state commercial bank is in pursuit. According to a New York investment banker, the bank "will approach--if it hasn't done so already--its management for a friendly merger deal." The pro says Great Western would be an ideal, strategic addition to this large money-center bank.
He figures that most thrifts are currently selling at 1.5 times their "tangible book value." This buyer, he thinks, will have to pay something like 2.2 times book, or about 35 to 37 a share if it wants to win GWF. Still, he adds, "Great Western isn't just your typical S&L." It has an "attractive deposit base" in California and Florida, as well as a highly profitable consumer-finance business.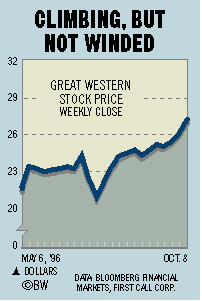 A buyout wouldn't surprise analysts. "The company is clearly of above-average quality," says analyst Paul Huberman of Standard & Poor's, and has been a "long-term consolidation candidate." He also thinks the acquirer would be an out-of-state commercial bank. With GWF emphasizing mortgage servicing, checking accounts, and mutual funds, fee income is apt to improve, he adds.
Analyst Todd Pitsinger, of Friedman, Billings, Ramsey, an investment bank in Arlington, Va., says consolidation is bound to continue and that GWF is "on top of the list" of buyout targets. It looks good to out-of-state banks largely because of its "tremendous branch system," high net-interest margins, and low cost of funds. For non-California banks to compete with in-state biggies BankAmerica and Wells Fargo, they would have to pick an outfit like GWF, says Pitsinger.
Before it's here, it's on the Bloomberg Terminal.
LEARN MORE