Glaxo's Aids Ammo
Its drugs are essential in effective new "cocktails"
Julia Flynn
In 1988, when Gregory K. Fauth learned he was infected with the AIDS virus, he thought he had been handed a death sentence. The former Navy technician began taking Wellcome's AZT, the only approved AIDS drug at the time. Now, eight years later, he's taking Glaxo Wellcome PLC's Epivir and Merck & Co.'s Crixivan as well. By following a costly, long-term regimen of "combination therapy," Fauth has managed to wipe out all signs of the virus in his blood. Says the 41-year-old New Yorker, who swallows 20 pills a day: "I'm winning the battle."
Fauth is one of a growing number of patients benefitting from rapid advances in AIDS treatment. And London-based Glaxo Wellcome plays a major role in supplying the drugs Fauth and hundreds of thousands need to turn AIDS from a fatal disease into a chronic affliction. With its $14 billion takeover of Wellcome last year, Glaxo moved from a position of having no AIDS drugs on the market to dominating the field. As a result, Glaxo is expected to control more than 50% of the world's $1.3 billion AIDS market this year. And demand for AIDS drugs could triple by 2000. "Glaxo is head and shoulders above the competition in the AIDS field," says Barrie James, president of Basel-based Pharma Strategy Consulting and a former Merck executive. Glaxo's shares are trading near $16, close to their 52-week high.
SECOND WIND. Glaxo's dominance at first appears surprising. The company is not marketing any protease inhibitors, the new AIDS drugs whose remarkable powers are generating headlines. And Wellcome's AZT looked like a loser product three years ago, after well-publicized trials questioned its effectiveness.
But new data show that AZT and Epivir are essential ingredients in the "cocktail" therapies that also involve protease inhibitors. From sales that had stalled at $300 million a year since 1992, AZT revenues should jump 27% this year, to $400 million. Says Glaxo Chairman Sir Richard B. Sykes, a former research scientist: "In combination with Epivir, AZT has come back to life." Sales of Epivir, licensed from Canada's BioChem Pharma Inc., are expected to reach $260 million this year, from just $12 million last year.
Both of Glaxo's products work by inhibiting an enzyme called reverse transcriptase that enables HIV to replicate. Newer drugs, such as Merck's Crixivan, Abbott Laboratories' Norvir, and Roche Holdings' Invirase, act by blocking another enzyme, called protease, that also helps the virus spread. Clinical trials show that combining these two types of drugs can reduce the amount of virus in patients' blood to undetectable levels. Glaxo hopes to launch its own, improved protease inhibitor, called VX-478.
By encouraging more people infected with the virus to seek treatment, the makers of the new protease inhibitors have expanded the overall market--to Glaxo's benefit. That's important for the company. Zantac, its $3 billion blockbuster ulcer drug, loses patent protection in some countries next year, so the company is hungry for new sources of growth (chart). Although AIDS drugs will probably account for only 5% of its 1996 sales, they should generate 12% of revenues by 2000, predicts Stewart Adkins, a Lehman Brothers Inc. drug analyst in London.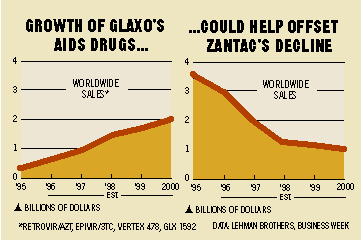 CROWDED FIELD. Still, Glaxo is way behind in rolling out its protease inhibitor. From Wellcome, it inherited a licensing deal with Vertex Pharmaceuticals Inc. in Cambridge, Mass., for the VX-478 compound, developed by Dr. Roger Tung. Some analysts think VX-478 has fewer side effects and greater potency than the current crop, but it won't hit the market until 1998. Well before that, Roche hopes to be marketing an improved version of Invirase, which it is testing in combination with Abbott's Norvir as a protease-protease cocktail. Meanwhile, Glaxo is rushing to come out with GLX 1592, a compound in the same class as AZT.
A crucial element of Glaxo's strategy has been to reach out to AIDS activists, who had hit Wellcome with charges of profiteering. Building on Wellcome programs, Glaxo set up "community consultancies" in the U.S. and Europe, inviting AIDS activists to help coordinate clinical trials. "Few other pharmaceutical companies have given us this level of access," says Robin Gorna, a director of the Terrence Higgins Trust, a British AIDS group. So far, so good. Now, Glaxo has to expand its arsenal against the scourge of the age.
Before it's here, it's on the Bloomberg Terminal.
LEARN MORE