Bon Voyage, If You Can Afford It
Airfares keep rising--and so do hotel and car-rental rates
Wendy Zellner and Stephanie Anderson Forest
In the coming weeks, U.S. airlines should report record third-quarter profits. Wall Street will cheer--but Larry Dunville won't. Dunville, the president of Dearborn Crane & Engineering Co. in Mishawaka, Ind., drives hours to Chicago's Midway and other airports to escape the high airfares from South Bend. Kristin Durbin won't be thrilled, either: The Washington (D.C.) nurse recently flew Southwest Airlines Co. from Baltimore to Cleveland for $25 each way--but to save $350 in airfare, she had to persuade her parents to drive three hours from Detroit to pick her up.
This is what happens when strong demand meets tight capacity. Throughout the travel industry, prices have jumped sharply in the past year--and they'll likely keep rising through the winter. A vibrant economy, and robust demand from winter vacationers, should keep stoking business--and prices--for airlines, hotels, and rental-car companies. And higher fuel and security costs for the airlines will add to the pressure to boost prices in 1997.
NICE BUMP. Average airfares paid by business travelers were up about 12% at the end of September from a year earlier, and at their highest point since early 1993, figures American Express Co. (chart). "There have been dramatic fare increases this year, much more than we anticipated," says Edward P. Gilligan, president of Amex' corporate services. Even leisure fares, with heavy restrictions, are up as much as 70% to 80%, compared with two years ago, says Terry L. Trippler, publisher of The Airfare Report, an industry newsletter.
Such strength will push profits at the 10 major U.S. airlines to a combined $1.6 billion in the third quarter, from $1.2 billion in the 1995 period, says NatWest Securities Corp. analyst Susan Donofrio. She expects cost-cutting Delta Air Lines and United Air Lines, with strong Pacific routes, to be among the top performers.
Airlines aren't the only ones savoring flush times, though. After suffering from years of overbuilding, hotels are now enjoying some of their best days in a decade. Through August, hotel occupancy nationwide was up 1.2%, to 67.6%, from 1995, says market researcher Smith Travel Research in Hendersonville, Tenn. Average room rates rose 6.5% in the same period. Car-rental companies, too, are getting a nice bump in business. "The stars are definitely lining up for us," says Alamo Rent A Car Inc. Chief Executive D. Keith Cobb, who estimates that industry rates are up about 5% this year.
Travelers can expect even higher car and hotel rates in winter destinations such as Orlando, where tourism revenues this year are up 8%. Alamo, for example, is currently charging $206.99 a week in Orlando for a midsize car, up 15% from a year ago. It will be tough finding a hotel room, too, in San Francisco, where occupancy rates are up 5.4% this year, to 78%. At the city's Hotel Rex, rates have climbed 47%, to an average of $132.
Travel bargains can still be found, especially for leisure travelers with plenty of flexibility. But the deals might be harder to pin down. Denver travel agent Don Greco recently found a $100 round-trip fare to New York via Chicago on American Airlines Inc. "I'm going twice," says Greco, who also booked six clients. But such opportunity was fleeting: The fare disappeared from his listings within three hours, he says.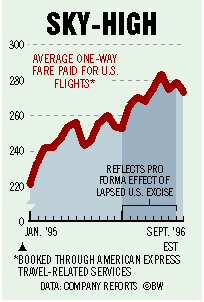 SEA SAVINGS. And the cruise business is awash in bargains, thanks to a glut of capacity. From 1995 to 1998, the top four cruise lines will increase capacity by 70%, figures Larry Fishkin, president of Cruise Line Inc., a Miami-based discounter. As a result, prices on fall and winter cruises are the lowest in more than a decade. Carnival Cruise Lines, for instance, is charging $699 per person for a seven-day Caribbean cruise on its new $400 million Carnival Destiny liner. Once in the still hurricane-damaged Caribbean, moreover, tourists can expect relatively low prices.
Such bargains will be scant for some time, however. Michael D. Boult, general manager of consulting services for Rosenbluth International Inc., a large travel agency, expects airfare increases next year of 3% to 5%. The bite will appear even greater now that a 10% federal ticket tax, which lapsed in January, has kicked back in. Larry Dunville, it appears, will have to keep driving the extra mile.
Before it's here, it's on the Bloomberg Terminal.
LEARN MORE