Wells Fargo May Be Set To Gallop
by
Wells Fargo (WFC) is fast becoming the McDonald's of Western banking--its stagecoach symbol as ubiquitous as the golden arches. On Apr. 1, Wells Fargo bolstered its retail-banking clout by acquiring First Interstate Bancorp. The move was supposed to lower costs to the tune of $800 million a year. But when? The Street has been impatient, and the stock has been lackluster in recent months (chart). Still, a few value-hunting money managers are quietly snapping up Wells shares, taking the view that the Street's attitude is short-sighted.
Institutions began to sour on Wells in July, after second-quarter earnings came in below expectations and after it was reported that reaching the magic $800 million savings number would take longer than anticipated. The company's shares staged a recovery, and are pretty much back where they were in April, at about 260. Street opinion remains largely negative. On Sept. 26, respected bank analyst Keefe, Bruyette & Woods cut its rating of Wells Fargo from "attractive" to "market performer"--polite Street parlance for "stay away."
Now come the value-hunters--notably James Craig, manager of the $12 billion Janus Fund. Craig is pretty downbeat about the general valuation levels of stocks nowadays: He complains that it's hard to find stocks cheap enough to buy. But Wells Fargo is an exception, and he has been buying the stock during its recent price weakness.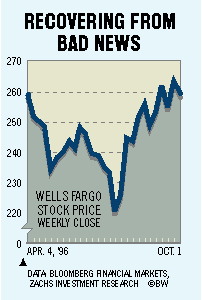 Craig likes Wells Fargo's strong management, already endorsed by investor Warren Buffett--whose Berkshire Hathaway holding company has taken a large stake. Craig feels that the synergy from the First Interstate deal will start to pay off mightily in the months ahead and that the Street's impatience has pushed the stock lower than its intrinsic value. He also notes that the company has been repurchasing stock, shrinking the equity pool and boosting earnings per share. "They're buying back 7% to 8% of their shares every year, and the power of this buyback has been underappreciated," says Craig.
Craig thinks the Wells stagecoach is about ready to break into a gallop. Over the next year or so, he says, the ever-growing Wells Fargo may well be trading at $350 to $360 a share.
Before it's here, it's on the Bloomberg Terminal.
LEARN MORE