U.S.: That Lazy Summer Could Mean A Lively Winter
Consumers may be socking it away for a happy holiday
By
Consumer confidence jumps. Durable goods orders plunge. New home sales surge. The purchasing managers' index falls. For two months now, the economic data have yo-yoed from one extreme to the other. The results have been volatile markets, tentative policymakers, and a debate among economists that just won't die: Is the economy slowing enough to quell worries about inflation and interest rates, or isn't it?
The answer, at least for the third quarter, is becoming clear. Economic growth slowed, perhaps sharply. Real gross domestic product won't be reported until Oct. 30, but it appears to have struggled to grow 2%, following the second quarter's 4.7% surge.
Dissecting the monthly data reveals this picture of the third quarter: Consumer spending, about two-thirds of gross domestic product, rose at an annual rate of only about 1%. A drop in outlays for residential building appears to have offset a gain in business construction. Federal government outlays probably fell, after their shutdown-distorted second-quarter jump. And the trade deficit was a big drain. All in all, final demand slowed significantly.
On the plus side of GDP, there isn't much. Capital spending for equipment appears to have advanced about in line with the second quarter's moderate pace. Probably the biggest contributor to third-quarter GDP was a significant pickup in inventory growth.
BUT EVEN IF THIRD-QUARTER GROWTH was poky, the more important question is whether the slowdown will continue into the fourth quarter. And when looking at the autumn quarter, consider some things that aren't so evident in the GDP math.
First of all, tight labor markets and expanding payrolls are generating wage gains in excess of inflation for the first time in a decade. As a result, real aftertax income in the third quarter likely rose at the fastest quarterly rate in more than two years (chart).
Second, because of increased job security and rising purchasing power, home buying is still in vogue. Sales of new single-family homes rose to a ten-year high in August as higher mortgage rates failed to dent affordability (chart). The stubborn strength in housing, the most rate-sensitive sector, suggests that the third-quarter dip in GDP growth has nothing to do with this year's runup in long-term interest rates.
Third, the economy has never slowed in a lasting way without a slowdown in manufacturing. But third-quarter industrial production rose strongly. Through August, new orders were well above their second-quarter level, and unfilled orders are rising. Finally, add to this the news that the index of leading indicators rose for the seventh month in a row in August to a new high. All this argues that real GDP could easily bounce back above 3% in the fourth quarter.
NO SECTOR SEEMS MORE POISED for a fourth-quarter rebound than consumer spending. Shoppers took the summer off. They were probably too busy enjoying all the stuff they bought in the first half, when real consumer spending on goods and services rose at a 3.5% annual rate. That was the biggest two-quarter increase in 3 1/2 years and a pace that will be hard to maintain.
Real outlays in August did rise a healthy 0.5% from July, but they were flat in July and had fallen 0.6% in June. The monthly pattern sets up some tough math for the third-quarter average to overcome. However, outlays this quarter should compare favorably with the third quarter if spending continues to improve.
And why shouldn't it? Personal income rose a healthy 0.6% in August, and after adjustments for inflation and taxes, real disposable income increased 0.5% in the month. For the quarter, even a modest advance in September, which seems likely, will result in a 5% annual rate of increase in real income, the best showing since 1994.
In fact, over the past year, real income has risen 3%, nearly a percentage point faster than the 2.1% growth in real consumer spending. As a result, the savings rate is up, averaging 5.3% for the past three months. That's the highest it has been for any three-month period in the last 3 1/2 years. Consumers have been able to spend more and save more at the same time.
Some of that extra cash may well be going toward paying off old debts before consumers add new ones this Christmas. The current combination of low joblessness, growing payrolls, rising incomes, low inflation, and high confidence is the best compilation of consumer fundamentals prior to any holiday shopping season in recent memory.
THAT MIX ALSO EXPLAINS why housing remains surprisingly strong. It's now evident why builders continue to start new homes at a rapid clip: They are selling like hot cakes. Sales of new single-family homes rose 4.7% in August to an annual rate of 832,000, the highest level since April, 1986. The July sales gain was revised even higher. Sales in both July and August were widely expected to drop sharply.
To be sure, housing demand will not maintain its current pace in coming months. Builders reported a slower pace of activity in September. Still, through the week ended Sept. 20, the four-week average of the Mortgage Bankers Association of America's index of mortgage applications to buy a home stood at the highest level of the year. And home prices are rising much faster than inflation for the first time in years.
The refusal of housing to buckle under and the generally strong consumer fundamentals are chief reasons why the manufacturing sector will keep on humming this fall. The National Association of Purchasing Management gave a mixed reading of industrial activity in September. The NAPM's composite index of orders, production, employment, delivery speeds, and inventories eased to 51.7% last month from 52.6% in August (chart). But a reading greater than 50% means that factory activity is rising.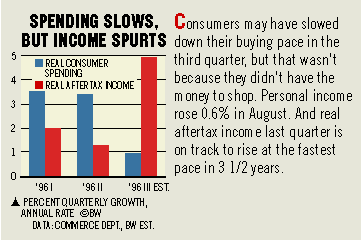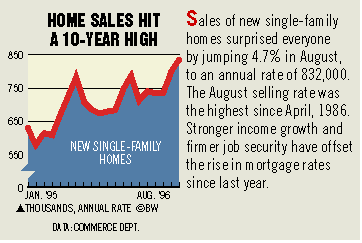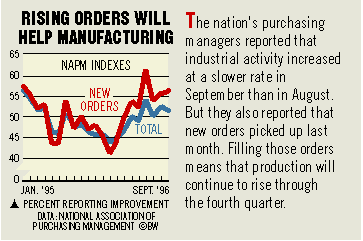 The NAPM said that orders picked up speed, a sign that perhaps the large 3.1% drop in August orders for durable goods reported by the Commerce Dept. was not indicative of the trend. Indeed, so far in the third quarter, bookings are still rising at a 4 1/2% annual rate above the second-quarter level. And excluding aircraft, orders for capital goods are up at a 12% rate.
As long as production lines in manufacturing are rolling, capital spending will stay strong, especially amid healthy profits. With inventories already low relative to sales, further gains in orders and output seem likely. And until job and income growth slows, consumer spending will not cool off in a lasting way, and housing will remain buoyant.
So the bottom line is this: The past is not always prologue. And just because third-quarter real GDP growth looks like 2%, don't be too quick to pencil in another 2% for the fourth quarter.
Before it's here, it's on the Bloomberg Terminal.
LEARN MORE