National Semiconductor's Silicon Dreams
New CEO Brian Halla is betting big on "systems on a chip"
by
National Semiconductor Corp. is the Rodney Dangerfield of Silicon Valley. The company has always had great technical prowess, but its lackluster financials haven't earned it any respect. Even five years under turnaround artist Gilbert F. Amelio, who left early this year to head Apple Computer Inc., produced only modest profits and little growth. National's new CEO, Brian L. Halla, aims to change that with a strategy that will bring National into direct competition with his former employer, LSI Logic Inc.
Halla, 50, who signed on in May, plans to transform National into a customer-oriented company with a "systems on a chip" mantra. This approach is only natural. For most of the eight years he was with LSI, Halla was a high-profile apostle of the chip industry's hottest trend: fast-turnaround custom designs that cram multiple functions onto one sliver of silicon. He spearheaded LSI Logic's drive into silicon systems--and reaped a lucrative contract to supply the brains of Sony Corp.'s popular PlayStation video game machine.
VISION THING. That experience should serve him well at National. In fiscal 1996, which ended last May, National made a modest $185.4 million on sales of $2.6 billion. But it lost $207.6 million in the latest quarter. That red ink was due mostly to a one-time charge of $286 million to split National in two. Halla says National--America's No.6 chipmaker--already is effectively two companies, and the split just makes it formal. The company's old-line commodity products are now grouped into a subsidiary christened with the historic Fairchild Semiconductor name. (National bought Fairchild in 1987 and had retired the name.) Assets of the new Fairchild represent about 27% of National's revenues, 6,000 employees, and half the company's manufacturing capacity. National hopes to sell off Fairchild as soon as possible.
When Halla was approached about succeeding Amelio as National's chief executive, he had some doubts. After the first session with National's board, "I told my wife I wasn't sure if the board was looking for a leader or a caretaker." But when Halla explained to the board his vision of National's future, the board responded enthusiastically, easing Halla's doubts. Director Charles E. Sporck, National Semiconductor's legendary founder, was impressed by Halla's plan to reinforce the company's traditional strength in analog chips while moving more toward custom chips.
Analog chips, despite being overshadowed by their digital counterparts, remain crucial components in computers and other electronics gear. And they are essential to the new generation of multimedia consumer electronics and information appliances. So, while it may seem that high tech steadily becomes more digital, analog chips are easily holding their own.
MIX AND MATCH. To exploit tomorrow's multimedia opportunities, Halla wants to integrate National's analog technology with its knowhow in microprocessors, digital signal processing, and other digital technologies. Entire chips would become little circuit modules in an electronic library. By mixing and matching various logic and analog circuits, silicon designers could quickly create chips that combine the features of several existing chips on one piece of silicon.
Tailoring such multipurpose devices to the specific needs of individual customers will be a risky departure for National. The company is used to cranking out cheap chips by the bucket, then handing them to distributors to sell. There was little direct contact between National and the customer. Now, under Halla's new plan, National will work closely with its customers to give them the designs that best meet their needs and pocketbook.
Halla's game plan will be a very traumatic upheaval, says Jonathan Cassell, an analyst at market researcher Dataquest Inc. Moreover, Halla will be going head-to-head with rivals already firmly entrenched in the custom-chip business, including LSI Logic and VLSI Technology Inc. And the cultural transformation will not be cheap or quick, which means that investors may have to endure a few more disappointing quarters.
Because Fairchild sells billions of low-margin commodity parts through distributors, its path to success, Halla says, is "via low-cost manufacturing and cutting out the overhead for corporate R&D." While post-spin-off National will produce fewer chips, those chips will be "intellectual-property-rich" products that require lots of customer handholding--but earn high margins as a result.
Halla argues that trying to manage two such different businesses was diluting National's focus. Analysts agree. The idea of divesting Fairchild was "fairly brilliant," says Cowen & Co. analyst Drew Peck. It's one reason UBS Securities Inc. projects a return to profitability in 1998 (chart, page 94).
HODGEPODGE. However, competing in custom chips will require not only a new mind-set but also state-of-the-art design tools and production technology. "The process technology Brian had at LSI was much better," says Peck. Design tools are critical because to respond rapidly to customer needs, silicon-system chips are pieced together from libraries of reusable circuit modules. National now has a hodgepodge of incompatible tools, so elements created for one design can't be reused for another. Correcting this may take 18 months, Halla says.
At the same time, National will be racing to fill in the gaps in its digital technology. Halla sees combination analog and digital, or "mixed signal," chips offering rich markets in emerging data highway applications, from cable-TV settop boxes to portable communicators. But LSI Logic, VLSI Technology, and others see the same opportunities, and they are scrambling to acquire analog-chip expertise.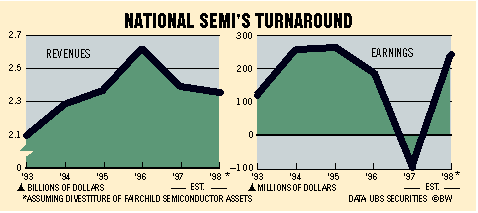 Can Halla turn National into a custom-chip house before rivals achieve parity in analog technology? Opinions are mixed. Wilfred J. Corrigan, the founder and chairman of LSI Logic, has doubts. "A custom-chip culture is very different from a standard-products culture, and it takes a long time to change," he says. But G. Dan Hutchenson, president of market watcher VLSI Research Inc.--no relation to VLSI Technology--is betting on National's depth in analog technology. It is far easier for analog designers to learn digital technology than vice versa, says Ronald Rosenzweig, president of chipmaker Anadigics Inc., because designing analog chips is an art form and lacks the automated tools developed for digital chips. If Halla can make National dance to his fast new tune, it could finally get the respect it deserves.
Before it's here, it's on the Bloomberg Terminal.
LEARN MORE