Making Sense Of A Topsy Turvy Energy Market
Why prices are spiking so often and with so little warning
Gary Mcwilliams
Remember when gasoline prices spurted last spring, rising 17% at the pump? Most drivers have probably long since forgotten. Gasoline prices fell when an expected jump in demand failed to materialize. But the price of crude oil is another matter: It has continued to soar, to more than $24 a barrel, up 34% from a year ago, the highest level since the 1991 Persian Gulf War. The increase is partly due to rising demand and Middle East turmoil, but it also owes a lot to tight inventories. Traders keep fretting that supplies will run short.
Already, the hike is contributing to surging prices for diesel and jet fuel and home heating oil, up 18% or more since last year. Truckers, air-freight shippers, and fuel dealers have started levying surcharges and passing along price increases, some for the first time since 1991. Emery Worldwide notified cargo customers on Sept. 27 that it plans to tack on a surcharge of about 3 cents a pound effective Nov. 1. Two weeks ago, food and produce hauler C.R. England Inc. imposed a 1.5% levy to match an 18% spike in diesel fuel.
The big danger is that price spikes may become regular events. Take the action lately in diesel fuel and heating oil. Just as reports of low inventories drove up gasoline prices this spring, heating oil prices took off when the Energy Dept. reported on Sept. 18 that distillate inventories, which include diesel and heating oil, were down 16%, or 890 million gallons, from a year ago. Then there's natural gas. Prices soared earlier this year on fears that storage levels were inadequate but have fallen to $2.20 per thousand cubic feet, from $2.84 in late June, as the fears abated.
Behind the drop in inventories is cost-cutting by oil companies. The current supply of all U.S. oil stocks, about 79 days, is well below the 93-days inventory the industry maintained at the start of the decade. "The implications are we are without buffers" in rapid price swings, says John S. Cook, petroleum marketing director at the Energy Information Administration. That means that price risk has shifted from oil companies to energy consumers.
With inventories tight, nervous oil traders often may be too quick to bid up spot prices. Prudential Securities Inc. analyst Frank P. Knuettel believes traders who expect a heating oil shortage are misreading inventory numbers. "Come Nov. 1, there will be sufficient heating oil," Knuettel predicts, because he believes big oil companies have learned to manage well with low inventories.
That's cold comfort for consumers. Homeowners in the Northeast can expect to dole out $90 more on average to fill their tanks this season. Part of the problem, says Jim Benton, executive director of the Oil Heat Institute of Eastern New York, an Albany (N.Y.) oil dealers group, is that "there was no dip and no buying opportunity during the summer" for dealers to stockpile heating oil. "We're in a kind of pickle," he says.
STEEP ASCENT. Air carriers also are being affected. In the midst of an air-travel boom, inventories of jet fuel are nearly 3% below last year's level. High demand and low reserves have helped push up jet fuel prices 24% from a year ago, says Dennis S. Eittreim, president of Burlington Air Express Inc. On Sept. 16, the Redwood City, Calif., air-freight division of Pittston Co. began levying a surcharge of 4.2 cents a pound, or about $10 on average, on each North American cargo shipment.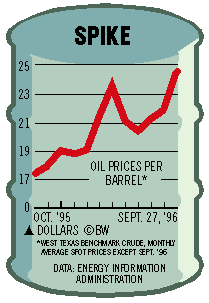 Passenger airlines already have jacked up fares to offset new security, fuel, and labor costs. Now, as fall travel slackens, new fuel increases will have to be absorbed. Indeed, on Oct. 2, American Airlines Inc. and Delta Air Lines Inc. abandoned 5% fare increases they had tried to institute the day before when not enough rivals followed suit. Higher fuel prices will slice about $600 million off industry profits, now estimated to hit a record $7.4 billion this year, says PaineWebber Inc. analyst Sam Buttrick.
The big question at this point: Are gasoline prices on the way up? So far, anticipated higher demand has never materialized. The American Petroleum Institute says gasoline demand rose just 0.6% in the first eight months of this year--well behind the 2.5% growth rate projected early in 1996. Today, retail prices are 28% below the May peak, despite crude oil's price increase. The lesson in that is that traders still are learning the energy market's new math. Until they do, prices will continue to zigzag.
Before it's here, it's on the Bloomberg Terminal.
LEARN MORE