business
J.C. Penney's Fashion Statement
Will its youth-market push alienate older shoppers?
Stephanie Anderson Forest
Last year, Deloris Frizzell gave up even looking in the women's department at J.C. Penney when she stopped in for sheets and pillowcases. She found Penney's offerings dowdy, so when she wanted something for herself, she went to Dillard Department Stores Inc. instead. But that's changing. These days, the 39-year-old Dallas-area customer-service rep finds herself taking home skirts and blouses again along with the housewares. "Their clothes are much more stylish than they used to be," says Frizzell. "Now, I'm finding everything I need right here."
Credit Marilee J. Cumming, J.C. Penney Co.'s new chief of women's apparel. In recent months, Cumming, 48, has scrambled to update Penney's selection and image as a way to bring customers such as Frizzell back into the fold and to attract new ones. In the early 1990s, Penney racked up record sales and profits and built some of the best private-label brands in the business, such as its Original Arizona denim line, with sales of $1 billion a year. Penney's hallmark was well-made, conservative apparel at reasonable prices. If it wasn't cutting-edge, it was at least reliable.
MASS FLIGHT. But reliable somehow turned into stodgy, and for the past year and a half, Penney customers, in search of a more contemporary look, have defected in droves to other retailers. A new generation of younger shoppers never materialized. The biggest winner: Sears, Roebuck & Co., which out-Penneyed Penney with a slew of trendy private--and national--brand labels of its own, backed by a jazzy marketing campaign. While Penney languished, Sears' women's apparel enjoyed double-digit growth. "Penney definitely was a role model for us," says Robert L. Mettler, president of Sears Apparel & Home Fashions.
The problems in the women's department have hit Penney's bottom line. Through the end of July, which represents the first six months of its fiscal year, Penney's profits dropped 13.6%, as sales barely budged. That followed a downright dreary 1995, when profits plunged nearly 21%, to $838 million on stagnating sales of $21.4 billion. Last year's performance sparked a shakeup in the women's division, which, at 41%, accounts for the largest single chunk of Penney's business. In February, Cumming was made head of apparel, and accessories became a separate division under James L. Hailey, who had headed the entire department.
Rebuilding its women's-clothing business is clearly Penney's No.1 priority. Cumming, an energetic 21-year Penney merchandising veteran who previously was president of the fast-growing home-and-leisure division, has moved quickly to add trendier merchandise. But she faces a difficult balancing act, since she must avoid offending the older, traditional Penney shopper.
Can she do it? Cumming is about to find out. Penney's fall line, which hit stores in early September, marks the first on her watch. And the Penney customer is in for some surprises. If Sears has a softer side, Penney has an edgier side. Along with sensible skirts and blouses are $99 zippered lambskin leather vests, $49 silk leopard-print blouses, and $50 pant-suits in slinky, synthetic fabrics. "Quite honestly, this is not what you'd expect from Penney," says Cumming. "But this is definitely the direction we're going in."
With good reason. Penney badly needs to attract some younger shoppers instead of just the over-30 crowd it has traditionally catered to. "They have done a bad job of appealing to the younger, hip customer, and they run the risk of not growing their customer base," says analyst Robert F. Buchanan of NatWest Securities Corp. Eager to reach this new constituency as well as satisfy traditional Penney customers looking for more up-to-date looks, Cumming plans to boost the fashion side of the apparel mix to about 10% from less than 1%.
To do so, she's updating Penney's private-label brands and emphasizing fresh fashion looks, such as "slinky." A big hit with younger consumers at many retailers over the past year, these loose, wrinkle-free tunics, pants, and skirts come in shiny synthetic knits with a flattering drape. For the fall, Penney will ship some 400,000 pieces of slinky--a big bet, considering the line will only be in stores for about four months, Cumming says. Meanwhile, the conservative-looking Jacqueline Ferrar store brand, for example, now includes lots of animal prints, lush leather separates, and cardigan sweaters trimmed with fake fur. Even the staid Worthington and Hunt Club brands are aiming for more fashionable looks.
To stay on top of fashion trends, Cumming is pressuring suppliers to bring her new ideas instead of waiting to see what takes off at the competition. "J.C. Penney for many years was a very traditional store," says Norton Sperling, president of women's apparel maker Norton McNaughton Inc. "Marilee has a more fashion-forward point of view. She keeps telling us to do more fashion."
VIDEO PUSH. Cumming has also made speed a priority. "Once something happens, we need to get those things into our stores," she says. Cumming has started "Hot Topics," a one-hour show broadcast every other Monday over Penney's state-of-the-art satellite network to its 1,238 store managers, who are responsible for how their stores are stocked. The idea is to give them a look at new items that have taken off in other Penney locations so they can order them while they're still hot.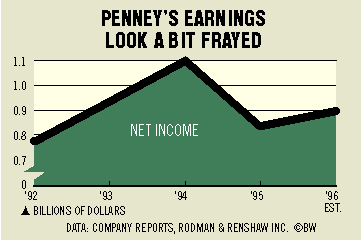 So far, analysts and investors are applauding. The stock is up 21% since January, to around 54. "There is more fashion and newness in the fall-merchandise offering than we've seen in a long time," says analyst Harry A. Ikenson of Rodman & Renshaw Inc. He estimates that the improvement will help boost Penney's 1996 net income about 7%, to $898 million, on a 4.6% sales increase, to $22.4 billion. Adds Don E. Brown, senior securities analyst for the Public Employees Retirement System of Ohio, which holds 910,000 shares: "I haven't been this excited about a stock in a long time. I think they're back."
Cumming isn't ready to declare victory just yet. "I think we've done a good job with the fall line, and I think we'll do a better job for holiday," she says. "But our challenge is to continue to be able to home in on major fashion statements and go after them in a big way." Then, Cumming just has to hope that more shoppers such as Deloris Frizzell start dropping by the dress department again.
Before it's here, it's on the Bloomberg Terminal.
LEARN MORE