Is Ncr Ready To Ring Up Some Cash?
After five painful years, AT&T will spin off a refurbished NCR
John W. Verity
Could NCR Corp. be the next IBM? A troubled, old-line computer company about to be turned around by hard-nosed new management? A stock market killing in the making? That, in a nutshell, is what AT&T hopes investors will think when it spins off Dayton (Ohio)-based NCR on Dec. 31. Surprisingly, there's a fighting chance that the scenario eventually will play out.
How so, after five disastrous years under AT&T? Besides no longer having to be concerned with pleasing AT&T, which is preoccupied with its own massive problems, Chairman and CEO Lars Nyberg, 45, will take public an NCR that's much more streamlined than ever before. For instance, its workforce has been pared from 55,000 in 1991, when AT&T bought the company for $7.58 billion, to 39,000 today. And like other old-line suppliers such as Digital Equipment, Unisys, and even IBM, NCR no longer tries to be all things to all customers. It has stopped making PCs, for example. "There are significant problems," says Salomon Brothers Inc. analyst John B. Jones Jr. "But there are a few silver linings, too."
DEBACLE. To be sure, the preliminary stock registration document AT&T filed on Sept. 26 shows what a debacle NCR has been since AT&T took it over following a drawn-out hostile takeover. The $8 billion computer maker's net losses have totaled $4 billion since 1991--and AT&T has shoveled $2.8 billion into NCR since 1993, with $419 million more slated to be handed over before NCR spins out on its own.
But the filing also shows that Nyberg, who took the helm at NCR in June, 1995, after 21 years at Dutch giant Philips Electronics, may have a turnaround under way. For the first six months of 1996, NCR's net loss was just $83 million, compared with $389 million in the first half of 1995. And, says Nyberg, whose strength is in financial management: "I feel very comfortable that we'll make breakeven" for 1996. One big factor: By ditching NCR's matrix management setup, he has slashed selling, general, and administrative expenses to 21.8% of revenue in the first half of 1996, down from 24.7% in 1995 and 29.4% in 1993. NCR still lags Hewlett-Packard's 18% but is well ahead of DEC's 23.7%.
Nyberg's goal from here on in is straightforward: Get revenues growing once more, mainly by capitalizing on NCR's historic strengths in retailing, financial services, and telecommunications. The company continues to lead in retail and banking terminals: It was No. 1 worldwide in automated-teller machines last year, with 24% of the market. The biggest opportunity Nyberg sees for expanding sales is in so-called data warehousing, a $2 billion market that's growing by 30% a year. NCR was a pioneer there and still holds a 50% market share. Chains such as Wal-Mart Stores Inc. and Seibu Department Stores Ltd. in Tokyo analyze masses of cash-register receipts in huge NCR data warehouses to monitor the effect of sales promotions, for instance. Now, to broaden its reach, NCR is converting its warehouse setup to work with Microsoft Corp.'s Windows NT software, an emerging standard.
At the same time, NCR computers have strengths that may appeal across many industries. The company is working with Intel Corp. and Microsoft to create mainframe-class systems from Intel's Pentium Pro chips and Windows NT. NCR's OctaScale technology has impressed analysts as perhaps the best scheme yet for getting eight Pentium processors to work together efficiently under NT control.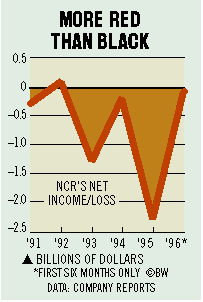 That could help Intel and Microsoft achieve a shared goal: having Pentium-NT-based machines take over from the mainframes and large Unix-based servers that most companies now use for critical applications. "This is a wide-open market," says Brian Richardson, a program director at Meta Group Inc., a consulting firm. "And NCR has the opportunity to establish significant mind share." NCR is best positioned to sell large Pentium-NT machines, Richardson says, because it fields a worldwide sales, consulting, and service force and is experienced in helping customers use mainframes.
Still, what matters most to AT&T stockholders remains unknown: How many shares of the new NCR stock will they get for each AT&T share? That ratio will be set in November, determining NCR's valuation. Until then, Nyberg will scramble to imbue NCR with enough "urgency," as he puts it, so that it can set sail with confidence in its future instead of painful memories of the recent past.
Before it's here, it's on the Bloomberg Terminal.
LEARN MORE