Humana, Heal Thyself
Is the giant finally getting serious about improving quality?
Peter Galuszka
Enraged by what it considered arrogant interference with the doctor-patient relationship, the Florida Physicians Assn. was ready to sue in early September. The doctors' lobby had taken aim at health-maintenance organizations for so-called gag rules under which HMOs forbid doctors from discussing their financial arrangements with HMOs or health-care options not covered by their plans.
Unexpectedly, Humana Inc., the $6 billion health insurer and operator of the biggest HMOs in Florida, broke ranks. On Sept. 13, its just appointed president, Gregory H. Wolf, 40, volunteered to drop the restrictions. The move surprised the FPA, which has long locked horns with Humana. "Humana's reputation has been far from stellar," says Don Weidner, general counsel for the FPA. "This shows they're trying to become a more responsible plan."
LONG TENURE. It's in Humana's interest to do so. The Louisville-based insurer has stumbled badly. For years, Humana was a star of the health-care business, operating out of a $60 million pinkgranite skyscraper in downtown Louisville. Founder and Chairman David A. Jones, 65, built Humana into the country's largest operator of nursing homes and hospitals before selling them off in 1993 to focus on managed care. His decades at the forefront of the HMO industry made him a valued adviser to Presidential administrations from Nixon's to Clinton's.
But while Jones has flourished in the role of standard-bearer, his company is suffering a health crisis. Today, Humana is the No.3 for-profit managed-care company, with 3.7 million patients in its systems. Since the early 1990s, however, Humana has been rocked by accusations of low-quality care, problems getting facilities accredited, an overzealous acquisition strategy, and rising costs.
The final blow came this summer, when rocketing costs forced Humana out of the Washington-area health-care market and 12 smaller ones. Humana took a $200 million pretax second-quarter charge and was forced to sell its Washington HMOs to rival Kaiser Permanente Health Plan & Hospitals. Analysts predict Humana will earn just $158 million this year, a 16% fall from last year. Wall Street voted with its feet. Amid a broader health-care sell-off, Humana's stock plunged from $28 a share in January to $15 in June before returning to about $20 in early October. "It's going to take them longer to sort out their problems" than investors expect, warns Marian Kessler, equity portfolio manager at Crabbe-Huson Co. in Portland, Ore. She dumped her company's block of 1.5 million Humana shares over the summer.
FRESH BLOOD. A chastened Jones led a reorganization in early July. He jettisoned longtime Humana President Wayne T. Smith, 50, and Chief Financial Officer W. Roger Drury, 49. Wolf was elevated to president from chief operating officer on Sept. 12. A former Pennsylvania State University linebacker, Wolf helped triple revenues at Wisconsin insurer Emphesys Financial Group Inc., to $1.6 billion, before Humana bought it in 1995. "He's young," says Jones of Wolf, "but there's a lot to be said for youth that has experience and judgment." Jones's son, venture capitalist David A. Jones Jr., 38, was named vice-chairman. Jones Sr. says he may one day succeed him.
The injection of fresh blood is intended to better position Humana in the wildly competitive world of managed care. Wolf and Jones say they plan to radically improve Humana's quality, use Emphesys to help it better sell managed care to small businesses and capitalize on the growing movement to put Medicare patients into managed care. The duo hope those changes will help Humana escape the grinding price pressures that have dented earnings. There's one problem: Humana is well behind rivals that are essentially using the same strategy to differentiate themselves in a crowded market. Says James Carlson, executive vice-president of rival United Healthcare Corp. in Minneapolis: "The turn toward quality is what we've been doing for quite a few years."
Still, Humana has little choice but to move in that direction. Throughout the managed-care industry, expenses are up because of intense competition and pricey acquisitions. And even as HMOs face continued pressure to lower premiums, Humana and its rivals also face higher costs as patients use more medical services. United and U.S. Healthcare Inc. also posted second-quarter disappointments.
Yet many of Humana's woes are self-made. This year, its medical loss ratio--the ratio of costs to premiums--will rise an estimated 3%, to 85%, says analyst Kenneth Abramowitz of Sanford C. Bernstein & Co., trailing only Aetna Life & Casualty Co.'s among the largest managed-care companies.
Quality, too, has been a big issue. Humana needed two tries to get a managed-care program in South Florida accredited to meet basic quality standards and had similar problems in Jacksonville and Wisconsin in recent years. The chief flaws, say doctors and other critics: faulty paperwork, a bloated bureaucracy, and poor service. Humana's problems, says the FPA's Weidner, come "from a lack of confidence that physicians or their patients have that they will be treated fairly." Humana responds that it has always treated both fairly.
The low point came in June, when Humana announced plans to sell off Group Health Assn. in Washington, purchased in 1994 for $55 million. From the start, Humana miscalculated its ability to fix the money-losing HMO in the extremely competitive District of Columbia market. Jones blames a preexisting contract with Mitchell Trotman Medical Group, a doctors' group that cared for GHA members, whose $39 million medical-services bill Jones says contained significant overcharges. How did this happen? "We just screwed up," he says. "If we had known how bad it was, we wouldn't have bought it. It was just a gigantic mistake." Goodrich Stokes, Mitchell Trotman's COO, responded in a statement that the contract was "fairly negotiated" and that the group members "strongly disagree" with allegations of overcharging.
Wolf and Jones say the days of gigantic mistakes are over. Humana is trying to better its prickly relations with doctors, something Wolf's gag-rule shift may attest to. It's a must, say health-care experts. Companies that hope to survive must improve in areas such as preventive medicine and client relations. "The lowest-cost plan doesn't mean success anymore," says Neil T. Eigen, chief investment officer at Bear Stearns Asset Management Div., which owns 3.7 million Humana shares. "You need good service."
Wolf thinks he can do that by replicating his Emphesys success, which did not come, he says, "necessarily because of innovative products; it was because of customer service." Wolf hopes to give members more health-care plans to choose from, set up more 24-hour inquiry services, and emphasize preventive medicine, such as locating patients who haven't had recent Pap smears. While the outlay is higher, if Humana can reach patients before they get sick, its costs will drop. Yet here, too, Humana trails others.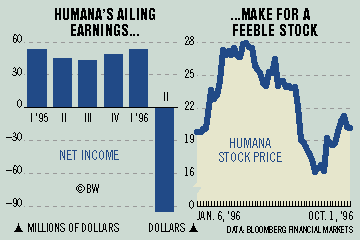 Elsewhere, though, Humana does have a headstart. One bright spot was the 1995 win of a $3.5 billion contract to provide health care to 1 million members in the southeast region of CHAMPUS, the government's managed-care program for active-duty military personnel and early retirees. The contract should bring some $400 million in premiums every six months. And if Humana can resolve some of its problems, it should also capitalize on the next big market shift. The new frontier is Medicare, and many expect big changes there after the November elections. Of 37 million patients, only about 10% are now in managed-care programs. If more move into HMOs, as expected, the industry could soon have a $200 billion market to fight over.
Still, Humana has a long way to go. Its management ranks must switch from a costs-only focus to a user-friendly philosophy. Bear Stearns' Eigen thinks Humana can do it, though it will take time. Warns Bernstein's Abramowitz: "HMOs that do not upgrade will not be around." It's a sobering diagnosis.
Before it's here, it's on the Bloomberg Terminal.
LEARN MORE