Fiddling With The Formula At Pepsi?
Big changes--maybe acquisitions--are afoot
Lori Bongiorno
PepsiCo Inc. Chief Executive Roger A. Enrico gave investors a jolt last week when he announced a restructuring and write-downs that will cost the company $525 million this year. Enrico's plan focused mainly on the troubled overseas soft-drink market, where Coca-Cola outsells Pepsi three to one. Outsiders figure that's just the first of several big moves Enrico is likely to make at the $30 billion food and beverage giant.
Indeed, Pepsi is suddenly swarming with investment bankers sensing the possibility of big transaction fees. Enrico, who has been at the helm for six months, is telling investors his goal for earnings growth is about 15% a year. To achieve that, he needs to do more than solve the immediate problems in the overseas soda business, where Pepsi suffered major reversals this year, particularly in Latin America. Investment bankers say the company's future growth is likely to come from a major food--or beverage--company acquisition. "You can either expect them to make a major acquisition, or they might consider a spin-off, as General Mills did," concurs Gary M. Stibel, a principal with New England Consulting Group. "It's growth or divestiture."
SPARKING RUMORS. Some of the bankers believe that Pepsi's restaurant unit, which includes Taco Bell, KFC, and Pizza Hut, will be spun off, perhaps within a year. "Restaurants don't leverage [PepsiCo's] core strengths," says Henry D. Jackson, a principal at Peter J. Solomon Co., which is not working with the company. "They need something sizable that does." Enrico doesn't rule out a major acquisition at some point, but says he has nothing in the works.
Enrico also says more management changes are in the offing. In September, he recruited Karl M. von der Heyden, a veteran of H.J. Heinz Co. and RJR Nabisco Inc., as chief financial officer. Von der Heyden says one of his first moves will be to exert greater control over spending at Pepsi's business units. "We want to make sure we invest cash according to corporate priorities," he says. But von der Heyden's arrival sparked rumors that he was brought in to make even bigger changes. "Von der Heyden is a guy we know well, and Karl didn't go there to oversee the portfolio they currently have," says one banker looking to cash in.
For now, Enrico and von der Heyden may have their hands full fixing Pepsi's existing businesses. In August, Pepsi lost a crucial Venezuelan bottler to Coke. In July, management and financial problems surfaced at another South American Pepsi bottler. Then there are the restaurants, which have lagged the other businesses and dragged down returns. Enrico put the company's Hot 'n Now burger chain on the block and is reviewing whether its three casual restaurant chains should remain a part of the portfolio.
Deciding what to do with the much larger fast-food chains--KFC, Taco Bell, and Pizza Hut--will be a tougher call. Pizza Hut, which won big last year with stuffed-crust pizza, is once again in a slump. Investors are becoming increasingly shrill in their demands that Enrico get rid of the underperforming chains through a sale, spin-off, or initial public offering. So far, Enrico is sticking to the plan he outlined 15 months ago, when he headed the restaurant division: Reduce the amount of capital invested in restaurants by selling off locations to franchisees.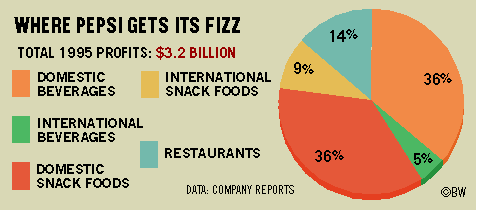 What about just selling the chains entirely, as some outsiders suggest? "I think we can do a whole lot better at the overall nuts and bolts of the restaurant business than we have," says Enrico, who sees potential for international growth. Investment bankers say there are no obvious buyers for the unit, anyway. And relying on Wall Street to put an attractive price on a spin-off may not be a good bet, either, given that overcapacity concerns are depressing restaurant share prices.
All tough calls for Enrico to make. The troops at Pepsi, as well as investors, better be ready for more major jolts.