Building $20 Billion Worth Of Confidence
Marke Clifford
As I descend from the clouds of Lantau Peak, a fat and flat island appears before me as if it were floating on the South China Sea. The impression is not an odd one, however, because the mostly man-made island of Chek Lap Kok has taken over what once was water. Now, this patch of land sitting off Lantau Island is one of the world's grandest construction sites. In place of the handful of families who lived on tiny Chek Lap Kok, people and machines swarm over an island of 3,084 acres, four times the size of New York's Central Park, as they construct Hong Kong's $6.4 billion airport.
The crown jewel in a $20.5 billion cluster of projects, the airport is a symbol of hope that Hong Kong's economy will continue to sizzle after China resumes control next July, following more than 150 years of British rule.
Former Governor David C. Wilson announced plans to build the airport in 1989, just months after the Tiananmen Square massacre. It was perceived as a way of bolstering confidence among residents and investors in this jittery British colony. That angered the Chinese, who thought that what they did in Tiananmen was defensible. They considered the airfield a pork-barrel project to enrich British contractors and leave Hong Kong saddled with debt that would put a damper on prosperity after China took over.
So the Chinese government refused to approve the project, and wary Hong Kong bankers held off lending money for it. British Prime Minister John Major made a humbling trip to Beijing in 1991 in hopes of getting the go-ahead to raise money on international markets. But the Chinese held out, refusing to give approval until late last year. By stalling, the Chinese made sure that the airport will open not in the final days of British rule, as Wilson had hoped, but in the early days of Chinese control. Many suspect the delay was a ploy to let the Chinese trumpet the airport as their gift to Hong Kong.
AWE AND REGRET. Politics aside, the Chek Lap Kok airport and related projects, from bridges to railroads, are redrawing the map of Hong Kong. Two-thirds of the world's commercial dredging fleet was employed in building the massive landfill site for the airport. Construction workers moved the equivalent of 325 Empire State Buildings to increase the island's size.
On Lantau, across a narrow channel from the airport, is the village of Tung Chung, home to several hundred people five years ago. Now, apartment blocks thrust into the sky, and builders estimate that 100,000 people will live in this government-planned community within a decade. The project is just one of the new towns sprouting in Hong Kong's rice paddies and tidal flats to meet the demand for better housing from an increasingly affluent population.
During the four years I've been in Hong Kong, I've watched with a mixture of awe and regret as monuments to development have gone up in this city of 6 million. Authorities say the airport and related infrastructure are the second-largest construction project in the world. Only the massive Three Gorges Dam in China exceeds it. And the airport is more complex, including a tunnel--Hong Kong's third--that runs under the harbor.
DRY DOCKS? People overseas and even many visitors wonder if all this growth will be curtailed when British rule ends next July. In my travels through Asia, I'm often asked what will happen after Chinese rule resumes, as if the city were going to suddenly shrivel. It's hard even for those of us who live here to believe things will be better under the Chinese. Still, the scale of activity should disabuse anyone of the notion that Hong Kong will fade. The airport alone has about 15,000 workers on site, and roughly 6,000 will be added in the months to come as the crews work frantically to open the facility on schedule in April, 1998. Thousands more toil at nine related projects, such as the railroad station from which high-speed trains will whisk passengers downtown, 34 miles away, in 23 minutes. With unemployment just 3% in Hong Kong, a major difficulty is finding enough skilled workers to keep the project on schedule.
Even after the airport is completed, the pace of construction in Hong Kong will continue. By leveling islands and filling in parts of the harbor, the colony figures it has reclaimed more land than anywhere except the Netherlands. But while the Dutch reclamation has been going on for centuries, in Hong Kong most of it has taken place since 1970. A massive extension to the Hong Kong Convention & Exhibition Center, which is expected to be the site of the handover ceremonies next June 30, is under way on newly reclaimed land. Adjacent areas will be filled in, too. The Royal Hong Kong Yacht Club's Kellett Island headquarters, a former British fort, which as late as the 1950s was well out in the harbor, is now firmly attached to land, and it may be landlocked in a decade. It has been sad to watch one of the world's greatest harbors narrow as part of the price of progress. Every year, fewer buildings on the original shoreline have a harbor view.
More than nostalgia or aesthetics is prompting many residents to question the scale of development. There's almost no public input in the planning process. Decisions are made largely in secret, with scant regard given to environmental considerations--or even matters of simple hygiene. "Hong Kong" means fragrant harbor, but the smells wafting off the water these days are anything but. Pipes from government-run pumping stations still flush raw sewage into the harbor. Boats scoop up some floating debris, but refuse is a constant hazard for boat propellers--as well as an eyesore. The airport, which by Hong Kong measures has been constructed according to stringent environmental standards, threatens the habitat of the rare pink dolphins that live in the surrounding Pearl River delta.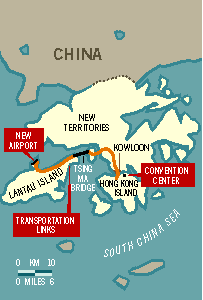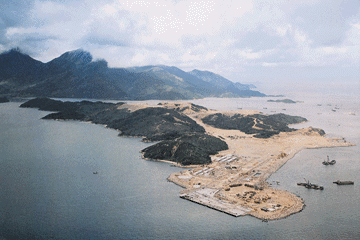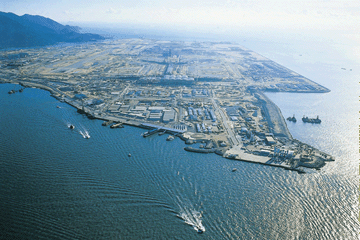 In spite of its reputation as a tangle of skyscrapers, Hong Kong claims to be the world's greenest city. About 80% of the colony is rural, made up of parks and privately owned land. But growth is chipping away at that, too. Once the airport opens, with runways operating 24 hours a day, I don't expect to have quiet hikes on Lantau. But that bothers me less than the erosion of Hong Kong's green heritage because of a lack of government accountability.
The British are leaving a legacy of technical arrogance, and the Chinese have never been known for their environmental concerns. It is altogether possible that growth won't stop until the Hong Kong harbor is largely filled in.
Before it's here, it's on the Bloomberg Terminal.
LEARN MORE