Wpp's Boss: From Buccaneer To Builder
Ex-bad boy Martin Sorrell has WPP's debt down and stock up
Heidi Dawley and Stanley Reed
Martin S. Sorrell is in a reflective mood. The chief executive of ad conglomerate WPP Group seems satisfied over the recovery of his company, but he's not gloating. Instead, he is preaching the need for prudence in an industry he predicts is headed for another wrenching shakeout. Says Sorrell: "Having gone through what we went through in the late '80s and early '90s makes us much more cautious."
Anyone familiar with Sorrell's picaresque career would be amazed at such a statement--and maybe even a little dizzy with disbelief. Is this the same Sorrell who used lots of gumption and other people's money to take over giant U.S. ad agencies J. Walter Thompson Co. and Ogilvy & Mather Worldwide? The same Sorrell whose empire almost collapsed under that takeover debt? The man who then outraged many shareholders by rewarding himself a lavish plan of incentive pay potentially worth more than $20 million?
It is. But that's the new message. Martin Sorrell, 51, is no longer a buccaneer. He sees himself as a builder. And the amazing thing is, he may be right.
Consider the signs of steady improvement. In August, WPP reported a 40% jump in pretax profits for its first half, to $104 million on revenues of $1.3 billion. Debt, once almost $750 million, is down to $263 million.
As the storm has receded, the power of WPP's superagencies has emerged. Ogilvy & Mather has been winning a string of high-profile accounts, most notably IBM, with $500 million in billings. Meanwhile, J. Walter Thompson has won juicy new accounts, such as Twentieth Century Fox.
The company's New York-traded American depositary receipts, each equal to 10 WPP shares, are up about 50% this year (chart). That surge has triggered the first payout in the controversial pay plan Sorrell pushed through in 1995. On Sept. 11, he qualified to receive 1.17 million shares currently worth some $4.2 million. According to a complex stock price and performance formula, he has a chance to earn three more big chunks of shares worth perhaps $16.5 million. But he can't cash in any of the stock until 1999.
The higher WPP stock rises, the greater his rewards, so Sorrell must keep managing shrewdly. Some critics of this royal pay scheme remain unappeased, including Anne Simpson, joint managing director of Pension & Investments Research Consultants in London. Says Simpson: "As he presided over the downturn, that [package] doesn't make sense." Sorrell disagrees, noting WPP has been a top stock performer. Says Lorna Tilbian, analyst at brokers Panmure Gordon & Co.: "It's done phenomenally well. The only chink in the armor is what the world economy will throw at them. Everything within their control they are doing."
LINKING UP. For his part, Sorrell sees more turmoil for agencies, as clients keep pressing for better deals on fees and the business grows more global and complex. This shakeout, he predicts, will hit midtier firms hard and strengthen the hand of the giants: WPP, Omnicom, Interpublic Group, Leo Burnett, and Young & Rubicam.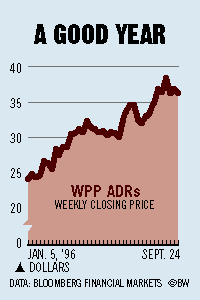 Sorrell is also pushing to build links between his operating companies, encouraging coordination in areas such as media buying, research, advertising, and public relations. He claims success with companies such as ICO Global Communications, a new satellite communications service that is using J. Walter Thompson as lead agency as well as other WPP public relations and research companies. "We reckon that 20% of the increase in revenue each year is [from] some form of cooperative effort," says Sorrell.
By marketing WPP as a one-stop shop, Sorrell harks back to his original reason for building his empire: the supposed synergies a global ad conglomerate could deliver. That vision did not save WPP from some scary moments, and critics say the synergies never materialized. But these days, Sorrell is avoiding new doses of debt, keeping a lid on costs, and making the stock go in the right direction. The man still has his enemies, but now he has his admirers, too.
Before it's here, it's on the Bloomberg Terminal.
LEARN MORE