U.S.: The Case Of The Do Nothing Fed
A rate hike didn't look urgent, but the hawks are still circling
by
As Sherlock Holmes might have observed, it was a curious thing the Federal Reserve did. For, like the dog in Silver Blaze, the Fed didn't bark.
Fed policymakers decided at their Sept. 24 meeting to leave interest rates unchanged. The announcement came amid data showing that tight labor markets are pushing up wage growth, consumers are more upbeat than they have been in years (chart), and most recently, that housing is surprisingly resilient. This would seem to point to an economy strong enough to generate inflation worries for 1997. Curious, indeed.
The balance of the numbers so far in the third quarter, however, presents a sufficiently mixed picture of the economy that the Fed probably felt that the need for a rate hike was not so urgent, and that waiting a while longer wouldn't hurt. Regardless of what consumers say, they are pulling back a bit this quarter, and a wider trade deficit could be a big drag. Third-quarter growth appears to be slowing to the 2%-to-2.5% range, a pace that would make the Fed feel more comfortable, at least for now.
Wall Street didn't seem especially moved by the inaction. The stock indexes finished down after getting hit by the bad news on AT&T earnings. The bond market finished only a bit higher, after a strong runup immediately after the Fed news. Bonds prices had already partly taken into account a quarter-point rate hike, and when it didn't happen, traders squared their positions, resulting in a little rally.
REACHING THE NO-CHANGE DECISION was probably arduous. The meeting was undoubtedly tense because of a press leak reporting sensitive Fed information that eight Fed district presidents had requested a discount rate hike. The disclosure was egregious enough that Fed officials called in the FBI.
The leak, thought to be an attempt by the Fed's hawkish regional presidents to lobby for a rate hike through the press, may well have emboldened Fed Chairman Alan Greenspan and the other board members to rebuff the presidents. Also, with the Presidential election nearing, Greenspan seemed predisposed not to throw the Fed into the political debate by hiking rates without clear-cut evidence that the economy is strong enough to fuel inflation.
It is likely, however, that the central bankers retained their policy bias toward tightening, adopted back in July. That means that if the signs of a nascent slowdown don't pan out, rates could still rise before the year is out. The Fed's next meeting is on Nov. 13. Indeed, Wall Street's failure to rally strongly after the Fed's inaction suggests that market expectations for a hike are still in place. The next crucial signpost: the September employment report due on Oct. 4.
CONSUMERS, IN PARTICULAR, have vexed policymakers, who had hoped to see this year's higher long-term rates dim demand. The Fed knows that if the economy is to slow in a way that will prevent wage and price pressures from building, then consumer spending must slow. Instead, consumers are euphoric. Housing is holding up well. And while recent spending patterns look softer, strong labor markets argue that the outlook for fourth-quarter spending remains good.
The Conference Board reported that its September index of consumer confidence stood at 111.8--a notch below August's 112, which was revised sharply higher. Both readings are the highest since 1989. The board also said that consumers see continuing improvement in the labor markets: Fewer households describe jobs as "hard to get." So all the elements of a strong Christmas buying season--rising pay, job security, and higher confidence--are falling into place.
Moreover, if the Fed is waiting for housing to succumb to higher long-term rates, then it will have to wait a while longer (chart). Overall confidence in the economy and the specific optimism over job prospects have helped to sustain homebuilding, one of the usual casualties of higher long-term rates. Not this year, though. Despite the one-percentage-point rise in mortgage rates this year, housing has not cracked. And an influx of new homeowners means that spending on housing-related items will remain solid.
Sales of existing homes dipped 0.5% in August, to an annual rate of 4.13 million, but resales are 2% above year-ago levels. In addition, housing starts increased 4.5% in August, to an annual rate of 1.53 million. That was an unexpected rebound after July's 2% drop, and it pushed starts to the highest level in 2 1/2 years. Single-family starts jumped 8.3%, to 1.24 million.
Homebuilding grew at a spectacular 11.6% annual rate in the first half. After such a runup, the evidence suggests that housing will probably be neutral for growth in gross domestic product during the second half. So far in the third quarter, for example, starts are about even with their average of the second quarter, which was 6.8% above the first. In addition, builders are growing conservative about their prospects, according to the National Association of Home Builders.
Housing isn't about to crumble, though, as long as households feel that their paychecks will cover mortgage payments. And the Conference Board's survey showed that 24.2% of consumers expect their incomes to rise in the next six months. The August and September readings were the highest of the year.
ONE FACTOR IN THE FED'S DECISION to leave rates steady may have been that credit growth is already slowing. Personal loans at commercial banks grew 5.9% in the 12 months ended in August, down sharply from the 13.4% pace of a year earlier. Growth in installment credit, including credit cards, auto financing, and education loans, has also slowed this year.
Even without higher rates, banks have tightened their lending standards this year, in response to rising delinquencies and bankruptcies. At the same time, some households are cutting back to save for retirement and college and to settle existing IOUs.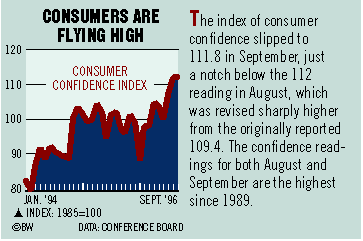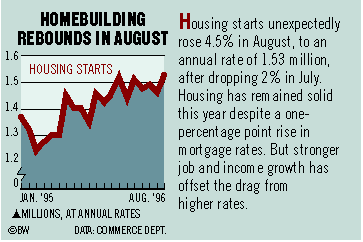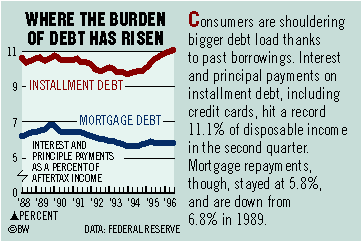 But the overall debt burden is not as heavy as it was in the late 1980s. True, repayments of installment credit took 11.1% of disposable income in the second quarter, a record high. But mortgage debt burdens remain low (chart). They stayed at 5.8%, the same rate as in the previous four quarters. The mortgage percentage is down from 6.8% in 1989, a reflection of the 1993 and 1995 refinancing waves--and of an older U.S. population that has begun to pay off some of its mortgages.
As past business cycles show, debt problems alone are never a trigger for a sharp slowdown in spending. Not as long as job growth is strong. And remember, it was the labor markets that started all the furor over a rate hike in the first place. So until the job markets loosen up, the Fed's inflation hawks will remain hot on the trail of wage and price pressures.
Before it's here, it's on the Bloomberg Terminal.
LEARN MORE