Two Emerging Markets: One So Sweet, One So Sour
Emerging-market watchers always seem to have a "flavor of the month." An estimated $50 billion will pour into developing-country stocks in 1996, most of it into hyped-up favorites. But these are not investments that let you sit back and relax. Egypt is an exotic market that currently has investors enthralled as economic reform gets under way. Vietnam, on the other hand, remains discouraging despite 10 years of restructuring.
EGYPT
Forget the Sphinx. Here come the bulls
When Egyptian President Hosni Mubarak announced the appointment of a new Prime Minister last January, most Egyptians shrugged at the news. The appointee, Kamal Al-Ganzouri, was a consummate bureaucrat who few thought would be able to wake up Egypt's sluggish economy. Fewer still thought Al-Ganzouri would move ahead with a long-delayed program to privatize the hundreds of state-owned companies that make up more than one-third of the Egyptian economy.
Nine months later, the skeptics have changed their tune. Starting with the sale in May of its majority stake in a large Cairo real estate development group, the Egyptian government has moved with surprising speed to surrender its dominant role in the economy. Cairo has been steadily putting its interest in cement companies, food and drug groups, and other state enterprises on the block, at the rate of more than two a month. By the end of next year, says Youssef Boutros-Ghali, a key economic aide to Al-Ganzouri, the government will have raised $3 billion from such sales.
As a result, the once sleepy Cairo Stock Exchange has become one of the hottest emerging-market plays of 1996. Thanks largely to privatizations, the trading volume of the exchange's most active stocks is eight times what it was a year ago, and the EPG-Hermes index has risen 34% since July (chart). Cairo's total market capitalization stands around $10 billion--small by U.S. or Western European standards but already larger than Poland's or Hungary's.
For the first time ever, international fund managers are piling in, from Morgan Stanley & Co. to Lazard Freres & Co. "Egypt is more than hot," says Angus Blair, head of Middle East research at ING Barings Ltd. in London. "It's positively jumping all over the place." Domestic mutual funds have sprung up, too. Altogether, more than $1 billion worth of new funds have been created recently, helping to buoy the market.
The party could last a while. Price-earnings ratios on the exchange are still only around 8.5, compared with nearly 20 for the Standard & Poor's 500-stock index. Egypt is an attractive bet, with a home market of 60 million and an economy more diversified and sophisticated than those of most other Middle Eastern countries. And unlike Jordan, for example, Egypt is relatively unaffected by the Arab-Israeli peace process. Egyptian stocks continued climbing in late September, even as the West Bank and Jerusalem were shaken by the worst violence in years.
STILL HIGH-RISK. But the most important reason the bulls could keep charging in Cairo is the growing perception that the government is serious about economic reform. Besides launching the privatization program, Al-Ganzouri has abolished capital gains and withholding taxes and lifted controls on Egypt's cotton industry. The government is also expected to cut tariffs on a wide range of goods.
The deregulation coincides with some positive economic developments. Gross domestic product is expected to expand by more than 4% this year, with even higher growth projected next year. Inflation is below 7%, versus more than 20% five years ago, while the budget deficit has fallen to 1.5% of GDP, compared with nearly 20% in 1991.
Yet Egypt is still a high-risk market. Although government repression seems to have quashed a growing insurgency among Islamic militants, average monthly wages of little over $60 and unemployment at more than 20% means that fundamentalist organizations could still attract a steady pool of recruits. Each year, Egypt's labor market expands by 500,000, so the country needs economic growth of 4.5% just to accommodate new workers. And the wave of privatizations, while intended to boost growth in the long term, could raise unemployment in the short term as private owners seek more efficiency.
The capital markets still need a lot of work, too. Of more than 600 stocks listed on the Cairo Stock Exchange, only around 50 trade actively. Clearing and settlement of trades can take up to two months, compared with five days on the New York Stock Exchange. But with the Hermes index still pointing skyward, nobody's complaining.
By Sarah Gauch in Cairo, with John Rossant in Rome
VIETNAM
All that money--but where can Templeton invest it?
Among heavy hitters in developing stock markets, no one swings a bigger bat than J. Mark Mobius. The manager of some $9 billion for the nine-year-old Templeton Emerging Markets Fund and a host of offshoots, Mobius is a constant tire-kicker, popping up one day in Seoul and a few days later in St. Petersburg to quiz corporate managers and test the political climate.
But even this pro appears to have met his match in Vietnam, where communist leaders have been unable to deliver on pledges they once made to have an equity market running by 1996. While the holdup has frustrated many fund managers, it is particularly nettlesome to Mobius, who launched the Templeton Vietnam Opportunities Fund on the New York Stock Exchange in 1994. It was the first--and only--U.S.-listed closed-end fund formed to invest largely in publicly traded companies based or operating in Vietnam.
Unfortunately, with no local bourse and with few Vietnam plays among companies listed abroad, Mobius has had to keep more than half of the fund's $110 million in cash. His biggest Vietnam investment: a $1.2 million stake in the Phu Ben Tea Joint Venture Co., partly owned by a unit of Sipef, a Belgian agribusiness group. "Emerging markets do not all behave in the same way," admits Mobius. "Things have not developed as quickly as we had anticipated."
Vietnamese Foreign Affairs Minister Nguyen Manh Cam insisted, in a speech to the Asia Society in New York on Sept. 24, that the government would issue more shares in state-controlled companies and that a stock market would open next year. But many financiers remain dubious. Among the obstacles they see are Vietnam's bureaucratic maze, an opaque legal system, corruption, and a lack of companies adhering to international accounting standards. All told, foreigners have disbursed less than one-third of the $21.8 billion in investments approved by the government since 1989. John Pike, manager of Bangkok-based Vietnam Frontier Fund, says he has rejected nearly 300 investment pitches since 1994 and accepted six.
Mobius says he's every bit as picky. "Our insistence on open accounting and shareholder protection means that the going is rough," he says, adding he refuses to buy into several listed companies in Australia and Canada that have Vietnamese investments and little operating experience. But he remains upbeat on the economy, which is expected to grow 9% this year.
BEEFED UP. He can't stay on the sidelines much longer. When he opened the fund, Mobius said he would get at least 65% of its assets into Vietnam by October, 1997. If he can't, investors will get to vote either to change the fund's mission and name or to liquidate it. Mobius declines to say which option he would recommend. But with fund shares trading at a steep discount of 19% below net asset value (chart), some traders have been buying them up in hopes of making an easy profit if the fund is liquidated.
Aware that his deadline is looming, Mobius is trying to get more cash into Vietnam. After raising the fund's ceiling on direct investments in Vietnam last year, Mobius is asking shareholders to vote on Oct. 8 to let the fund make loans and go into real estate. Sources say he is close to a deal to invest in a $23 million private placement by a Singapore holding company, Indotel Ltd., that operates four hotels in Vietnam and wants to build more.
Despite that, competitors still think Mobius will have a hard time moving anywhere near 65% of his fund--some $71.5 million--into Vietnam in a year. The average size of joint-venture projects in Vietnam is only $12 million, and many funds have to content themselves with stakes of $1 million to $2 million at best. Moreover, "this is a true venture-capital market," warns Pike. "They'll have to engage in dirt-under-the-nails investing."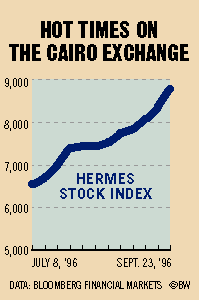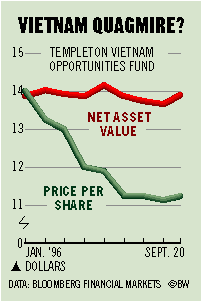 Mobius says he has beefed up his staff to handle the extra work and won't invest unless he is given a way to cash out. But can he beat his deadline? "You go into emerging-market funds for the long haul," says Helen Rotenberg, vice-president at Toronto's United Corporations Ltd., which owns 50,000 Vietnam Opportunities Fund shares. She declines to say how she'll vote on Oct. 8. But perhaps her patience will pay off in Vietnamese earnings. Or maybe she and others will walk away in a year with the cash Vietnam couldn't absorb.
By William Glasgall, with Sheri Prasso, in New York and Frederik Balfour in Ho Chi Minh City
Before it's here, it's on the Bloomberg Terminal.
LEARN MORE