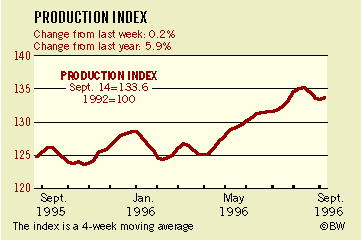 PERSONAL INCOME
      Monday, Sept. 30, 8:30 a.m.EDT -- Personal income likely increased by a solid 
      0.5% in August, while consumer spending probably rose 0.4%. Those are the 
      median forecasts of economists polled by MMS International, one of The 
      McGraw-Hill Companies. The income gain is suggested by rises in weekly pay and 
      jobs in August. In July, income edged up just 0.1%, while spending advanced 
      0.2%.
      
      NEW HOME SALES
      Monday, Sept. 30, 10 a.m.EDT -- New houses likely sold at an annual rate of 
      750,000 in August, after a surprising 7.9% jump, to a 783,000 rate, in July.
      
      LEADING INDICATORS
      Tuesday, Oct. 1, 8:30 a.m.EDT -- The MMS survey expects that the Conference 
      Board's index of leading indicators rose 0.2% in August, the seventh straight 
      gain. The index also advanced 0.2% in July.
      
      NAPM SURVEY
      Tuesday, Oct. 1, 10 a.m.EDT -- The National Association of Purchasing 
      Management's business index likely stood at 53% in September, up from 52.6% in 
      August.
      
      CONSTRUCTION SPENDING
      Wednesday, Oct. 2, 10 a.m.EDT -- Spending on construction projects probably 
      rose 0.5% in August, after falling 1.4% in July.
      
      FACTORY INVENTORIES
      Thursday, Oct. 3, 10 a.m.EDT -- Factory inventories likely grew by 0.2% in 
      August, the same small gain as in July.
      
      EMPLOYMENT
      Friday, Oct. 4, 8:30 a.m.EDT -- The MMS median forecast calls for a gain of 
      182,000 nonfarm jobs in September. That's down from 250,000 in August, but that 
      total was pumped up by a large gain in teaching positions. The unemployment 
      rate is forecast to jump back to 5.3%, up from 5.1% in August. And the average 
      nonfarm hourly wage probably rose 0.3% in September. If so, yearly pay growth 
      would slip down to 3.3%, from August's rapid 3.6% pace.
      
Before it's here, it's on the Bloomberg Terminal.
LEARN MORE