Old World, New Investment
U.S. companies are plowing billions into Europe--and shaking up its business practices
Bill Javetski
As he sits in his new Brussels office, where workmen stomp about installing flooring, Timothy Adams hardly seems a symbol of triumph. But to influential Europeans, the president of Chrysler Europe is just that. They see the U.S. carmaker's 27% annual sales growth in Europe in the past seven years as proof of a new American mind-set in the Old World. Compared with European carmakers, says Deutsche Bank director Rolf E. Breuer, "Chrysler is pure productivity and earnings. God bless the management."
Eighteen years ago, Chrysler crashed and burned in Europe and fled back across the Atlantic. Now the company is part of a big U.S. investment push into Europe. After years of productivity gains at home, U.S. companies are targeting Europe as a prime zone they can exploit. The U.S. companies are coming in droves--with new products, technologies, and management techniques. Their audacious tactics are spurring Europe's own industrial shakeup.
Billions are riding on this new bet on Europe. Over the past five years, American companies have plowed some $150 billion into Europe, boosting America's total investment in manufacturing and services to $364 billion (chart). U.S. direct investment in Europe leaped 17% last year, edging out the 16% jump in Asia, according to the U.S. Commerce Dept. A flurry of recent deals challenges the conventional wisdom that U.S. investors prize Asia's growing economies over the giant European Union market.
NEW WAVE. This surge of investment is different from previous U.S. spending sprees. In the 1960s, U.S. multinationals put down big markers in individual countries, prompting Europeans to call for "national champions" to fight the American challenge. In the late 1980s, U.S. companies spent billions to get on the inside of a new "Fortress Europe." The aim was to take advantage of economies of scale offered by the single market.
The '90s wave of investment is based on new assumptions. As global competition has increased, Europe's business climate has become more like that of the U.S.--deregulated, with price fights and a premium on service. That plays into the hands of U.S. companies in areas such as finance, retailing, and technology. "It's not the Americanization in the 1950s and '60s when we all drank Coke," says Martin W. Hufner, chief economist at Bayerische Vereinsbank. "What we associate with America now is they've done lots of things we had in mind but we didn't do, and we need to do them now."
Indeed, not only are Americans profiting, but they are also becoming Europe's agents of change. With their reengineered plants and efficient use of capital, U.S. companies are prompting Europeans to take a hard look at their rigid labor rules and obstacles to growth. In a big shift, many European companies are embracing the U.S. business model as perhaps the only remaining path to profits and job creation.
To be sure, this Americanization of Europe's workplace doesn't sit well with some hard-nosed labor leaders. "The French won't accept to be managed in an Anglo-Saxon manner," says Marc Blondel, head of France's Force Ouvriere union. Nevertheless, the momentum for change will only rise as governments continue to deregulate industries and privatize state companies. By the decade's end, estimates Morgan Stanley & Co., privatizations will exceed $300 billion in the EU.
APING GAP. Competition in telecommunications is one arena where the U.S. is making inroads. When Germany and Britain began dismantling state-run monopolies and opening up mobile, satellite, and data services in the early 1990s, the U.S. Baby Bells jumped into the breach. AirTouch Communications, BellSouth, and Ameritech, in partnerships with local companies, have shaped the cellular-phone landscape in Europe. Now, they're beginning to team up with sluggish monopolies. Ameritech Corp. led a consortium that in December won 49.9% of Belgacom, the recently privatized Belgian operator. The U.S. company is taking on the dirty work of restructuring one of Europe's most overpriced phone companies.
Other U.S. companies are boosting competition with postal services across the continent. United Parcel Service Inc. recently unveiled its improved overnight delivery services in Europe--part of $1.1 billion in new investment. "We're bringing U.S.-style service to Europe," declares Edwin Reitman, president of UPS Europe. The company is expanding there even though it lost $500 million in two years because it sees the European Union as key to its global network.
In financial services, U.S. companies are eyeing millions of households poorly served by Europe's banks, insurance companies, and brokerages. They remain characterized by high fees and low returns. Fidelity Investments saw its business in Europe grow 20% for the first half of 1996. To expand its growing leasing and consumer finance services, GE Capital Services paid $1.5 billion for French specialty lender Sovac last year.
Meanwhile, some of America's best-known retailers have been pleasing European consumers by offering better prices and choice. Procter & Gamble Co. has imported its strategy of "everyday low pricing" designed to grab market share for its products. In response to P&G's 10% price cuts on liquid dishwashing products, supermarkets such as Britain's J. Sainsbury PLC slashed their prices on house brands.
Then there's Gap Inc. The clothing retailer has opened 72 European stores since 1987 and will open six more this year. By using U.S. methods of tracking inventories, Gap can feed new designs into stores three times as fast as European retailers. That's pressuring them to improve their store designs, product mix, and advertising. One French retailer, Celio, is installing new lighting and floors similar to Gap's.
One of the biggest spurs to U.S. investment has been the freer hand Americans are gaining to reengineer European companies. They have won concessions from many unions as they have put in place production schemes that have worked in the U.S. So while labor laws remain tough on the books, Europe's social contract is being modified.
At an industrial park just beyond Versailles, General Electric Co. has transformed a quintessential French operation into a global player. When GE bought the plant, which produces X-ray machines, from France's Thomson in 1987, it was losing money and selling 75% of its output at home. GE streamlined the management, made the unit the worldwide center for its X-ray products, and persuaded marketing staff and engineers to work together.
"WAKING UP." Now the unit exports 82% of its output. Altogether in Europe, GE earned $1 billion on $14 billion in sales last year. Its experience holds lessons for all of Corporate Europe. Says Stephane Garelli, a professor at the Institute for Management Development in Lausanne: "U.S. companies are putting pressure on European companies, and they are suddenly waking up."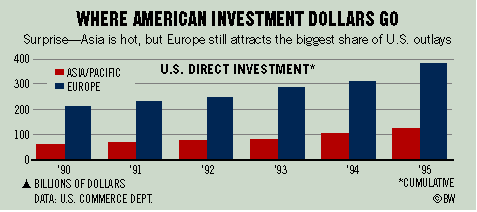 That awakening represents just the initial step in Europe's process of corporate renewal. Governments must also cut state spending, speed up deregulation, streamline taxes, and push for greater productivity. Even so, some business leaders believe that they can follow their U.S. rivals and whip their companies into shape. "In five years, the corporate elite of Europe will be on a par with the corporate elite of the U.S.," predicts Eberhard von Korber, head of European operations at ABB Asea Brown Boveri Ltd. That would be a clear sign that Europe's competitive revival is under way.
Before it's here, it's on the Bloomberg Terminal.
LEARN MORE