Italy: There's More Than One Road To Emu
If efforts to reform Italy's welfare system fall short, Prime Minister Romano Prodi knows that another avenue can lead to European Monetary Union: lower interest rates.
Because of the disproportionate size of interest payments in Italy's budget, its deficit as a percentage of gross domestic product is three times as sensitive to interest-rate changes as those of Europe generally, according to the Organization for Economic Cooperation & Development. As a result, even at growth of about 2% over the next two years, a 1 1/2-point drop in interest rates could cut the deficit as a percentage of GDP to less than 3% by 1998, down from about 7% projected for 1996, according to economists at J.P. Morgan & Co.
The key to lower rates will be curbing inflation. For now, the outlook is excellent. Consumer inflation in September held at August's 27-year low of 3.4%, and it may drop below 3% by yearend--the result of this year's mild recession, a rebound in the lira, and several one-time events. If so, Bank of Italy Governor Antonio Fazio has all but guaranteed another cut in the discount rate, after a 3/4--point cut in July to 8 1/4%. And prices should remain subdued in 1997: The fiscal drag from a tight budget means the economy will recover only modestly from this year's projected growth of 1% or less, to 2% or better.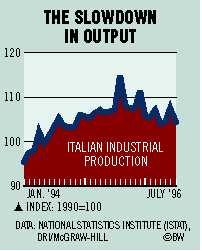 Still, the government will have a hard time meeting its 1997 inflation target of 2 1/2%. With productivity growing 2%, wage growth must fall to 5%--from this year's projected 6%--just to make the pace of unit labor costs consistent with 3% inflation. Prodi is working to break down barriers to labor-market entry and to change the current system of centralized wage bargaining in favor of regional wage setting. Unit labor costs, however, are already picking up, and just how far unions will bend remains to be seen.
Even if Prodi can make a low-interest rate strategy work, the deficit will remain vulnerable to the business cycle. An unexpected recession would put Italy back at square one.
Before it's here, it's on the Bloomberg Terminal.
LEARN MORE