Foreigners Fuel A Cape Town Boom...As New Vintners Ditch Some Old Ways
Katherine Ann Miller
Stephan Scharmacher, 33, is selling a house in South Africa. Although the six-bedroom place has great views of vineyards, mountains, and the 17th century manor house of the region's first governor, he'll probably get $1 million--a fraction of the price such a spread would fetch in a similar sunny location abroad. So is this another story of a prosperous white selling cheap to escape escalating crime? Could be, if the house were set in a leafy suburb of crime-ridden Johannesburg, where the property market is floundering. But Scharmacher lives in Cape Town. And here, prices are going through the roof.
Cape Town has a relatively low crime rate, stunning scenery, and lingering post-apartheid euphoria--sustained by the city's 2004 Olympic bid. So it's a natural destination not only for the rich whites fleeing Johannesburg but also for well-heeled foreigners, such as Scharmacher, a German citizen, who plans to invest in development. "Our properties are so cheap, it's pocket money for foreigners," says Andrew Smith, managing director of Seeff Residential Properties. Buyers are flocking especially to the neighborhoods that hug the base of the city's beloved centerpiece, towering Table Mountain.
The main reason first-rate property is so cheap is that apartheid kept Cape Town in a time warp. For 20 years, the city was largely shunned by the world tourist trade, while many places of similar beauty were spoiled. "Cape Town has so many things that are rarities these days: sun, space, clean air," says Vera de Hen of Pam Golding Properties, the city's premier agency. What makes Cape Town even more appealing to foreigners is the falling rand, which in two years has sunk from U.S. 28 cents to U.S. 22 cents. In fashionable neighborhoods such as Scharmacher's Constantia, choice properties are being snapped up within days of coming on the market. One Constantia agent estimates that during 1996, 25% of the buyers in the neighborhood have been from overseas.
The $1 million that Sharmacher has been offered for his property represents a tidy profit on the $494,000 he paid for it two years ago, even considering renovation expenses. One coastal developer bought a 3,592-square-meter beachfront tract for $2,894,000 earlier this year and was offered $4,897,000 six months later.
SUN AND WINE. Property prices in the Western Cape are now growing at an 18% annual rate. In fact, they have been buoyant since the mid-1980s, partly thanks to German enthusiasm for the beaches, wines, and take-it-slow ethos of the Cape. But it took a more recent influx of British expatriates to make the city downright fashionable. Last year, the brother of the Princess of Wales, Earl Spencer, and Margaret Thatcher's son, Mark, bought $1 million-plus properties in Constantia. Brits have surpassed Germans as the major foreign buyers, and the two groups combined make up about 70% of such newcomers, according to agents.
Of course, not all Cape Town is real estate heaven. Last year, prices in former township areas on the Cape Flats plunged 20% because of high crime. But if the city lands the Olympics, even poorer areas may get a taste of the boom.
Anne Cointreau-Huchon, 46, and her husband, Alain Huchon, 48, backed by a family wine empire in France that dates back centuries, bought Morgenhof vineyard in the Western Cape shortly before the 1994 elections. Land prices then were one-fifth that of similar vineyard property in even moderately priced areas of France. "It was a bit of a risk, but in Europe you couldn't see anything as challenging," says Huchon.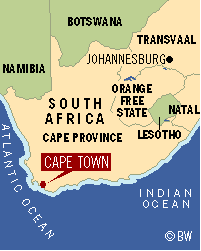 The challenge goes far beyond making internationally competitive wines in a region where exports have boomed. Labor conditions in the Cape winelands were almost feudal until a few years ago. Progressive vintners are starting to subsidize health care and establish community education facilities, but it's slow going. After three years, only half the Cointreau-Huchons' workers have allowed bank accounts to be established for them, instead of stuffing savings in mattresses. "When someone doesn't know how to read, they fear everything," says Huchon. "And they don't trust you because they have such a history of being abused." As trust is built, the Western Cape's winemaking may nourish the whole community.
Before it's here, it's on the Bloomberg Terminal.
LEARN MORE