Behind The Surge At Signet Banking
by
Bank stocks are in an upswing, driven by impressive earnings and by a wave of takeovers. Even shares of banks with lackluster profits have been on the rise. Take Signet Banking (SBK) in Richmond, Va.--the state's largest bank, whose earnings have been so-so for two years. Its stock is heading up, from 21 in early August to nearly 26 on Sept. 24. Why? It's the latest name out of the rumor mill.
Whispers say First Union, a holding company with assets of $140 billion and a market cap of $19 billion, has approached Signet. One money manager who focuses on banks says talks took place--and Signet nixed an offer of 35 a share, or about $2.1 billion.
According to this pro, Signet, with assets of $11.4 billion and 250 branches in Virginia, Maryland, and the District of Columbia, was thinking of a price between 37 and 40 a share. But he expects the two sides to come back for more discussions. "Right now, they're really not too far apart," he adds. First Union's 2,100 offices serve the East, from Connecticut to Florida. Signet says the bank doesn't comment on rumors. Likewise for First Union.
"Signet is the [Virginia bank] most vulnerable to consolidation for several reasons," says Merrill Ross of Wheat First Butcher Singer. She notes that takeover talk often arises when a management change looms. Signet Chairman Robert Freeman retires next year.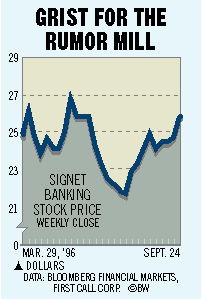 Other reasons, she says, are a "lack of efficiency and subpar results." She says Signet's core banking franchise has not grown since Signet spun off its Capital One Financial credit-card business in March, 1994. That makes Signet a compelling target, says Ross, because it will let an acquisitor recoup whatever premium it pays by streamlining operations. Ross agrees Signet should fetch about 37 in a buyout.
Signet's board is "feeling the heat to do something to enhance shareholder value," says Ross, who thinks earnings will be down on a quarter-to-quarter basis and flat compared with a year ago. "That may prove to be the trigger," she says, for the board to sell. This second quarter's 50 cents matched year-earlier earnings. She figures Signet will earn $2.05 for the year--below the consensus estimate of $2.10.
Before it's here, it's on the Bloomberg Terminal.
LEARN MORE