A Quiet Crusade To Save The Redwoods
Eric Schine
My first day inside the Redwoods Monastery on northern California's remote Lost Coast is hardly a smashing success. Cozy in my little cinder-block cell, I sleep through the 5 a.m. meditation and morning prayer and stumble into breakfast 20 minutes late. There's also the matter of eating in total silence. Monastery etiquette is an art I'm not likely to master: I crunch my granola and clink my spoon loudly, and with every attempt to suppress my exuberant eating, I only make more commotion, bumping my chair and then spilling homemade jam on the polished concrete floor. Even if I were Catholic, I see that I wouldn't make a very good monk.
No one in this community of a dozen or so seems to mind, however. Mother Myriam, who served as abbess for most of the monastery's 34 years, several sisters, and their chaplain, Father Roger, moved here from Belgium in 1962 to devote themselves to a life of quiet prayer and contemplation among 300 acres of forest and rolling fields that had been donated to the church. In the move, the sisters, who are Trappist monks, brought traditions from a monastic order dating back nearly 1,000 years.
Once in California, the sisters found themselves in an environment dominated by something even more ancient: 2,000-year-old redwoods that tower above their little settlement. The sisters' cloister is built around redwood groves and a pretty apple orchard. The church altar sits in front of a floor-to-ceiling window framing a redwood. Naturalist John Muir, a deeply religious man, would have approved.
But this cloistered way of life is threatened. In recent years, timber companies have stepped up their pace of nearby clear-cutting, timbering right to the edge of the monastery's property. There are days, says Mother Myriam, when the scream of chain saws and the thud of falling trees are unrelenting.
So the monastery has been thrust into an unfamiliar role of gentle protest in order to preserve its way of life. "We came to this place to turn ourselves toward God," Mother Myriam explains to me. "God is not just a spirit within, but also in nature. Nature is a gift to be respected, not exploited."
STRUTTING TURKEY. I've come more than 600 miles from Los Angeles to see firsthand the monks' quietly effective way of saving the redwood forests. Their positive approach depends not so much on confrontation as persuasion and conciliation. What I find is Sanctuary Forest, a 700-acre patchwork quilt of ancient redwood groves that border the monastery. They were purchased over the past decade from landowners and timber companies. The money came from donations by individuals as well as from Save the Redwoods League, a nonprofit set up in 1912.
But the monks and local conservationists aren't finished. They are racing to raise about $5 million to add 1,300 additional acres that are now slated for timbering. The community also is rebuilding stream banks to restore salmon habitats decimated by logging.
Here at the monastery, the monks are working to heal earlier timbering scars by planting trees. I walk with Father Roger, 88, to a shady grove of young redwoods at the edge of the monastery. He throws his arms around one, breathes in deeply, and beams. "These trees," he says in a heavy Belgian accent, "will always be here, to walk under, to enjoy." They are there because of Father Roger. Day after day, year after year, he spends his spare time clearing away thick underbrush to plant seedlings. Roger's Grove, as the sisters affectionately call it, has dozens of thriving trees, some nearly 30 years old now. The grove fills him with immense joy.
The forest and monastery are home to God's wild creatures, too. Near the coast, an enormous Roosevelt elk charges me, chasing me away from his harem of 40 cows and calves. At the monastery, a wild turkey struts across the yard. A pair of ravens follows overhead as a sister rides her bicycle to the organic vegetable garden. The air is full of the songs of birds that flutter over the apple orchard. The monks grow much of their own food and meet other needs by baking whole-wheat Eucharist wafers, which they sell to churches around the world.
To get a sense of how the outside world is pressing in, I talk to one of the monastery's longtime neighbors. Bob McKee, who runs a local construction company, invites me on an airplane ride for a bird's-eye view of the forest. We meet in thick morning fog in a cow pasture where McKee pulls a muddy Cessna out of a dilapidated barn. I strap myself in, wondering out loud where the airstrip is. We taxi down the pasture, scattering a dozen cows, and I have my answer: We're on it.
WHERE MONEY GROWS. Airborne, McKee points out important features of the rugged landscape by tilting the plane on its side to get a view straight down. Ugly clear-cuts scar the forest, and there are patches of bare earth where timber companies doused the land with herbicides.
McKee, whose grandfather homesteaded here in the 1800s and worked hauling timber to the jagged coast to be loaded onto schooners, favors modest timbering. "Just because a tree is big and old doesn't mean it shouldn't be cut," he says. It's a common view held by locals, who point out that a single old-growth redwood can be worth $50,000 or more in timber. McKee opposes clear-cutting operations and wants some groves preserved.
So McKee supports the monks' conservation efforts and has helped raise money for Sanctuary Forest. "The sisters are good neighbors, and we're glad to have them in the community," says McKee.
Back on the ground, I accompany Ben Morehouse, 22, a Sanctuary Forest intern, to see the forest's centerpiece: a massive, 2,000-year-old tree named Big Red. On our way back, as Ben and I amiably discuss the pros and cons of legalizing hemp, we manage to get lost under the thick, damp canopy of the forest. "Don't worry," he says after a good hour of thrashing around. "Finding your way in the forest is part of the experience."
Another part of that experience is running into David, a surly young man dressed like a gangsta rapper, who stands beside a shack and a huge pile of tin cans. "You shouldn't have come here," he admonishes. "If my neighbor found you, you'd be dodging bullets--you'd be compost." We've stumbled into Gopherville, the Lost Coast's own shantytown that got its start back in Prohibition days with illicit distilleries. Today, the local product is more likely to be marijuana, but we don't stick around long enough to find out.
BIG DEMONSTRATION. Glad to be back within the safe confines of the monastery, I gorge on tofu loaf and lentil soup, washing it down with Douglas fir tea. It's almost delicious.
That evening, at prayer service, I squirm for 20 minutes while the sisters meditate in silence. After readings from the Bible and psalm-singing, they dim the lights while the sound of Gregorian chants fills the air. A sister slowly moves through a graceful "prayer dance" that looks like modern ballet in the dark.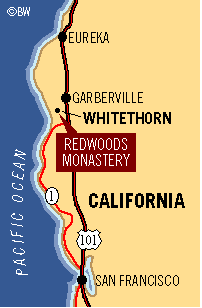 On Sunday morning, neighbors in these sparsely populated hills come to the monastery to attend mass. Many are onetime hippies who moved here in the 1960s to get back to the land and escape the turbulent antiwar movement. A generation later, they seem mellow and settled. Toward the end of the service, a monk offers a prayer of forgiveness for those who wantonly cut down trees. Then a few families head off to a big antilogging demonstration 60 miles to the north. Curious, I say my goodbyes and follow along.
The demonstration is faintly reminiscent of Vietnam protests: hundreds of demonstrators in tie-dyed T-shirts, faded jeans, and Birkenstocks noisily get themselves arrested. I don't doubt their sincerity, but I ask myself whether they will have as much to show for their efforts as Father Roger and the monks of the Redwoods Monastery. Perhaps it is small deeds and hushed voices that, in the end, do the most good.
Before it's here, it's on the Bloomberg Terminal.
LEARN MORE