U.S.: The Party Will Keep On Rockin'
Demand is slowing, but inventory growth will spur the economy
by
It really doesn't get any better than this: first-half growth at 3.4%, the jobless rate close to a two-decade low, core inflation at a three-decade low, and the Dow headed toward 5900. Hey, let's party.
But is the economic bash getting a little too raucous? That's the question that the financial markets, policymakers, and most economists are grappling with. Based on recent trends, an all-too-familiar scenario may be shaping up: Late in a business cycle, when little slack remains in the markets for labor and products, inflation worries crop up, and the Federal Reserve swoops in to take away the punch bowl, hoping to quiet the party--sometimes even killing it.
Although the third-quarter data is flashing mixed signals, economic growth in the second half does not yet appear to be slowing enough to allay those late-cycle concerns. True, housing gains may be tougher to come by, but sales have been surprisingly resilient, and the supports under consumer spending, capital spending, and exports remain strong.
Amid good prospects for demand, extremely lean inventories are fueling factory orders and output, and the economy has rarely slowed in a lasting way when manufacturing is gaining momentum (chart). So far, as the price indexes show, inflation remains benign, especially goods prices. But labor-market slack has already evaporated, and as factory activity picks up, production slack will diminish.
OVERALL INDUSTRIAL PRODUCTION in the nation's factories, mines, and utilities rose a sturdy 0.5% in August, although a rebound in utility output, which had been depressed in July because of unusually cool weather, exaggerated the gain.
Still, factory production rose 0.3% in August. Production of consumer goods fell in the month, led by declines in auto production and output of housing-related items, such as appliances, TVs, and air conditioners. Offsetting that weakness was another solid advance in business equipment.
In addition, output of materials jumped 1.2%, the largest monthly gain in more than two years, suggesting that factories are starting to beef up inventories in order to meet the faster pace of output. Excluding the year's ups and downs in auto output, which have distorted the underlying trend, third-quarter factory production is set to rise at about a 4.5% annual rate, a continuation of this year's speedup.
Lean inventories are a key reason why manufacturing is gathering speed. For a year and a half, businesses have been following very conservative inventory policies, which slowed the growth of overall stock levels to a crawl in the first half--just when demand was picking up. Now, some businesses are caught short and have to play catch-up.
In July, stock levels at manufacturers, wholesalers, and retailers rose 0.4%. That was faster than in recent months, but business sales in July jumped 1.2%. As a result, the ratio of inventories to sales, a measure of the adequacy of current stock levels, fell to 1.39--the lowest level on the Commerce Dept.'s books, which go back to 1980 (chart).
From 1994 until the second quarter of 1996, a slower pace of inventory gains subtracted from economic growth. But from now on, inventories will add to growth. Some economists estimate that stock-building could contribute as much as a percentage point to the second-half pace of real gross domestic product. So even if final demand slows, the inventory catch-up will supply an offset.
THIRD-QUARTER DEMAND is, indeed, off to a slow start, as retail sales and exports show, but the sluggishness is not likely to last. Exports fell 3.6% in July, while imports rose 1.2%, causing the trade deficit to widen sharply to $11.7 billion, from $8.2 billion in June. Such a large deterioration suggests trade is a drag on third-quarter growth.
The July trade gap with Western Europe ballooned, mainly because of weak exports. However, growth there is generally strengthening, led by Germany and Britain, and exports to Europe are up 7.5% so far this year.
Consumers are also off to a slow second-half start. Retail sales rose 0.2% in August, after edging up 0.1% in July, and falling 0.6% in June. Real retail sales are barely above the second-quarter level (chart). However, fourth-quarter spending is likely to rebound. Jobs and incomes are growing strongly. Unemployment is at a seven-year low. And consumer confidence is at an expansion high. Those are all components of a good Christmas shopping season.
True, credit-card delinquencies are rising. They hit a record 3.66% in the second quarter, and the monthly payment burden on installment debt has surpassed the peak of the late 1980s, especially if you include auto leases. But the debt load may have more to say about the increased number of cardholders and the new ways we use debt than about the financial problems of households. In fact, the monthly payment burden of mortgage debt remains well below the 1980s level.
SO FAR, THE MANUFACTURING PICKUP has not squeezed production capacity. The operating rate for all industry rose to 83.5% in August from 83.3% in July, but that rise reflected the rebound in utility output. The rate in the factory sector dipped 0.1% for the second month in a row, to 82.3%.
But if output continues to accelerate, capacity pressure will build. The Fed estimates that manufacturing capacity through August grew at a yearly rate of 4.4%, while factory output over the year was up 4%. In the third quarter, however, overall manufacturing output is set to rise at an annual rate of about 5% from the second quarter, when it advanced 7%.
The lack of capacity pressures, so far, is a key reason why goods prices remain so well-behaved. Except for energy and food, wholesale inflation has fallen this year. The producer price index for all finished goods rose 0.3% in August, while the core index, which excludes energy and food, fell 0.1%. Yearly core inflation has fallen to 1.4%, down from 2.6% at the end of 1995.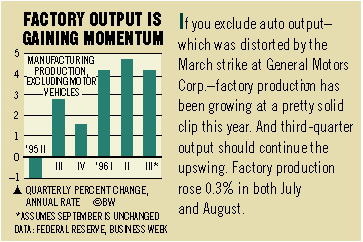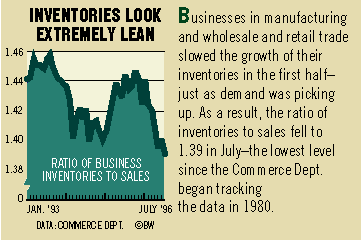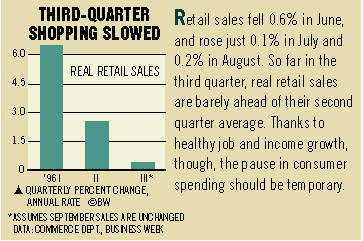 Consumer prices show much the same trend. The consumer price index rose a scant 0.1% in August, as did the core CPI. Yearly core inflation in August dropped to 2.6%. That's the lowest pace since 1973. Of course, since monetary policy works with a long lag, the Federal Reserve does not make policy based on yesterday's price index.
In fact, if a Reuters newswire report is correct, eight of the 12 Fed district presidents are requesting at least a quarter-point hike in the Fed's discount rate, and three are requesting a half-point hike. The report also said that a consensus is forming on the Fed's policy committee for a quarter-point increase in the key federal funds rate at the Sept. 24 meeting.
Better drink up before the punch bowl disappears.
Before it's here, it's on the Bloomberg Terminal.
LEARN MORE