The Mike Milken Story In Tights
From the junk-bond follies of the '80s, a ballet is born
Toddi Gutner
Who would have thought that junk-bond king Mike Milken's life would be the stuff of art, let alone art with overtones of Greek tragedy and backing from European governments? But that's what will happen Oct. 16-19, when the Brooklyn Academy of Music (BAM) stages its two-hour multimedia theatrical production of The Predators' Ball.
In a ballet based on writer Connie Bruck's 1989 book, choreographer Karole Armitage, who also created Madonna's Vogue video, uses rapping, voguing (stylistic hand movements), video, and classical dance to tell Milken's story. A Greek chorus of rappers acts as Milken's conscience, and a god called Thyades (read: the '80s) manipulates his fate. "This is not a documentary about Milken, but a story about a genius with a tragic flaw," says Armitage. The flaw: "Milken believed he could control life through willpower and failed to realize that fate and destiny play a significant role in your life. Man has limitations and must accept them, but Milken did not."
How did a cutting-edge choreographer become interested in Milken, Drexel Burnham Lambert Inc., and the financial maneuverings of the era? Armitage says her interest was piqued when she got $50,000 from Wall Street arbitrageurs including Asher B. Edelman to support her New York dance company in the early '80s. She attended their parties and became intrigued with the "art of war" mentality they exuded before takeovers. After the 1987 stock market crash, money became scarce. By 1989, donations had dried up.
Wondering what happened, Armitage began studying books on Milken and the junk-bond era. She never contacted Milken, but she did interview former Drexel head Frederick H. Joseph, financiers Carl C. Icahn and Ronald O. Perelman, and several traders who worked with Milken in Beverly Hills.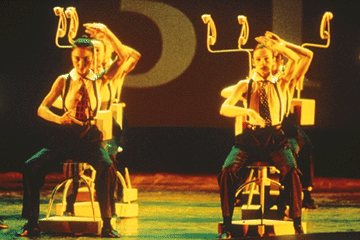 EUROPEAN RUN. Armitage then created a dance about Wall Street excesses and Milken called Hucksters of the Soul. In 1993, she received $350,000 in grants and other support from the French government. Hucksters had a successful six-week run in France, Germany, and Italy. Then, Armitage renamed and reworked it, using Bruck's book to give the production more of a story line, with the goal of bringing it to the U.S. In 1994, BAM got interested, and Armitage raised the $500,000 to stage the ballet. Even then, financial glitches nearly scuttled it.
And what is Milken's reaction to his life being recreated for the sake of art? "There is nothing he can say," says a Milken spokesman. "Facts have given way to fiction." That's life--and art.
Before it's here, it's on the Bloomberg Terminal.
LEARN MORE