Spain: Aznar's High Hopes May Be Dashed
The new government of Prime Minister Jose Maria Aznar continues to vow that Spain's public deficit will fall to 3% of gross domestic product in 1997. But with the 1996 deficit on track to total about 5%, and with the latest data showing only modest growth, the chances of hitting the target are shrinking.
Industrial production in June fell an unexpectedly large 5.7% from a year ago. For the second quarter, output was down 2.8%, the second drop in a row (chart). Part of the June decline reflected fewer workdays, but excess inventories and weak domestic demand also slowed output. Consumer spending is shaky amid low confidence and high unemployment: The jobless rate fell only a bit in June, to 22%, from 22.3% in May.
The Bank of Spain has tried to help lift growth this year by slashing 1.75 percentage points off its benchmark lending rate, now a record low 7.25%. But more cuts are on hold until the 1997 budget is released in late September.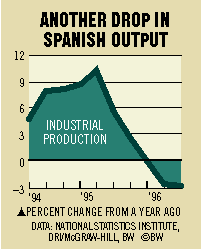 Officials already have warned of shortfalls in revenues and cost overruns in the social security system. A wage freeze for government workers and cuts in public investment and corporate subsidies seem the most likely measures to trim 800 billion pesetas ($6.28 billion) in spending. The government expects overall budget adjustments to equal a hefty 1.6% of gross domestic product. But its budget plan also counts on real GDP growth of 3% next year, after a 2.3% gain in 1996. Private economists expect growth at a slower 2.5% to 2.8%, with the deficit at 3.5% of GDP in 1997.
For either forecast, better growth depends on a strong European recovery to keep exports surging and at least one more rate cut. Subdued inflation will give the central bank some latitude to ease further. Consumer prices in August rose just 3.7% from a year ago. And with the outlook for modest growth, price pressures are unlikely to build. That's good, because the central bank will need more room for cuts to offset some of the fiscal austerity that will be a serious drag on the Spanish economy.
Before it's here, it's on the Bloomberg Terminal.
LEARN MORE