Isuzu Vs. Consumer Reports: Talk About Spin Control
Isuzu fights charges that two of its sport-utes are unsafe
Larry Armstrong
It's every executive's nightmare, and it's happening now to J. Terry Maloney, general manager of American Isuzu Motors Inc. On Aug. 20, Consumers Union called a rare press conference to say that in its October issue of Consumer Reports, it would rate Isuzu's Trooper and its sister, the Acura SLX, which Isuzu builds for American Honda Motor Co., unacceptable. As evidence, it provided video demonstrating that they could roll over in accident-avoidance maneuvers.
That was last month. On Sept. 12, Isuzu brought the matter up again, at its own press conference. It refuted the CU charges with engineering data, independent road tests, and outsiders' criticisms of CU's methodology. The next day it ran full-page newspaper ads aimed at Isuzu owners and the public stressing the safety of its vehicles.
Was it foolish to raise the issue again? "Let's be honest; the Consumers Union footage broadcast in all the news reports was pretty terrifying," Maloney says. "We had to reassure our owners." The company noted that neither Isuzu nor the government had ever received a roll-over complaint about the '95 or '96 Trooper--the models CU criticized.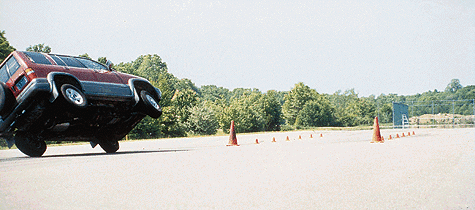 Experts say the rebuttal is classic crisis management--and that Isuzu is doing it extremely well. "They should fight like hell to win in the court of public opinion as fast as they can," says Gerald C. Meyers, a former American Motors Corp. chairman who teaches crisis management. Isuzu "is defending its owners from ridicule by officemates and neighbors," says Myron A. Hartwig of Hill & Knowlton Inc.
Will Isuzu's strategy work? When CU charged in 1988 that the Suzuki Samurai could easily roll over, sales plunged to 1,435 vehicles, from 77,493 in the '88 model year. Suzuki is arguing in court that the Consumers Union test is flawed. Isuzu hopes its owners will buy that line--and a future Trooper or two.
Before it's here, it's on the Bloomberg Terminal.
LEARN MORE