Honk If You're Building A Sport Utility Vehicle
A glut is coming. Profits will drop, and a shakeout looms
Kathleen Kerwin
Mitchell Dale has sold a lot of Ford Explorers in the past six years. Customers, undaunted by recession or Gulf War oil-price scares, have snapped up the trendy sport-utility vehicles as fast as the factory could ship them, with nary a rebate required. "It's been a great run," says Dale, general manager of McRee Ford in Dickinson, Tex.
But on Sept. 10, after three months of slipping sales, Ford Motor Co. finally had to admit the boom was over. It slapped a $299-a-month cheap lease deal on the Explorer, joining all the other makers of sport-utilities who are curbing price increases or announcing rebates. Says Ford Chairman Alexander J. Trotman: "The segment is clearly getting much more competitive."
RISING INVENTORIES. That may be an understatement. With 18 new models arriving by the end of the decade, the $49 billion sport-utility market is approaching saturation, triggering intense price competition. That's bad news for auto makers, which have reveled in fat earnings from sport-utilities: Profit margins can run as high as the eye-popping $10,000 per vehicle of Ford's new jumbo Expedition. Manufacturers, especially the Big Three, have invested heavily in new SUV factories and are now faced with a capacity glut. They are gearing up to build some 3.5 million sport-utilities annually by 2005--about a million units more than projected demand, figures analyst George C. Peterson of AutoPacific Inc. "Somebody is going to lose," he predicts.
One sign of strain: Inventories of less popular models already are building. Chevrolet/Geo dealers have a 121-day supply of the Geo Tracker, which has been left in the dust by sporty new rivals such as Toyota Motor Corp.'s RAV4. (About 60 days' supply is considered ideal.) And the glut seems sure to get worse. A year ago, there were 32 brands of sport-utes on the road, says Peterson. By 2003, there will be 65.
This flood of new models is arriving just as the torrid growth rate in sport-utilities sales is about to cool off. Unit sales grew at nearly a 12% annual clip in the first half of the decade, but growth is slowing to a 5.2% pace for the second half and will taper off to 0.9% through 2005, says Susan Jacobs, president of Rutherford, (N.J.)-based auto consultants Jacobs & Associates. One big downer: Jacobs figures that as Baby Boomers age and their kids leave home, many will shift back to cars again.
Despite all this, most auto makers and analysts expect sales of sport-utility vehicles to keep rising for at least another decade. But the growth will be slower, and the heady, anything-sells days of uncontested profit margins are over. In fact, the emerging trend in sport-utilities closely parallels the flattening in the growth rate of minivan sales a couple of years ago.
Already, the Darwinian struggle is beginning in sport-utilities. Experts expect a shakeout even in the superpremium category, where more players are piling in than the narrow niche can support. Among the most vulnerable models are gussied-up basic SUVs masquerading as luxury trucks, including Infiniti's QX4 (based on Nissan's Pathfinder). But even the bread-and-butter compact SUV segment, which includes Explorer, Grand Cherokee, Chevy Blazer, and Toyota 4Runner, will come under attack from a new class of leather-trimmed larger SUVs--as well as from a crop of trendy mini models such as Honda's CRV. Plus, starting next year, the domestic brands that have ruled SUVs for the past decade will face tougher import competition at the top end from the likes of Lexus and Mercedes-Benz.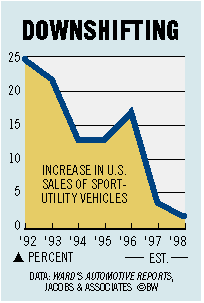 Signs of price wars are emerging, too. In mainstay compact and subcompact SUVs, where prices have spurted 5% annually since 1992, sticker prices rose just 2.3% for the 1997 model year, according to Jacobs. And she says prices of full-size sport-utes such as the Chevrolet Suburban and GMC Yukon, which shot up nearly 10% in the past two years, rose just 2.9% for 1997.
Incentives on SUVs have tripled in the past year, figures consultant Christopher W. Cedergren. That's good news for consumers. But the advent of savage competition in one of Detroit's best markets may cast a shadow over company profits for years to come.
Before it's here, it's on the Bloomberg Terminal.
LEARN MORE