Catch A Rising Reliastar
by
Investment manager John Moore doesn't look for takeover bets when he scans his screen of 8,000 stocks. But the technique he uses in picking stocks for the $5.2 billion portfolio he runs at M&T Capital Advisors, the investment arm of Manufacturers & Traders Trust, has nevertheless turned up plenty of takeover targets. His recent buys include American Re, acquired in August by Munich Reinsurance, and Colony Capital, purchased by GE Capital.
So what is Moore betting on that is takeover bait? He is high on ReliaStar Financial (RLR), which specializes in life and health insurance and annuities. Its stock has been rising, from 41 in late July to 47 3/8 on Sept. 17.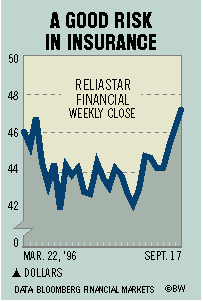 ReliaStar "is a highly rated life insurer focusing on retirement-based financial products," says Moore. It has everything he looks for in a stock: a 10-year stream of increasing earnings, a record of beating the Street's estimates, and a price-earnings ratio less than others in its industry. He figures ReliaStar, which earned $4.36 a share last year, will make $4.80 in 1996 and $5.30 in 1997.
"ReliaStar is still a very overlooked high riser," says Moore, "and will benefit from the wave of takeovers in the insurance industry." He suspects that larger insurers and financial-service companies have their eyes on ReliaStar based on the recent rise in the stock's activity.
Before it's here, it's on the Bloomberg Terminal.
LEARN MORE