A New Parent For Lehman Brothers?
by
On-again, off-again rumors that Lehman Brothers (LEH) is on the block are, well, on again. People who claim to be in the know insist that talks are going on between Lehman and a New York bank interested in Lehman's investment-banking prowess. The timing of the talks is opportune for the bank: Lehman stock, currently trading at 21 3/4, is about where it was back at the beginning of the year. A New York investment banker who insists that "the talks are definitely on" figures the stock is worth more than 40 in a buyout. A Lehman spokeswoman wouldn't comment on the rumor.
In May of last year, CEO Richard Fuld Jr. told BUSINESS WEEK that Lehman wanted to be the "premier investment bank, serving our clients globally." In 1995, revenues from investment-banking operations rose from 21% to 26% of the total, while contributions from principal transactions, or trading on its own capital, slipped from 49% to 45%. In the six months ended May 31, revenues from investment banking jumped from $289 million to $433 million.
The major banks want to broaden their bases by getting into the lucrative fields of securities underwriting and investment banking. Analysts agree that Lehman, spun off by American Express in May, 1994, is one of the most vulnerable to a takeover.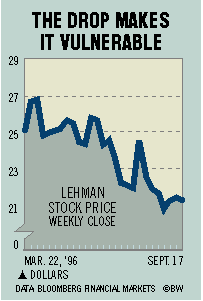 "Lehman is an extremely strong buyout candidate," says Steven Eisman, an analyst at Oppenheimer. The stock is selling at 10% less than its book value. Lehman's bond business is strong, but the equity department remains weak. A buyer with deep pockets, however, could bolster the company's stock-related businesses. "Lehman still has a very strong brand name," notes Eisman. Part of Lehman's vulnerability to a takeover is that management owns a thin slice of shares. "If a buyer showed up with an offer of 1.7 times book, or 46 a share, management might be forced to take the offer," says Eisman.
Before it's here, it's on the Bloomberg Terminal.
LEARN MORE