A Body Blow To Argentina's Middle Class
Reforms bring joblessness and hard times for many
by
The shiny new toaster, a gift from her fiance, is stuffed in a cubbyhole above her small closet. It waits for the day when 28-year-old Maria Gabriela Garcia Varela can afford to marry and move from her parents' tiny Buenos Aires apartment, where she shares bunk beds with her brother, 26. But that day seems years away.
Gabriela knows computers, has administrative experience, and speaks English--a valuable employment asset in Argentina. She wants to teach kindergarten but can't afford to, though she holds a teaching certificate, because that job pays only $280 a month. The best she has been able to do in the country's saturated job market is her $580-a-month position as a secretary and administrative aide in the office of a small air-conditioning contractor. Her fiance earns $760 per month in a marketing job at an orthopedic equipment company, but he is paying tuition for university night classes. Together, the couple's salaries aren't enough for them to go out on their own in a city with living costs comparable to New York City's. "We have tried every way, but with the incomes we have, it's impossible," Gabriela says.
Even worse off is Gabriela's brother, Mariano Rodrigo. He lost his job at credit-card company Argencard five months ago when staff was cut after an international investor group bought it. He gave his $6,000 severance pay to his parents to reduce their mortgage. "The situation is for crying and suicide," Gabriela says in English. "But you have to try to find ways to survive."
Like the Garcias, millions of Argentines are scrambling to survive as the hope of prosperity, which seemed a sure bet in the early 1990s, fades. President Carlos Menem's free-market reforms did boost gross domestic product an average of 7.8% annually for four years (chart), and his austerity measures killed off the hyperinflation that ravaged the country in the 1980s. But the shock from the Mexican peso's devaluation plunged Argentina into deep recession last year, and recovery is expected to be slow.
Hardest hit has been Argentina's large middle class. They're happy to see the end of hyperinflation. The Garcia family's former lifestyle, including a large apartment and two cars, was lost when the family grocery business succumbed to inflation. The parents now barely meet expenses with the meager income from a small residential hotel they inherited. But with the new free-market economy creating few jobs, families such as the Garcias see little chance to better their lives.
With unemployment at 17%, and an additional 12.7% of Argentines working part-time, many now want a respite from the painful reform process. Middle-class resentments intensified last month when new Economy Minister Roque Fernandez raised the specter of still more austerity with his proposal for tax hikes to head off a looming $6 billion budget deficit. And unions are planning another general strike on Sept. 26 after shutting down much of the country on Aug. 8 in the bitterest antigovernment protest of Menem's presidency.
IN PAIN. From Brasilia to Lima, other governments are closely watching as Argentines weigh the promise of future economic gain from free-market reform against its costs in current social pain. "In Latin America, things tend to work by the domino effect--first we had dictatorships, then a wave of democracy, then open markets," says Malcolm Gibson, an analyst at Banco Roberts, a Buenos Aires bank. "What happens here could affect other countries."
One place where it's happening is San Martin, an industrial suburb 14 kilometers from Buenos Aires. Cheap Asian imports have put 30 textile-related companies out of business in the past few years, pushing unemployment over 20%. Modern machinery is marginalizing low-skilled workers, says Silvia Viale, manager of the San Martin branch of job agency Servicios Empresarios Argentinos. And many Argentine employers are demanding university studies plus knowledge of English and computers.
For those 50 or older who have lost their jobs, "there is no hope," Viale says. Many middle-aged unemployables spent their working years in now-shrunken bureaucracies. "They are not trained to be competitive," says political analyst Manuel Mora y Araujo.
One San Martin company's steps to stay competitive are hurting both workers and managers. Eyelit, a family-owned underwear maker, is installing a $350,000 sewing robot and cutting payroll from 500 in 1995 to 400 by the end of this year. President Norberto Mociulsky has also cut the top monthly salary for managers to $4,000--one-third of what some had been making. Sales manager Graciela Cristino says the cut from $10,000 a month hurt her morale as well as her pocketbook, but accords with her sense of fairness. "We all want to live in a more just society," she says.
Daniel Sosa would agree. He is one of a growing number of Argentines who differentiate themselves from "haves" and "have-nots" by calling themselves "hads." Sosa, 54, made up to $4,000 a month in the 1980s as a contract technician for a state-owned natural-gas company. Downsizing cost him his job in 1989 as the company prepared for privatization. Sosa then invested his savings in a bakery in Don Torcuato, a Buenos Aires suburb, but it failed after two years. An attempt to run a small general store ended when he realized he couldn't earn enough to pay the rent on both the shop and his apartment.
Five months ago, Sosa, his wife, Elvira, and daughters Soledad, 16, and Florencia, 7, moved into what had been a video arcade. The resourceful Sosa turned the space into a tiny home, building wooden walls to create a second bedroom. But where most families would have a living room, Sosa installed a counter, stocked a row of shelves with food items, and called it a store. He has trouble paying the $350 rent. "We literally have to eat the merchandise," says Sosa. He turns his rugged, weather-worn face toward Florencia. "When my 7-year-old asks me for a cookie, how can I explain the economic model and recession to her?"
Part of Sosa's days are spent looking for changas, or odd jobs as a repairman, that earn him maybe $60 a month. "I have lost my dignity," he says. "My quality of life has gone down like a toboggan, and I can't support my family. I feel like I am being tortured." While his family suffers, he says, corrupt union and government officials appear in the press showing off conspicuous wealth.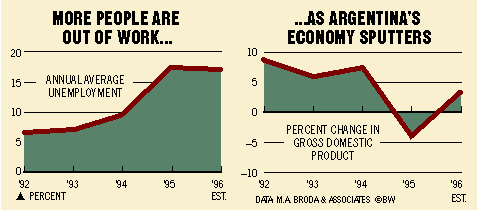 COOLING OFF. Despite the problems, most Argentines don't want to return to the state-dominated economy that strongman Juan Domingo Peron imposed a half-century ago. Privatization has improved services such as water, telephones, and electricity. And Argentines are flocking to hypermarkets, such as those opened by France's Carrefour and U.S.-based Wal-Mart Stores Inc., to buy low-priced imported goods. The downside is that competition is expected to put half of Argentina's retailers, many of them mom-and-pop stores, out of business within five years.
Such events have cooled support for further reforms. Menem may have to move slowly on steps such as his proposals to change labor laws to make layoffs easier and push provinces to slash bloated public payrolls. Even if Menem makes all the right moves, Gabriela's job prospects may not brighten soon, and Daniel Sosa will probably never again make $4,000 a month. But Daniel's daughters would have a chance.
Before it's here, it's on the Bloomberg Terminal.
LEARN MORE