Where Bulldozers Bear An Olive Branch
Hugh Filman
It's more than 600 miles from Manila to the far end of Mindanao, the giant island at the southeastern tip of the Philippine archipelago. Today, it takes less than two hours to get here by jet, which heightens the contrast between the sprawling capital and this largely rural, mostly undeveloped land.
In making the trip, my wife and I--both of us journalists--are retracing a journey that for hundreds of years has shaped the history of the Philippines. After Spanish conquerers and Catholic missionaries landed in the northern islands in the mid-1500s and converted the natives, they pushed relentlessly southward--until they reached Mindanao where an equally forceful wave of Muslim conversion had arrived earlier. Since then, the conflict between north and south, Catholic and Muslim, has never really abated. And, following a wave of Catholic migration in the 1950s and 1960s, the Moros (as the Spanish dubbed the Muslims) fought back with a guerrilla insurgency. The ensuing two-and-a-half decade battle with the government cost the lives of tens of thousands of rebels, troops, and civilians.
Now, it looks like the struggle may finally be ending. On the eve of the signing of the Sept. 2 treaty between the largest rebel group, the Moro National Liberation Front (MNLF), and the government, we have come to find out whether peace has a chance.
Our first stop deep in Muslim territory is Parang, a town of thatched huts and stilted wooden shacks where the Philippine Army's 27th Infantry Battalion is headquartered. A decade ago, these soldiers would have been launching search and destroy missions against the second-largest rebel group, the Moro Islamic Liberation Front (MILF), whose main base is up a muddy mountain trail only 20 minutes from here. But even though the MILF has yet to endorse the peace treaty and threatens to continue using guerrilla tactics in pursuit of an autonomous Islamic region, the troops here avoid contact with the rebels. Instead, the soldiers concentrate on protecting travelers from bandits and bringing medical services to nearby villages.
These days, the army has another mission. It's on the front lines of a government effort to bring economic development to southwestern and central Mindanao, where most of the country's Muslim minority lives. The campaign, which began with the election of President Fidel V. Ramos in 1992, is based on a simple concept: Economic growth, rather than force, is the ultimate weapon against a Muslim guerrilla movement that derives its grassroots support more from empty stomachs than ideological fervor. So, says battalion commander Major Ernesto Aradanas, his job is to "find out the needs of an area and then tie up with the local government officials."
Even by Filipino standards, the privations suffered by the Muslims here are extreme. One government study put annual per capita income in Manila and surrounding areas at $946 in 1995 but just $131 in the heart of Muslim Mindanao. Muslims have seen little of the strong economic growth that followed Ramos's election. Large families here cram into one- or two-room dwellings that lack electricity or running water.
"You cannot make the peace permanent if there is no development," says Brigadier General Rene Dado, a regional commander. That's a tall order in an area so backward that farmers can hardly conceive of such notions as a paved road to market. Ramos says he wants to build or upgrade roads, bridges, schools, power grids, irrigation facilities, water supplies, ports, airports, and other infrastructure. The National Economic & Development Authority says foreign-aid grants and loans already fund 35 projects to the tune of nearly $470 million on timber- and mineral-rich Mindanao. An additional $1.2 billion in aid is slated over the next three years. Peace could bring fresh investment from Brunei, Indonesia, and Malaysia, too.
If peace lasts, that is. The MILF still wants a Muslim-governed autonomous region that administers Islamic education and law and regulates development of natural resources. "Unless we are successful in establishing a government of our own, then gradually we will be annihilated. We will disappear in our own homeland," says Murad Ebrahim, MILF vice-chairman for military affairs.
CLASHING CULTURES. A rebel guide has driven us up the mountain trail near Parang to reach an MILF outpost. Sitting at a tidy desk, Ebrahim explains that the Moros will continue to rebel as long as Manila treats the area as a colony. He charges that the military and the government help only the Christian migrants from the northern Philippines, who control most business in Mindanao. "When you come to a place where there is nothing--no improvement at all--then that is the area of the Muslim," he says.
The rebels' wariness is easy to understand, says Professor Rufa Cagoco-Guiam of Mindanao's Notre Dame University. The new government strategy "is largely modeled on the Western type of development, which Muslims don't like very much," she says. Some programs involved loans with interest payments, which are un-Islamic. Another affront to Muslims was a government plan to encourage hog-raising.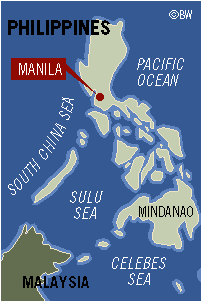 Meanwhile, the MILF is pushing an Islamic revival on Mindanao. "This force of a growing Islamic consciousness is picking up everywhere," says Cagoco-Guiam. But what Muslims really want, she says, is for both the government and the rebels to leave them alone and allow them to earn a living in peace.
Before leaving Mindanao, we stop in a market to ask the local people about the precarious peace. Despite assurances their views will remain anonymous, the vendors won't talk politics. They would rather try to sell us sarongs and Indonesian batik. Business is getting better in Mindanao, one vendor admits, but he still just scrapes by. Will that change? The merchant doesn't reply. Instead, he pulls out a piece of fabric and begins his sales pitch.
Before it's here, it's on the Bloomberg Terminal.
LEARN MORE