What's Not Cookin' At Campbell's
Foreign consumers are turning up their noses at its soup
Joseph Weber
When David W. Johnson was a young marketer working South Africa's hinterlands in the late 1960s, he so ably persuaded villagers to buy Colgate-Palmolive Co.'s toothpaste that they lined up to wait for deliveries. When toothbrushes proved scarce, Johnson wasn't beaten: He taught his customers to brush with their fingers.
That was one of Johnson's first international successes. Now 64 and chairman and chief executive at Campbell Soup Co., he has gone six years without many more. In 1993, he set out to boost Campbell's international operations to 50% of sales by 2000, from 28%. It was an obvious strategy, given flagging U.S. soup sales. Foreign revenues bumped up to 31% of the total the next year--but haven't budged since (chart).
On Sept. 5, Campbell's sought to juice its foreign business with the $210 million purchase of German soupmaker Erasco Group from Grand Metropolitan PLC. The deal came as part of a broad restructuring meant to "vault our company into the ranks of the world's renowned consumer-goods companies," as Johnson said. Campbell may not vault far. Rather, analysts say the modest deal reflects an incremental attempt at globalization by a company that still hasn't found the way to take most of its goods on the road.
Johnson, a blustery marketer recruited from Gerber Products Co. six years ago, has plenty to brag about (though he wouldn't be interviewed). He has so aggressively cut costs that the once-bloated company now boasts the highest net margins among nine big foodmakers. Profits rose 14.9%, to $802 million, in the year ended in July, and dissident members of Campbell's controlling Dorrance family long ago backed off their drive to sell the company.
CULTURAL CHALLENGE. Sales growth, though, has been both uneven and slow. With U.S. demand for soup nearly static, most of the revenue gains have come from hefty price increases. Johnson can't count on higher prices to keep sticking: To build the company in the long run, he needs to expand foreign markets.
Yet winning the palates of the world has proved a frustrating battle. In many countries, says Prudential Securities Inc. analyst John McMillin, Campbell's canned condensed soup faces an uphill cultural slog against "the soup of preference," dry soups in envelopes. That's especially true in Germany, Erasco's core market. Chinese consumers can find pricey cans only in select stores. In Mexico, financial woes have flattened sales. And Campbell pulled out of Poland after American recipes and poor distribution flubbed. "I prefer to cook any soup at home," says Malgorzata Sawicka-Owsiany, a Polish playwright. "Out of all the Campbell's soups, only the mushroom one is good."
Campbell marketers can point to successes. "Some really good ideas are working as we get our own act together," says F. Martin Thrasher, president of the international grocery unit. Hearty vegetable and fat-free soups have both been big winners in Australia, he says. Duck-gizzard soup sells in Hong Kong. The Godiva Chocolatier line is expanding in candy-crazy Japan. And in December, Campbell acquired a controlling interest in a joint venture with Malaysia's Cheong Chan.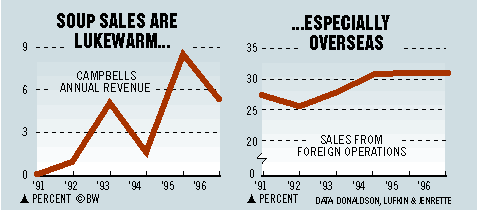 But "the soup business is a mature market around the world," says Jack Trout of marketing strategist Trout & Partners. Campbell lacks the brand recognition of Coca-Cola Co. and other supermarketers. And Johnson simply may not have the patience that it takes to build a global franchise. Although he could stay on as chief executive officer after he turns 65 next July, analysts say many of Johnson's latest steps seem aimed at boosting Campbell's stock price and near-term results prior to his retirement. Investors drove up the company's stock price 15%, to nearly 75 3/4 by Sept. 11, after his announcement of plans to shed marginal businesses, and to buy back up to $2.5 billion in stock.
Johnson will try to stir sales by boosting advertising 30%, to $250 million, for Campbell's soups and sauces, Pepperidge Farm Goldfish and cookies, and V-8 juice. His kitchens recently produced a line of 98% fat-free cream soups, and this fall will bring out frozen soups and a line of ready-made premium soups in glass jars. Most of the shots, though, still are landing on American soil. Overseas, soup may be good food, but Campbell's isn't selling.
Before it's here, it's on the Bloomberg Terminal.
LEARN MORE