Whatever Happened To Economic Anxiety?
Despite some job jitters, a new optimism reigns in this election year
by
Was it all just a bad dream? A media concoction? Nine months ago, Americans feared for their jobs, for their financial well-being, for the nation's economy. That's what they told the pollsters, anyway. And Republican Presidential candidate Pat Buchanan made a brief star turn in New Hampshire and other primaries by riding the wave of America's economic anxiety.
Buchanan and his brand of populism have retired to the political periphery. So, abruptly, have many signs of economic doom and gloom. Americans are taking a fresh look at the economy--and they feel considerably better about what they see.
No wonder. Growth in the second quarter hit 4.8%. Interest rates, while up slightly during the past year, are still far below their 1980s levels. Inflation, too, remains quiescent. Most important, the U.S. labor market has finally--after six long years--regained its pre-recession health. On Sept. 6, the Labor Dept. announced that the August unemployment rate fell to only 5.1%, its lowest level since June, 1990. Real wages and salaries, up by 2% since the start of 1993, are close to an all-time high, despite the ground lost in the late 1980s and early 1990s.
The result: Consumer confidence, as measured by the Conference Board, is up 25% since January. The polls show a similar shift. According to a New York Times/CBS News poll of 1,281 people taken on Sept. 2-4, 72% now believe that the condition of the economy is good. "It's startling how fast people's attitudes have changed," says Gary Burtless, an economist at the Brookings Institution.
Don't expect a return to the exuberance of the mid-1980s--there's still too much turmoil in the economy for that. Across virtually every industry, companies are still cutting workers by the roomful. So far this year, employers have announced more than 300,000 layoffs, up 24% over the comparable period in 1995.
In fact, Americans do still feel jittery about job security. But their overriding sentiment is a wary optimism. That mood swing already has twisted the dynamics of this autumn's Presidential campaign. With the economy now meeting some invisible threshold of expectations, Republican candidate Bob Dole is facing an uphill battle to convince voters that a radical fix is needed. The situation is even tougher for Ross Perot and his new running mate, Pat Choate. Perot, whose independent Presidential candidacy enjoyed wide support from dissatisfied Americans in 1992, has seen his share in recent polls shrink to just 5%.
HELP WANTED. Dole and Perot will have to recalibrate their campaigns to account for what has turned into, by some measures, the best labor market in decades. The percentage of the civilian population now working is 63%, the highest level ever, a sign that jobs are plentiful. Moreover, people are finding positions quickly. Challenger, Gray & Christmas, the Chicago-based outplacement firm that also tracks layoffs, calculates that its clients now take only 2.8 months to find new work. "That's the lowest since we started tracking the numbers in the early 1980s," says John A. Challenger, executive vice-president.
Indeed, many well-qualified workers are able to pick and choose among job offers. Edward Scheidler, 28, recently started a new job as a business analyst for G.D. Searle in Skokie, Ill., voluntarily leaving his previous position as a divisional manager of forecasting and planning at Caremark International Inc. Scheidler had three serious job offers before making the move, which got him a 15% salary increase. "Jobs are out there," says Scheidler. "I'm amazed at the help-wanted signs I see everywhere I go."
Americans now are reading about large-scale hiring, good news to balance the job cuts. With plane orders piling up, Boeing Co. plans to hire 13,000 workers in 1996. Bristol-Myers Squibb Co. will add 1,200 people to its sales force by early 1997. Hiring in areas such as construction, which have been dormant since the recession, is on the upswing, as well. "I see a lot of work coming. All of the architects are busy," says John Giles, vice-president of Envirocom Construction, a general construction firm based in the Cleveland suburb of Beachwood.
The new mood even is filtering down to blue-collar workers, who long have had good reason to be dissatisfied. Their wages fell sharply in the 1980s and early 1990s. But real wages for blue-collar workers are up by 0.8% over the past year. The minimum wage is set to rise by 50 cents an hour starting on Oct. 1. And in a sign of the changing times, J.B. Hunt Transport Services, the Arkansas-based trucking company, announced on Sept. 5 that in an effort to reduce turnover, it will boost pay for its drivers by a stunning 33% starting next February.
Still, for all the happy talk, it's hard for U.S. workers to relax. Downsizing remains an ever-present threat. That is especially true in manufacturing, where employment is down by a staggering 140,000 jobs over the past year, as companies continue to cut costs.
Moreover, the positive slant of the national employment numbers conceals large pockets of worry. Employment in the communications industry, for example, is up by 4% over the last year. But don't tell that to telephone company workers in states such as New Jersey, Massachusetts, and California, where deregulation has led to large-scale job cuts. In many states, banking, insurance, and retailing jobs are disappearing at a rapid rate--and the workers being let go may have trouble finding jobs comparable to the ones they have lost.
PITFALLS. Little wonder that people still fret about being downsized. Despite an MBA in marketing, Elizabeth Tompkins, 44, a single mother of two sons and one daughter, didn't feel she had the luxury of taking a corporate job where her paycheck would be at risk. Instead, she opted for lower-paid but more secure employment as a junior-high Spanish teacher in Evanston, Ill., when she recently returned to full-time work after a 15-year hiatus. "I'm not worried about losing my job in downsizing as a teacher, but if I'd taken a job in Corporate America, I would have been," says Tompkins.
Even people whose careers seem rock-solid are well aware of the potential pitfalls in the labor market. Karen Edwards, 33, doesn't worry about losing her position as director of brand management for Yahoo! Inc., the Internet search firm in Santa Clara, Calif. "I could find a similar job easily," she says. But Edwards' 55-year-old father recently lost his job as a medical technologist, his third layoff in 15 years. "He's collecting unemployment," says Edwards. "I have the reality check every once in a while."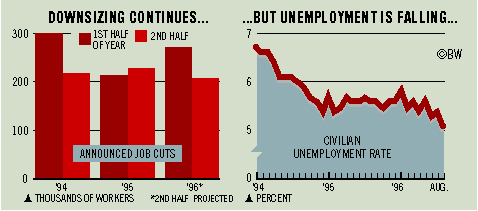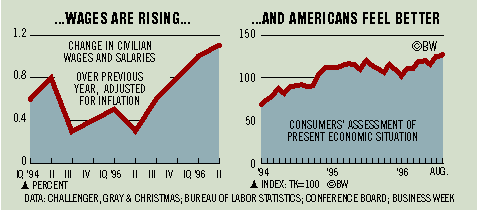 Moreover, people still worry about their long-term prospects. "Our standard of living may be comparable to our parents', but it's on two incomes, not one," worries Scheidler. "You feel like you can't get ahead." Adds John P. Lipsky, chief economist at Salomon Brothers Inc., who has advised the Dole campaign: "People are less optimistic about the longer run." The New York Times/CBS News poll, for example, showed that about 40% of people believe that future generations will not be better off.
Still, anxieties about tomorrow are harder to exploit when times are good today. "I don't feel people are scared enough about the economy to vote Republican," says Edwards. That, in the end, may be the deciding factor in November's election.
Before it's here, it's on the Bloomberg Terminal.
LEARN MORE