U.S.: A Bright Job Picture Has Its Dark Side
Wage pressures are building, and a Fed hike seems unavoidable
by
Job insecurity? You've got to be kidding. In August, the unemployment rate dropped to a seven-year low of 5.1%. Annual wage growth accelerated to a six-year high of 3.6%. And payrolls, up 250,000 last month, are averaging 237,000 new slots per month this year. At that pace, the jobless rate could dip below 5% by yearend for the first time since the early 1970s.
To be sure, the workplace of 1996 is very different from that of a decade ago. The lightning speed of technological change is the chief source of the worker uneasiness that has characterized this expansion, as businesses have invested more in machines than in people. But as the numbers so clearly show, the effects of this anxiety, especially on the wage-price inflation process, are dissipating. With labor markets getting tighter, workers are becoming less willing to surrender wage gains for job security (charts).
This is why the Federal Reserve is on the verge of lifting interest rates for the first time in a year and a half, despite the lack of obvious pressures on the prices of goods and services. The Fed's own Sept. 11 beige book report on economic conditions says "wage gains have tended to outstrip price increases." The report also says business activity in most regions is "generally good and expanding moderately."
Even dovish Fed Governor Janet L. Yellen said in a Sept. 10 Reuters interview that the U.S. was in an inflation "danger zone," a comment that rattled the bond market and followed hawkish-sounding comments by other Fed officials in recent days.
WALL STREET IS STARTING TO FEAR that the wage speedup is becoming embedded in the inflation process, and that the Fed is behind in its efforts to keep price growth from picking up next year. The markets now fully expect at least a quarter-point hike at the Fed's Sept. 24 meeting, if only to bolster the central bank's credibility with the markets. Even less hawkish Fed officials concede that a quarter-point increase will do little if any harm to the economy, and they seem ready to accede to a little inflation insurance.
Speculation over a half-point hike began to swirl after a Sept. 3 report in The Wall Street Journal that some policymakers favor a more aggressive move. But that may be only a bargaining chip for Fed hawks, who will push for a half-point but settle for a quarter-point. Besides, when the last Fed tightening cycle began in 1994, Chairman Alan Greenspan said the Fed moved a quarter-point because it didn't want to "scramble" the markets.
Of course, wage growth that is offset by productivity gains is not inflationary. But on that front, the good news that was so prevalent earlier in the expansion is fading. Because second-quarter economic growth was revised up by 0.6 percentage points, to 4.8%, productivity growth in the nonfarm sector last quarter was also revised up to an increase of 0.5% last quarter, from the 0.1% decline first reported. However, that still left productivity growth during the past year at a meager 0.8%. Because of the wage speedup, unit labor costs are up nearly 3%, faster than the 2.1% increase in the price index for gross domestic product.
At first blush, that combination would suggest that companies will either have to raise prices or let their profit margins erode. However, it might not be that straightforward. Excluding the financial sector, where productivity is notoriously difficult to measure, corporate efficiency has picked up, to a 2.6% pace during the past year, and unit labor costs are growing by only 0.9%.
Data for the nonfinancial corporate sector lags behind the initial report by a month, and the new figures explain why profits among nonfinancial companies last quarter were up a healthy 19% from a year ago, and why margins, measured as earnings per unit of real nonfinancial GDP, stood at a record high of 11.3%.
EVEN SO, THE EMPLOYMENT DATA still make a compelling case that the economy is indeed in a danger zone. Labor Dept. officials suggested that the drop in the August jobless rate, from 5.4% to 5.1%, may have been distorted because of poor seasonal adjustment for students leaving their summer jobs. But even excluding the student-age population, the rate still would have dropped by 0.3 percentage points.
The 250,000 increase in payroll jobs was probably an overstatement, however. The gain was swelled by a surge of 48,000 teachers. But returning teachers usually hit the September report, so school payrolls could be a drag on this month's payroll tally. Moreover, while manufacturing payrolls jumped by 25,000, the largest increase since late 1994, the reopening of auto plants after temporary shutdowns for retooling accounted for 24,000 of that gain.
Still, the recent level of jobless claims and the widespread anecdotal reports gf labor shortages among small businesses suggest that upward pressure on wages will not go away. Average hourly earnings jumped 0.5% in August, and the trend is clearly up. Amid low consumer inflation, that yields the fastest growth in real wages in a decade. And consumers are feeling the updraft. Weekly earnings also jumped last month, suggesting solid growth in household income.
NOT SURPRISINGLY, FATTER PAYCHECKS have supported greater borrowing and spending. In fact, revolving debt, which includes credit cards, started to take off just as the meltdown in wage growth was bottoming out in 1992 and 1993.
In July, installment credit increased by $7.7 billion. Revolving credit alone added $7.2 billion in July. Auto loans increased by just $1.9 billion, but the August total will be larger since car buying bounced back. Sales of all cars and light trucks rose to an annual rate of 15.8 million from 14.2 million in July (chart). Light trucks roared out of showrooms, with sales at their best rate since February.
After 3 1/2 years of hefty borrowing, however, consumers will soon find credit harder to get. That's because commercial banks are beginning to tighten their lending standards in the wake of repayment problems and record bankruptcy filings.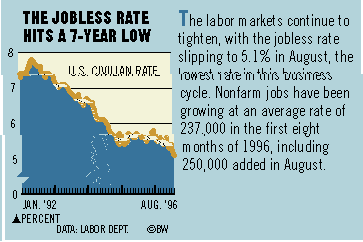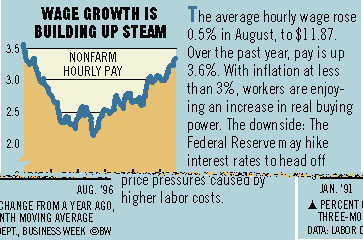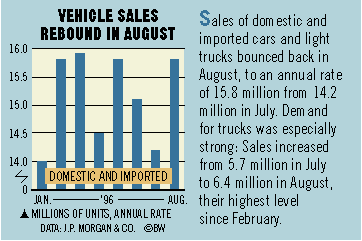 Banks and finance companies, including the finance arms of auto makers, all report growing problems with customers. And the American Bankers Assn. expects to report later in September that the delinquency rate for credit cards rose in the second quarter from its 14-year high of 3.53% in the first. Mortgage delinquency rates, however, improved slightly last quarter, to 4.35%, from 4.46% in the first, according to the Mortgage Bankers Assn.
Closing the borrowing window to some households will restrain consumer spending, but it won't derail it. For that to happen, hiring would have to drop off significantly, bringing wage growth down with it. But right now, the job express continues to barrel down the track, pulling the economy along with it.
Before it's here, it's on the Bloomberg Terminal.
LEARN MORE