Shopper's Bonanza At The Limited
by
The sizzle in retail stocks earlier in the year has died down, as retail sales have slackened. So it isn't surprising that shares of The Limited (LTD) have drifted south--and are not far above their 52-week low of 15 1/4. But Chairman Leslie Wexner has a plan to jack them up. So say pros who are accumulating stock, now at 17 3/4.
They figure the stock will hit 25 in the short run and 35 in a year or so. Why this sudden burst of confidence in a stock that has seesawed between 15 and 22 since early 1994? Here's what they're betting will happen:
Sometime soon, perhaps in a matter of days, Limited will act on its previously announced plan to sell to the public 7 million shares, or 14%, of its Abercrombie & Fitch division--at 14 to 16 a share, to raise $112 million. Last year, Limited sold 14% to the public of its Intimate Brands unit, including Victoria's Secret. Limited will control more than 80% of the two units.
Abercrombie's valuation as a public company and the market value of Intimate Brands indicate that "each Limited share represents some $17 in value of the shares in Abercrombie and Intimate Brands," says Robert Willens, managing director at Lehman Brothers. Thus, the rest of Limited, a leading specialty retailer, is in effect selling for just $1 a share, says Willens. But that's not the real come-on for the stock.
Similar disparities have occurred in other companies that have resorted to such "equity carve-outs" of their subsidiaries. But in the case of Limited, there is a difference. Willens believes that after the Abercrombie deal has settled, Wexner will spin off to Limited shareholders the rest of the shares it owns in Abercrombie and Intimate.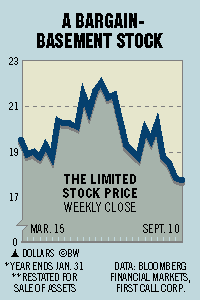 Why? This spin-off will be a tax-free deal, explains Willens, which is possible because Limited controls more than 80% of the voting power in the two companies. "The rule states that a tax-free spin-off of only a controlled subsidiary may be undertaken," says Willens, who specializes in opportunities created by valuation disparities.
An investor in The Limited has an "excellent chance," he says, of realizing the values of these units through the spin-off. "The high likelihood of a spin-off makes the price of the rest of Limited's businesses seem ridiculously cheap," he says. Wexner owns 21% of Limited.
Before it's here, it's on the Bloomberg Terminal.
LEARN MORE