Motorola Goes For The Hard Sell In Cellulars
But a bid to bolster margins on premium phones may backfire
by
Motorola Inc. has had a long-standing policy of refraining from making public statements about earnings before the end of a quarter. But these are strange days for the onetime Wall Street darling. On Sept. 11, the company warned that third-quarter earnings would be "significantly" below second-quarter profits of $326 million, or 54 cents per share, and well beneath analysts' expectations of 50 cents per share. Wall Street had no sympathy: The stock dropped 3%, to 49 1/4, a 40% decline from its year-ago high of 81 3/4.
Motorola's problems haven't changed much from the second quarter: It has been hit hard by difficulties at Apple Computer Inc. and by an industry downturn in semiconductors. In the cellular phone business, Motorola's margins are declining even as it loses share to competitors such as Finland's Nokia Corp. and Sweden's L.M. Ericsson. Although Motorola remains the world's largest cell-phone manufacturer, with cellular phones accounting for about 25% of Motorola's $27 billion in 1995 sales, its worldwide market share has slipped to about 35% this year, from 50% in 1994.
GIVEAWAYS. Unfortunately for Motorola, its attempts to fix things have created problems anew. Case in point: Motorola's Signature program, a plan designed to boost sagging cellular margins by limiting distribution of high-end phones such as its red-hot StarTAC. "We needed to figure out how to put value back in the hardware," says James Caile, vice-president of marketing for Motorola's Cellular Subscriber Group.
Cell-phones increasingly are seen by retailers as little more than giveaway commodities, useful for signing customers up for services. The result: Prices have tumbled and margins have been pinched. The average industry wholesale price for phones has slipped from $677 in 1989 to $103 today (chart).
The idea behind the Signature program was simple: limit distribution of high-end products such as the StarTAC to select cellular carriers and independent retailers that agreed to certain conditions. The lure was the $1,300 StarTAC, a tiny, sleek, durable product loaded with features such as a "smart button" for easy dialing and dual batteries for extra talk time.
But the strict rules of the plan have angered cellular carriers and independent retailers at a crucial time for the company. "No manufacturer will tell me how or how much of their product to distribute," says Cynthia White, chief operating officer of Bell Atlantic NYNEX Mobile.
So far, at least two major carriers, GTE Corp. and BellSouth Corp., say they aren't participating. Many independent retailers won't accept Motorola's terms. AirTouch Communications Inc. and Bell Atlantic Nynex Mobile also refused to agree to Signature's original conditions, though they have now worked out their own deals with Motorola to buy StarTACs.
Distributors have found many elements of the plan onerous. Motorola's stipulation that distributors must put up StarTAC displays has upset carriers, who complain that Motorola's efforts to push its name conflict with their own attempts to brand their services. They also object to the requirement that Signature dealers buy 75% of their phones from the company, and the ban against selling excess StarTACs outside their own territory. Some simply resent the idea of being told how to market a product. "I don't think a manufacturer's distribution policies can play a role in putting value back into a phone," says Ujjal Kohli, vice-president of marketing at AirTouch.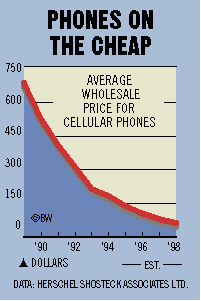 DISTINCT MINORITY. Such resentment could further damage Motorola's long-term fortunes by crimping sales of the StarTAC and other high-end phones. Dealer animosity also could hurt Motorola's ability to sell other products, just as new communications technologies make sophisticated distribution essential. Even some Motorola cellular execs think the company needs to relax its restrictions and rework the program. "Somebody needs to take a step back and look at the problems we're creating for ourselves," says one insider.
Not everyone thinks the program is a loser. Some dealers say the Signature gambit is boosting their margins. In the past, a dealer typically gave customers $150 in free hardware and earned profits from commissions on airtime. With phones under the Signature program, dealers say they often make a profit on the phone itself.
But for now, Signature foes are shouting down its fans. And with resentment growing, Motorola may have to loosen its rules--or face the unhappy prospect of announcing more negative earnings surprises in the future.
Before it's here, it's on the Bloomberg Terminal.
LEARN MORE