Montgomery Ward's Lbo Could Be On Its Last Legs
Options at the retailer are dwindling, and it needs cash
Susan Chandler
It was a deal that couldn't miss. In 1988, veteran retailing executive Bernard F. Brennan teamed up with General Electric Capital Corp. to buy Chicago-based Montgomery Ward & Co. for $3.8 billion and take the dowdy, low-price retail chain private. The idea was to spruce up Ward's polyester pants and discount mattresses, jump-start growth, and take it public again within five years.
The buyout--one of the most highly leveraged of its time--turned out to be an incredible bonanza, at least on paper, for the principals. Thanks in part to the gigantic leverage, Brennan, who put up only $3 million for a 30% stake, has seen his investment grow to $300 million by conservative estimates, almost a 100% compound annual return. Other management shareholders, who paid the equivalent of 20 cents a share for stock internally valued at $20, are also sitting on huge gains.
There's only one problem: Brennan and the management shareholders may be a long way from converting their shares into actual cash. Although Ward produced handsome profits for the first three years after the LBO, accounting for much of the paper gains, the retailer is now in dire straits. In part because of rising overhead and shrinking margins and sales, Ward's earnings last year plunged to a paltry $11 million, down 91% from 1994, on nearly flat revenue of $7.1 billion. In the first half of 1996, Ward actually lost $37 million as revenue dropped 5.5%. The trends are so dismal that Ward's investment banker, Lazard Freres & Co., has been feverishly seeking a new equity investor.
The poor performance of the stores has obscured the stellar performance of Signature Group, Ward's direct-marketing subsidiary with $554 million in 1995 sales, which sells everything from dental insurance to prepaid legal plans. Signature uses the retail stores to generate customer lists.
A SAVIOR? Despite Signature's success, finding a buyer for the whole company could be tough, investment bankers say. Laggard operating results are only part of Ward's ills. Last year, cash flow declined to only $220 million from $346 million the year before, while long-term debt has nearly doubled, to $423 million. There's no room for LBO outfits to leverage the retailer up any further. Ward-watchers say the company now is worth $1.3 billion, only $200 million more than in 1988--a miserable 2% compound annual return, far from the 30% that LBO investors expect.
The most likely savior, say investment bankers, is GE Capital, which has the means and a good reason to protect its investment. GE invested a mere $5 million in equity and $90 million in preferred stock in 1988, ending up with a 50% stake in the retail company and sole ownership of Ward's lucrative credit-card portfolio, for which it paid $2.7 billion to help finance the LBO. J. Ira Harris, head of Lazard Freres' Chicago office, is tight-lipped about recruiting potential suitors. "It's moving along. What else can I tell you?"
Brennan, who returned to Ward in 1985 after an earlier stint at the retailer, has made a number of moves to find a niche for the company. He has continually experimented with new retailing concepts to boost sales--the Signature Group was his idea. His latest creation is HomeImage, a new store that sells high-margin, top-of-the-line housewares, consumer electronics, and home office furniture. By selling more large-screen Mitsubishi TVs, for example, "We will have a store with margins as well as sales," Brennan promises. To his credit, he has succeeded in doubling revenue during a tough period for retailers.
Other initiatives haven't been paying off. Brennan is still struggling to find the right formula for selling apparel, which accounts for 30% of revenue. Some of his ideas have been outright flops. A $65 million deal to acquire a 20% stake in Levitz Furniture Inc. last September was scuttled in October. The 1994 purchase of Boston-based Lechmere Stores has been a disaster. To cut costs, Brennan reduced staff in the stores, driving away customers.
But Brennan's biggest failing may be his inability to assemble a strong management team. Ward has suffered from high turnover among senior executives who can't tolerate Brennan's tendency to micromanage. "If Montgomery Ward was a publicly held company, Bernie would have been thrown out by now," says George Whalin, president of Retail Management Consultants in San Marcos, Calif. Defending his record, Brennan says, "We're doing the right things." He blames the high turnover on apparel problems, not his management style.
Brennan's options are dwindling rapidly. One possibility is to spin off part or all of the Signature Group, which could bring in close to $1 billion. But that would leave the remaining retail entity deep in the hole.
With outside financing unlikely, observers predict GE Capital will buy the rest of Ward. Brennan has hinted that he would might be amenable to leaving. "I will do whatever makes the most sense for the company," he vows. GE declines comment except to say it is "very happy with current management."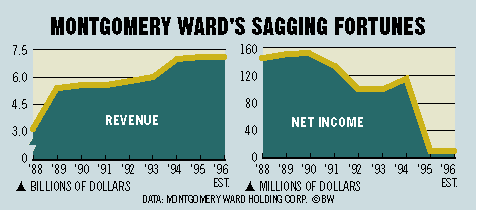 GE has good reason to be pleased with how its involvement with the LBO has fared. Ward's $5 billion credit-card portfolio has paid off handsomely. With a robust 19% yield, the portfolio earned an estimated $130 million after taxes in 1995, more than 10 times Ward's profit that year. While Ward's gets none of these earnings, it is on the hook for some of the write-offs, a form of insurance to GE that Ward won't issue cards indiscriminately.
With so much at stake, GE wouldn't want to walk away from Ward or let someone else get it. In a way, the likely denouement of this tale seems fitting. Brennan and his fellow management shareholders would be able to take their stock to the bank. But it will be awhile before GE Capital reaps big profits from Ward. First, it has to clean up the operational mess that Brennan and his team are leaving behind.