Mgm's Grand Ambition
It's back in the black and hot to expand its casino empire
By
Terry Lanni knew early on that he had his work cut out for him. Weeks before officially taking over as chief executive at MGM Grand Inc., Lanni was walking through Kirk Kerkorian's giant Las Vegas casino looking for an Italian restaurant. "Don't eat at ours, the food is terrible," Lanni recalls one employee saying before directing him to a pasta house elsewhere in Vegas.
That was back in mid-1995, when a lot of folks were heading out the door of the 5,005-room hotel and casino. Although Kerkorian had spent $1.1 billion on the property, it appeared to be an almost instant flop after opening up in late 1994. Its 33-acre theme park wasn't exciting enough to draw crowds and the cavernous, 171,500-square-foot casino was a maze of confusion. Worse yet, the MGM Grand was spending lavishly to lure high rollers who ran up huge tabs, often didn't cover their credit, and were wreaking havoc with earnings by frequently taking the house. By June, 1995, after Australian media baron Kerry F. Packer walked off with $14 million from MGM Grand's blackjack table, the company reported a $1.1 million first-half loss, on revenues of $330 million.
LURING LOSERS. Kerkorian quickly decided to deal himself a new hand. He eased out MGM Grand's CEO, Bob Maxey, and lured J. Terrence Lanni, who had spent 13 years as president of Caesars World Inc. Kerkorian also installed his own top aide, Alex Yemenidjian, as MGM Grand's president. Together, they've put MGM Grand on a mean winning streak. They have slashed payroll, begun remodeling the casino, and refocused marketing to draw more cash-carrying, rank-and-file losers. The result: Operating profits have more than tripled, to $97.8 million in the six months ended June 30.
So what's a casino company to do? Double down, as they say at the tables. Over the next few months, the pair expect to plunk down more than $1 billion to expand their casino empire. "Terry and I didn't come here to run a company with one or two sites," says Yemenidjian. "There's a consolidation coming, and we're going to be survivors."
Their aggressive push is well under way. Across the Strip, MGM Grand is building the $460 million Gotham-themed New York, New York casino with partner Primadonna Resorts Inc. On July 24, the company received initial approval to build in Atlantic City. Lanni and Yemenidjian plan to spend at least $700 million putting up a copy of MGM Grand's Vegas place. Yemenedjian has also scouted sites in Mexico and Argentina, and in July the company agreed to develop up to 16 casinos in South Africa for Tsogo Sun Gaming & Entertainment. The pair also want to buy existing properties. Although neither will say which casino catches their fancy, Wall Street is betting on either Showboat Inc. or Aztar Corp.
The 79-year old Kerkorian, who owns 63% of the stock, has other ideas too. On July 16, he led a team of investors that purchased the MGM movie studio from France's Credit Lyonnais for $1.3 billion. The move effectively reunites the two MGM cousins that Kerkorian had split back in 1980. "We're like kids in a candy shop," crows Yemenidjian.
With Kerkorian back in control, synergy is in the air. MGM wants to hold premieres of its upcoming movies at MGM Grand's 16,000 seat arena, for example. And Lanni sees a casino in the future based on MGM's James Bond movie series. Yemenidjian also plans to use the studio's new MGM Gold cable channel, which will beam old MGM movies to several Asian countries, to market the casino to high-stakes gamblers in that region. "We've spent hours just thinking up what to do with the Pink Panther," says Yemenidjian, who has already met three times with MGM studio chief Frank Mancuso.
Adding more Hollywood flair is also key to reviving the Vegas casino. Lanni has ordered up a $250 million renovation of the MGM Grand casino, now heavily based on The Wizard of Oz, so that it will showcase themes from other movies and Hollywood landmarks. Out front, MGM Grand will replace a huge lion's head with a glimmering 60-foot-tall gold lion set on a stone pedestal. Every few minutes the lion will drop into the ground; on the casino wall behind it, a row of 80-foot-tall video screens will show clips of upcoming shows and MGM movies. "The old lion looked cheap, like papier mache," says Lanni. "This one is going to be awfully hard to ignore."
Rivals could say much the same for Lanni. The 53-year-old executive knew high rollers from his 18 years at Caesars, which included stints running the company's casinos in Atlantic City, Las Vegas, and Reno, Nev. Living in the MGM Grand for three months while his family relocated, he put together a list of 23 things that needed fixing--everything from getting out of the money-losing fight-promotion business to creating clearer signs to direct customers to the casino's restaurants. "What the place needed was someone who knew every last detail about running a quality organization," says Glenn Schaeffer, president of rival Circus Circus. "That's Terry."
IPO PAYOFF. With Yemenidjian by his side, Lanni immediately slashed 770 jobs from MGM Grand's bloated payroll and renegotiated scores of contracts. Suppliers got less money; so did performers, such as Tom Jones. To reduce the reliance on high rollers, Lanni slashed house credit and lowered the maximum bet. He also lowered table stakes, put out more quarter slots, and improved the food. And he replaced rooms sold by tour groups with bookings by travel agents and individuals. "Those are the folks that bring along their credit cards and don't expect to have the free buffet, free this, free that," says Lanni.
The result: For the quarter ended June 30, the casino's take jumped a third over the year earlier, and MGM's guests spent an average of $462 a night, up from $415 a year earlier. That's sent operating cash flow way up. That, plus a $328 million public offering that Yemenidjian engineered in July, has allowed MGM to retire $529 million in high-interest debt, slashing interest payments. Altogether, Salomon Brothers analyst W. Bruce Turner estimates 1996 operating earnings will nearly double, to $182.8 million, on revenue up 12%, to $807 million.
Still, Lanni's winning hand hasn't taken hold everywhere. The company's first venture outside Vegas, a 97-room hotel and casino that MGM Grand bought for $75.9 million last year in Darwin, Australia, has lost $3.2 million so far this year. A just-completed renovation should help, but investors question whether it was a wise move. Despite "a lot of time and energy, I'm not sure I see a substantial payoff," says one.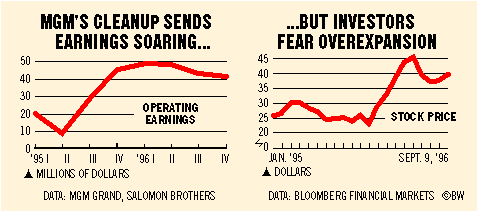 At home, too, the ante is up. Vegas is ever more crowded, while every major casino operator is clamoring to put up a new joint in Atlantic City. Wall Street is increasingly worried about overbuilding. Last week, ITT Corp.'s shares dropped sharply on news that its casino expansion plans would dent earnings. Although MGM shares soared from $23 in late 1995 to $47 in June, they are now around $40. "This is a pie that has been expanding and expanding, but eventually it stops growing," says gaming consultant Saul F. Leonard. As he rapidly expands MGM Grand's burgeoning casino empire, Lanni will have to make sure he gets restaurants--and everything else--right the first time around.